Sunday's Meeting Recap
An enormous thanks to Richard Asprey for hosting our November meeting. We were treated to a fabulous setting that included a unique motorcycle museum. Richard's 'Little House' is a motorcyclist's dream house. The theme throughout the house is based on vintage motorcycles. We were also spoiled by Richard's hospitality. There was plenty of homemade chili along with copious amounts of adult beverages. The weather was cold and rainy but the turn-out was perhaps the best the club has ever experienced with up to 50 members and guests in attendance.

Dennis Tackett conducted the formal portion of the meeting. Where was no old business to discuss. The upcoming events include the Christmas Dinner Party & December club meeting at the Spirit Grille in Las Colinas on Saturday, Dec. 19th. The Int'l Motorcycle Show is the weekend of Jan. 22nd at the Dallas Convention Center. The Spring Hill Country Ride is Thursday, April 28th thru Sunday, May 1st in Leakey, TX. Once again the Lone Star Vincent Owners Club (LSVOC) will join us in the festivities. Bev Bowen is their president. Click here to read Bev's open letter to the LSVOC. As before Mike Mediterraneo will be handling room/cabin assignments.

The site for our Lake O' The Pines Rallye is still the first full weekend in October but it has been moved to Diamond Don's RV Park. It is a 100 acre facility with 50 pull through RV stations and an enormous covered pavilion located just one mile north of Jefferson, TX. There is a huge open area in the center of the park for field events and the bike show. Click here for a map. If you know someone who normally attends the rallye but are not members and/or travel from out of state please contact them regarding the change in venue. Click here to read Dennis Tackett's open letter concerning the move.

According to the club by-laws the election for club officers (president, VP and Treasurer) is held during the November meeting. Richard Asprey was unanimously reelected as president along with Michael Mediterraneo as our treasurer and Ryan Ambrose as our new VP. Michael Marshall was appointed to a new position as our Event Chairman. Michael is the principal architect behind Dallas Bike Night and helps coordinate the Rockers vs. Mods Dallas Rallies.

Many thanks go to Randy Bauer for his five years as our VP. During his tenure he has represented the club at many motorcycle venues like BMOA's Lake Somerville Rallye. For the last five years he was instrumental in organizing and supervising our display at the Int'l Motorcycle Shows (IMS). Thankfully Randy has volunteered to manage the upcoming IMS in January for one more year.

The meeting was adjourned but most stayed to socialize and look over all the vintage motorcycles not only in the museum but throughout the house.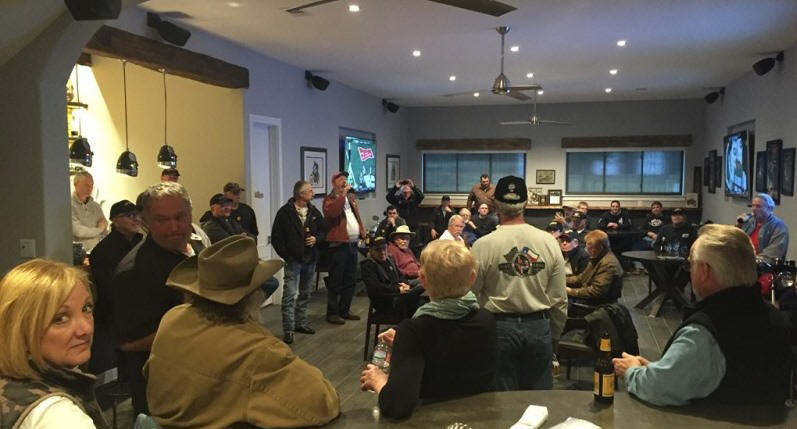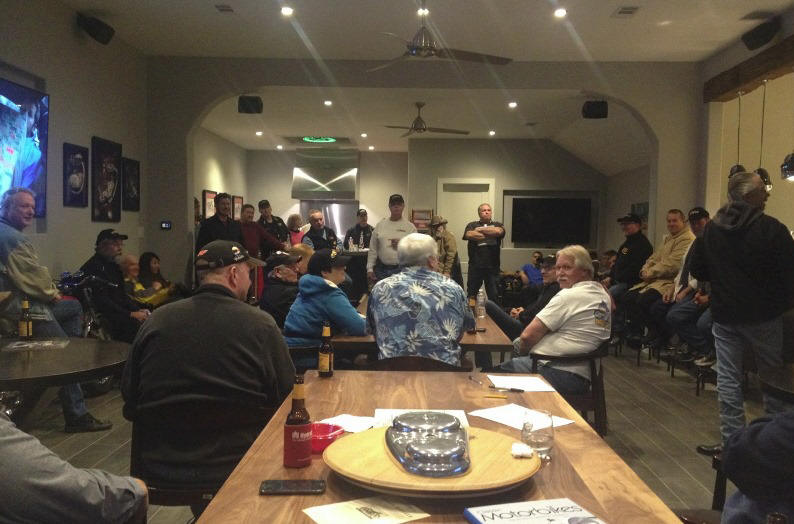 Click on photo to enlarge.

Click on photo to enlarge.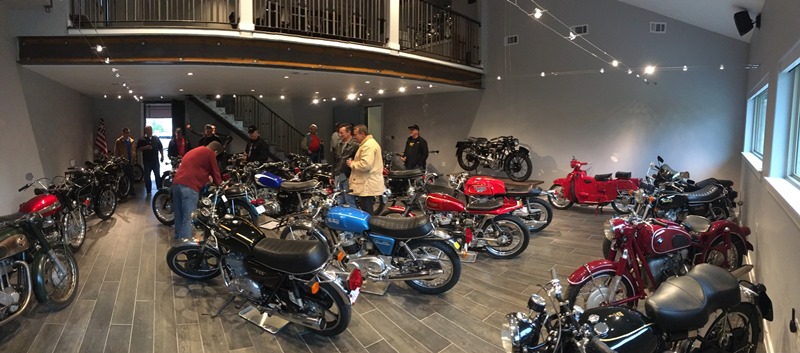 1932 HRD Vincent Python Sports 500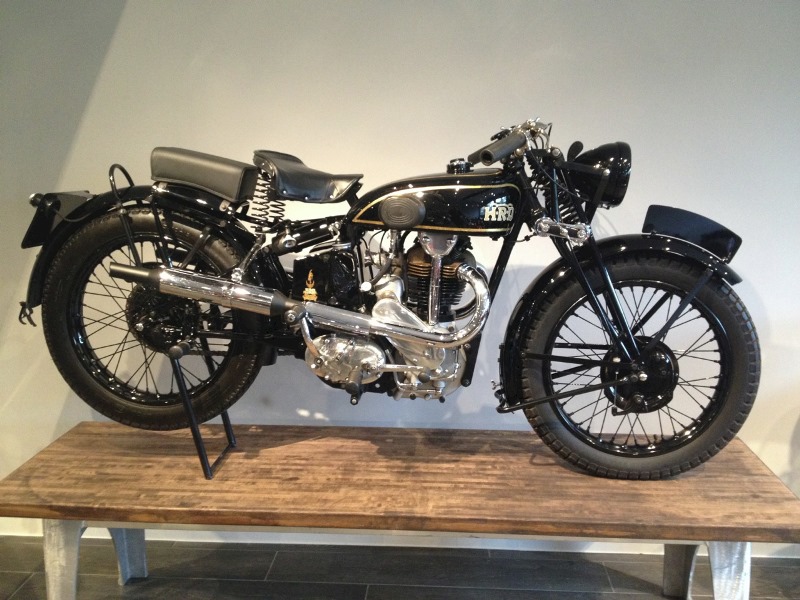 Here's a description of the Python from Motorcycle Classics. The full article can be found by clicking here.
It has to run because it's won three significant best-in-shows, and one of the requirements is it has to run. It won Best of Show at Del Mar in September 2013, Best of Show at Quail in May 2013. It won its class at Radnor Hunt Concours in Marlborough, Pennsylvania, and it won best in show at the (2014) Barber Vintage Festival in October. It was at Barber for the gathering of the Vincents organized by Hooker, entering it in the Motorcycle Classics Vintage Bike Show, where Vincent was the featured marque. It took top honors.
Due to the inclement weather all but one brave soul drove their 4-wheeled vehicle to the meeting which created a parking challenge. One prominent club member even had a hard time making it to the driveway.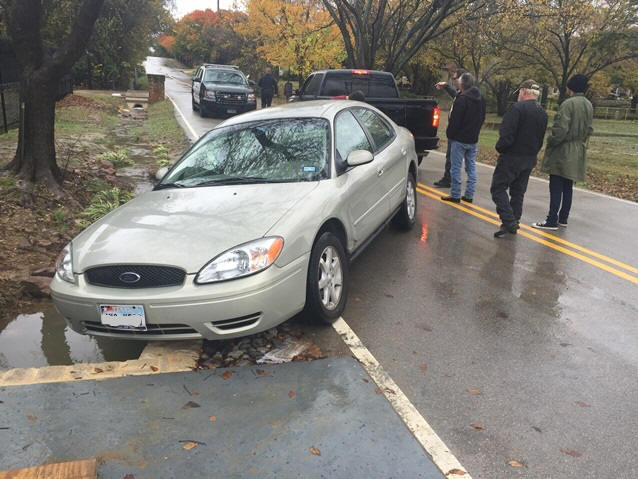 ---
Saturday, December 19th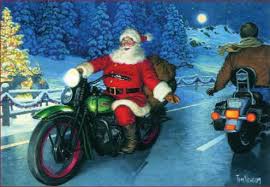 Our December Meeting & Christmas Dinner Party is at the Spirit Grille on Saturday, Dec. 19th.
4030 N Macarthur Blvd #112, Irving, TX
Click here for a map.
Social Hour started at 5:30pm
Dinner was served at 6:45pm
Bar is open till 2am!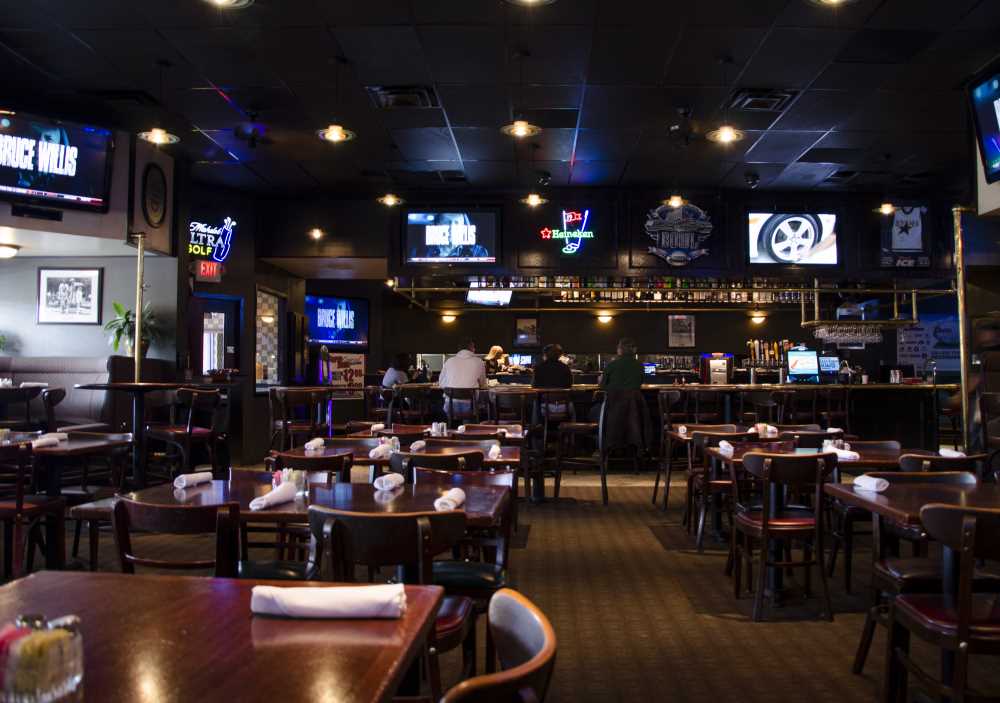 The tentative menu:

Bangers N' Mash
Two sausages topped with and onion brown gravy and served with mashed potatoes, peas, and Coleman's mustard

Ahi Tuna Steak
Fresh Ahi tuna steak with a southwestern tomato cream sauce accompanied with bacon-mashed potatoes and asparagus

Rosemary Garlic Chicken
Pan seared chicken breast topped with a lemon butter sauce and served with white rice and mixed garden vegetables
---
COMING EVENTS:


[Every Tuesday night] - Two Wheel Social
[Every Wednesday night] - Dallas Bike Night
[Every Friday night] - Ft. Worth Bike Night
[Xmas Dinner Party] - at Spirit Grille - 19 Dec.
[Int'l Motorcycle Show] - at Dallas Convention Center - 22 - 24 Jan.
[March Club Meeting] - at Big D Cycle - Saturday, 26 Jan.
[April Club Meeting] - at Richard's Little House - 24 Apr.
[Spring Hill Country Ride] - Leakey, TX - 28 Apr. to 1 May
---
Dues are renewed on August 1st of each year for all members. The easiest and fastest way to join or renew is online by clicking here. You only need a Credit Card or PayPal account. You may also join by filling out the application form which can be found by clicking here.