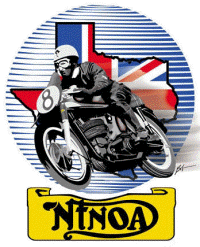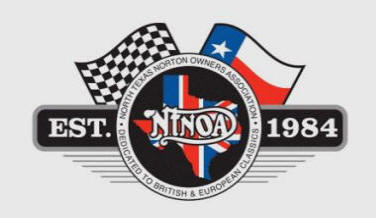 [Site Map] [Event Calendar]

[Buy Raffle Bike Tickets] [Classifieds]
---
VP Randy Bauer setting up the NTNOA display at the 2015 International Motorcycle Show! Thanks Randy. Photo by Paul Valentine.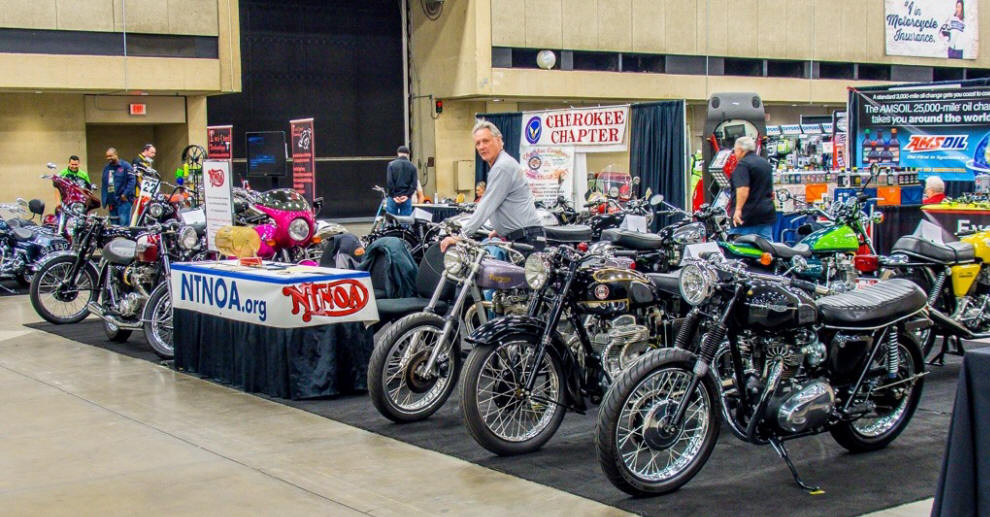 ---
My First Bike Story!!!
Send us your "First Motorcycle Story" and win 20 tickets for the 1976 Triumph Bonneville T140 Raffle Bike and free registration for you and your significant other to NTNOA's world famous Lake 'O the Pines Rallye.

Send your entry to firstbike@ntnoa.org. Please include your name, contact information, and any photos of your first bike. All entries will be posted on this website (see below).

Entries must be submitted by February 20th. The winning entry will announced at the February meeting at Moto Liberty on Sunday, Feb 22nd and be posted on the NTNOA Facebook page and this Website.

The raffle bike drawing will be held at the 31st Annual Lake O' the Pines Rallye during the Awards Ceremony on Saturday, October 3, 2015. You do not need to be present to win! The winner will be notified by phone during the awards ceremony. The winner will be responsible for transportation from the DFW area. Click here to purchase raffle bike tickets.
Latest Entry
MY FIRST TWO WHEELER
By Captain Commando
I grew up in a small town in Southern New Mexico during the 50's and 60's. It was a wonderful place to live, the town was small enough that most of us went to school together from Kindergarten and graduated High School together.

There were some older kids around and some of them even had scooters or motorcycles. I remember Vespa's, Allstates, Lambredas, Mustangs, and Cushman scooters. There were also a couple of BMW's, BSA's, and even a few Triumph's. The one motorcycle police man in town had a red Harley Davidson iron head Sportster.

Dealers, however were always far away in the larger towns. That was until Kenny Simms opened a Cushman dealership on 8th Street. Well, we would ride our bicycles to "Simms Cushman Sales" whenever we could just to look at the wonderful, to us, machines.

Finally in 1959, after much begging, my dad agreed to buy me a Cushman motor scooter. I was fifteen and a half at the time and couldn't get a license until I was sixteen. In those days there were the Eagle, Super Eagle, and the Highlander each powered by the same 325cc flat head Briggs & Stratton motor. The Eagle and Super Eagle had a tank shifter two speed transmission with a clutch pedal on left floor board and a rear wheel brake on the right. The throttle was on the right handlebar and the front wheel brake was on the left. The motor put out about 8bhp.

By now several of my other friends were getting Cushmans and even a couple had Allstate 175's sold by Sears and Roebuck which had just opened in town.

Kenny Sims also raced "Micro Midget Racers" powered by a hoped up Cushman motor. It wasn't long before I stared saving up money for the "Hop Up" goodies that Kinney used. I was determined to have the fastest Cushman in town. Over the next two years I had the motor ported and relieved, only someone familiar with flat head engines would know what that means. I also had a larger than stock Ford intake valve with BSA valve springs. Then I found a Delorto carb which I mounted on a straight intake manifold with velocity stack. From there I fabricated a new exhaust pipe with no muffler. Now I was really moving. These mods with a one tooth larger transmission sprocket made this scooter fly. On a good day, downhill and with a tail wind it might hit 60mph.

I should have mentioned earlier that these bikes don't go around corners well. They had small round "balloon" tires with very little traction except in a straight line. I went through three sets of crash bars, straighten some several times before they finally broke, before finally selling my bike after my Mom finally put her food down.
While my Mom said I would eventually grow out of motorcycles the Cushman set me on a long adventure of two wheel fun which I still enjoy today.

Phil Dansby, aka Captain Commando
---
List of Entries:
[Phil Dansby's Story]
[Darrell Leverington's Story]
[Richard Cross' Story]
Many years ago a club president asked for First Bike Stories. Below is an example.
Note the Triumph advertisement at the bottom. Click here for all the very old entries.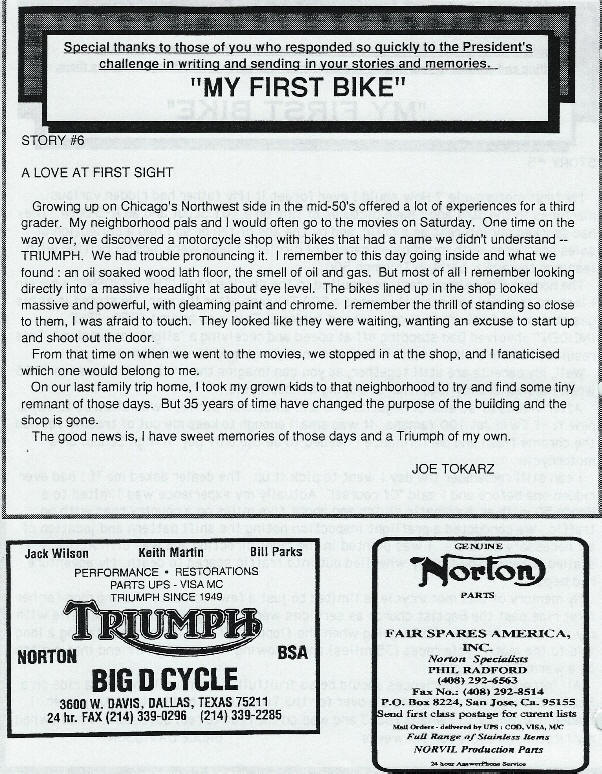 ---
Dick Klamfoth with his Manx after winning the 1952 Daytona 200.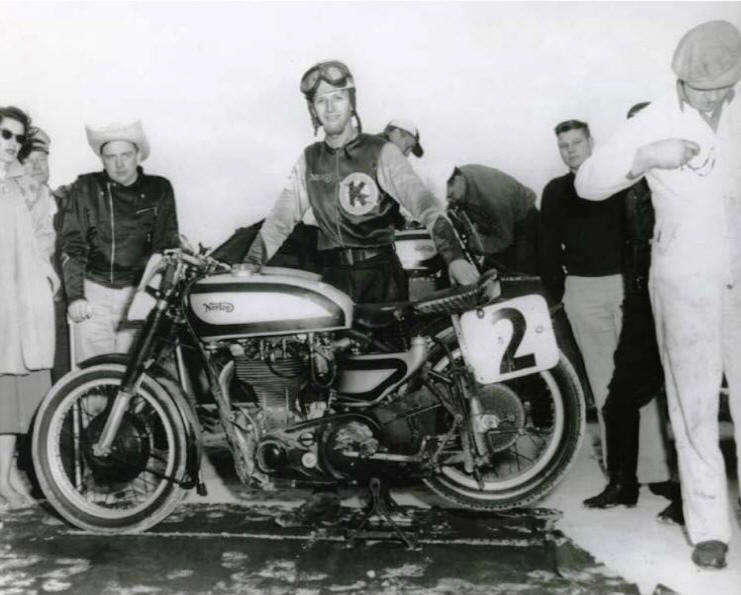 Dick Klamfoth is a legend motorcycle racer.

During the early morning of December 20, 2014, Dick and Bev Klamfoth lost all of their possessions when their home, animals, barn, and cars all burned completely to the ground. Dick and Bev Klamfoth were rushed to the hospital and have now been released. They are currently staying with family.

Click here to donate to the Dick and Bev Klamfoth Fire Fund.
---
Membership is only $25/year.
Become a Member Now and Enjoy Extended Membership!
New Members who join and pay full dues NOW will not have to renew until August 2016!

Members in good standing have the opportunity to introduce one new member gratis between now and August 1. The new member will need to pay dues in August 2015 to continue in good standing. Sponsor a new member by clicking here

The easiest and fastest way to join or renew is online by clicking here. You only need a Credit Card or a PayPal account. You may also join by mailing in the application form which can be found by clicking here.
---