November 4-6, 2005 at the Fort Worth Convention Center
The club owes a big THANKS to the following individuals for volunteering their time and making our club's display this past weekend at the International Motorcycle Show a large success.
Jake Hendricks
Bob Speer
Bob Cox
Dicky Hunter
Berwyn Henderson
Steve Brown
Steve Ledbetter
Dennis Tackett
Jay McCurry
Bill Keating
Clay Walley
Becky Sunshine
Laura Keating
Dean Baker
George Tuttle


Photos courtesy of Paul Valentine
In addition, the club owes a very special thanks to individuals who went above and beyond to make this succeed. To name just a few, they are:

Bob Cox for displaying his three Nortons and making two trips getting them to the show and two trips getting them home.

Bob Speer for making our club T-shirts available at the display.

Dean Baker for stepping up and rearranging his entire Sunday schedule at the last minute in order to get two bikes from the show to their owners.

Jay McCurry for helping with general logistics, and transporting and storing one of our bikes.
---
Thanks also to the following club members who had bikes in our display:
Bob Cox
Atlas 1967 Cafe Racer
Norton 1972 Commando 750 Roadster
Norton 1973 Commando 850 Roadster
Keith Martin
Rickmann 8-valve Triumph
Stewart Garrison
1964 Triumph 650cc TT
Jay McCurry
1977 Triumph Silver Jubilee
David Edinger
Norton Model 18 1947
Clay Walley
1966 BSA Spitfire
George Tuttle
1975 Norton Commando MKIII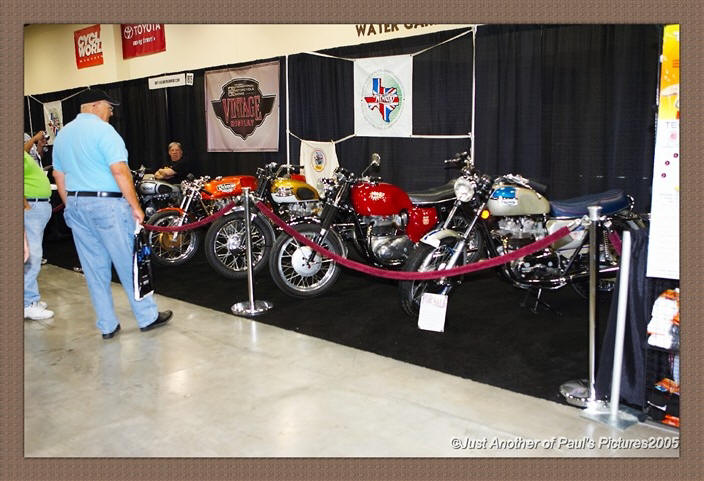 ---
Copyright © 2000 NTNOA All rights reserved.
Revised: January 06, 2018.