25th Annual Lake O' the Pines Rallye Recap
October 2, 3, & 4, 2009
Dave Edwards, Editor-in-Chief and VP of Cycle World was our Grand Marshal. Special guests included Sam Wheeler, Victor Toogood and Ed Mabry. Unfortunately this was Dave's last official function as the VP & EIC of Cycle World. Upon his return he was unceremoniously let go - his words.

Taken from the Cycle World Forum Oct. 09, '09: "It has been my privilege and pleasure to guide the magazine and this website for these many years, and has given me my proudest moments. One day after being unceremoniously let go--yes, it's true--I'm already missing the place.

Mark and the crew will continue to put out a great magazine if I've done my job correctly and hired the best people possible--and I believe I have. Between full-time staffers, our band of regular freelancers and columnists, no Editor-in-Chief ever had a better cast. They made me look good for so many years. I will miss them and I will miss you (well, most of ya...).

Signing off as CW1Edwards, and all the best,

David"
---
LOP Heroes
For everyone who has a good time at the Rallye, there are folks quietly (or loudly) helping make sure everything runs smoothly by volunteering. The rallye couldn't function without them.
Michael Ber - who cooked & served all Saturday afternoon/evening and helped clear up in pouring rain the next day.
Reid Schulze - who filled and set out the tiki torches and helped clear on Sunday
Monica Parry - who counted ballots and then cooked and served Saturday evening
Cathy/Cecile - for manning the Rolling Concours Checkpoint
Konrad Schilder & Kevin Stovall - for lapping the Rolling Concours circuit looking for breakdowns
Dean & Dawson Baker - for providing recovery support for the Rolling Concours
Jake & Beate Hendricks, Bob Speer, Randy and Cathy Bauer, Dave Bradford and Dave Lyles - for ballot counting
If you know of someone who materially helped out, please let us know - we'd like to recognize them here.
Sam Wheeler's Norton powered streamliner.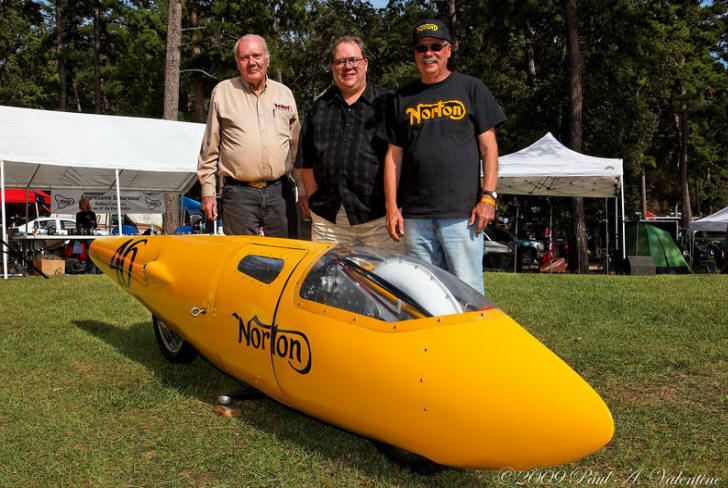 From left to right: Ed Mabry, David Edwards and Sam Wheeler.
Sam built his Norton streamliner in 1969 out of an old aircraft fuel drop tank. The streamliner is powered by a single 750cc Commando engine. Sam took his machine to Bonneville in 1970 and set the record at 208mph on regular pump gas. This was the fastest single engine Norton in motorcycling history. The streamliner was recently restored by Keith Martin and mechanics at Big D Cycle. Immediately following the rallye it will be shipped to the British National Motorcycle Museum in Birmingham, England. This may be your last chance to see it on this side of the Atlantic.
*SPECIAL EVENT*
Rolling Concours
Sponsored by Aggressive Insurance
This event was open to all street legal motorcycles at least 30-years old. Entrants were required to complete a 24-mile road course loop to be eligible. A certification stop was required half way through the ride. A chase vehicle was available to pick up any non-finishers. Upon return, eligible bikes were parked in an impound area for judging. No wiping or polishing was allowed in the impound area.
First place and $750 went to Robert Ratcliffe for his '53 Ariel Square Four.
Second place and $200 went to Jason Small for his '73 MV Agusta 350
Third place and $50 went to Jay Pope for his '42 UL Flathead Harley
All riders received a participantís medallion (one per bike)
---
Winner of the Lake O' the Pines Rallye Raffle Bike (a 1970 street legal Norton Commando) is
Tim Loizeaux of Linden, Texas. The winning ticket was #557106.
The bike was purchased from Big D Cycle. David Lyles polished the carbs, and engine cases. Jason Small, owner of Lonestar Vintage Motorcycle Restoration painted the gas tank and side panels.
Painted by Jason Small (click on photo to enlarge)

---
---
This year's Lake O' the Pines t-shirt design.
Designed by Capt. Commando and Rober Opal.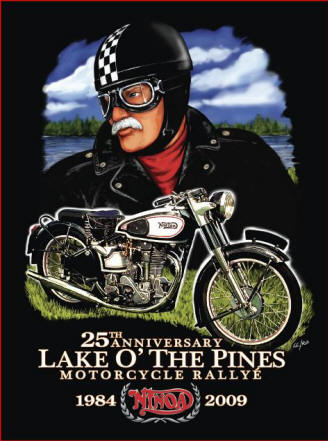 Big Cypress Marina is located on the North side of the Dam, approximately 9 miles N.W. of Jefferson off Hwy. 726
---
Current Time & Weather in Jefferson, TX

---