The 2011 International Motorcycle Show was held at the Dallas Convention Center on 2 - 4 December, 2011.

A big thanks to Michael Brown and Randy Bauer for organizing our display. Mike was responsible for coordinating and selecting the bikes for the show. Randy dedicated his entire weekend to our display ensuring a successful event for our club.

Thanks also to Michael Mediterraneo and Bruce Jones for setting up our raffle bike display and making it possible for the club for the first time to sell raffle bike tickets on site using credit cards.
Bike Show Entries (click on photo to enlarge)
Frank Jakab
Single Cylinder Sportster Drag Bike

Michael Brown
1956 Harley-Davidson K-Model

NTNOA 2012 Raffle Bike
1974 Norton Commando

Dave Bradford
'66 Triumph TR6 Street Tracker

Wayne Parfitt
Norton Cafe Racer

Richard Asprey
650cc BSA racer

Ryan Ambrose & Keith Martin
T-140 Triumph Racer)

Tony Rice
MKIII Norton Commando

Jay Moore
Triumph Street Tracker

A Message from Michael Brown
I would like to thank the following people for volunteering to show their bikes at the International Motorcycle Show last weekend:
Frank Jakab- single cylinder Sportster
Dave Bradford- '66 Triumph Tr6 street tracker
Ryan Ambrose & Keith Martin-T 140 (Pepe)
Wayne Parfit- Nortn cafe racer
Tony Rice- '75 Norton Commando
Richard Asprey- '65 BSA racer
Jay Moore-T100 Triumph street tracker
Michael Brown- '56 K-Model

Thanks to Bruce Jones for bringing the raffle bike & all his help with manning and helping the rest of us run the boot. Which brings me around to the volunteers manning the booth:
Randy Bauer, , Chric Parry, Bev Bowen, Frank Jakab, Steve Sechrist, Wayne Parfitt, Dicky Hunter, Gary Brooks, Clay Walley, Bill Keating, Laura Keating, Bob Dodd, LeRoy Greene, George Tuttle, Randy Johnson, Ron Ernst, Gary Vickell, Michael Fairchild, Bruce Fishlock, Roy McDaniel, Tony Rice, Dave Bradford and myself and any others who showed up for support or just to say Hi.

Thanx to all of you and especially those who volunteered for both showing their bikes and manning the booth.

I know we all had a great time and looking forward to next year.

Michael Brown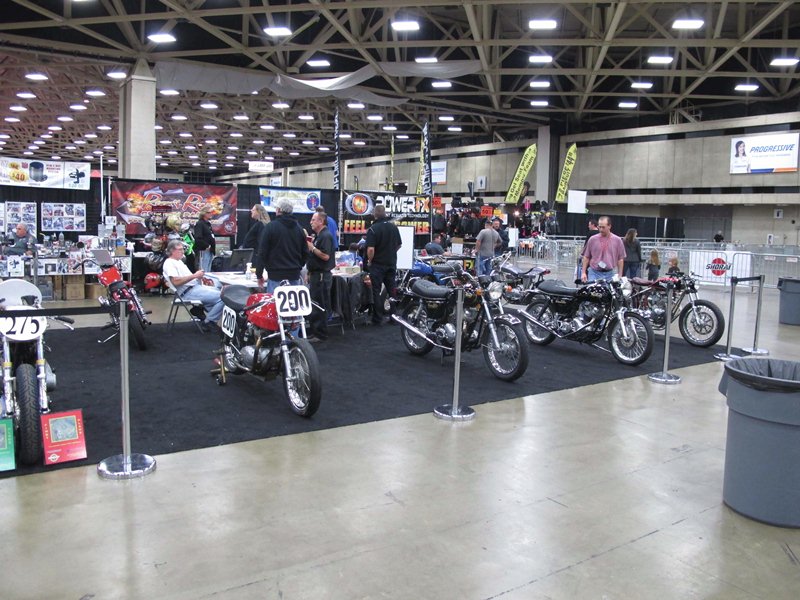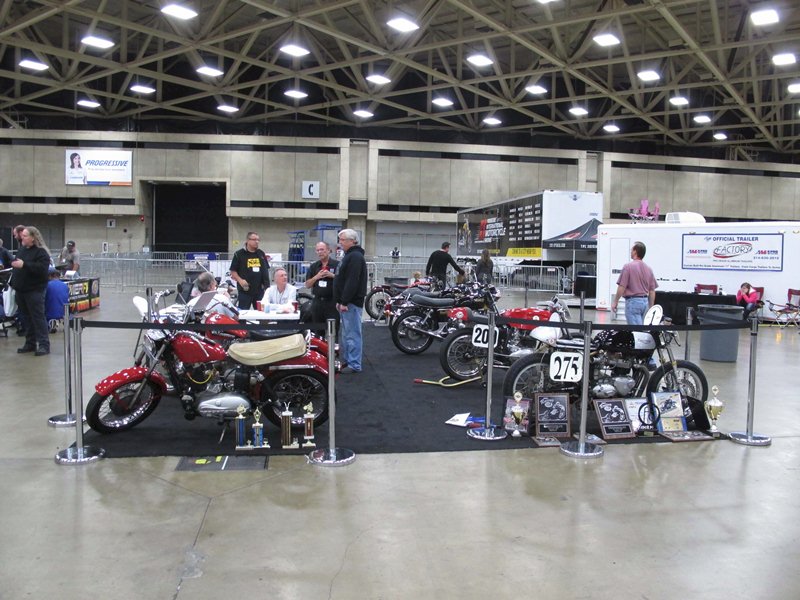 A New 961 Commando on Display - Note the RPM Cycle sticker on the muffler.