2015 International Motorcycle Show


Dallas Convention Center, 23 to 25 January, 2015
The NTNOA was again asked to display some of our vintage motorcycles at the Intíl Motorcycle Show at the Dallas Convention Center. Once again Randy Bauer volunteered to manage our exhibit and be the point of contact with the event organizer.
VP Randy Bauer setting up the NTNOA display at the Show! Thanks Randy. Photo courtesy of Paul Valentine.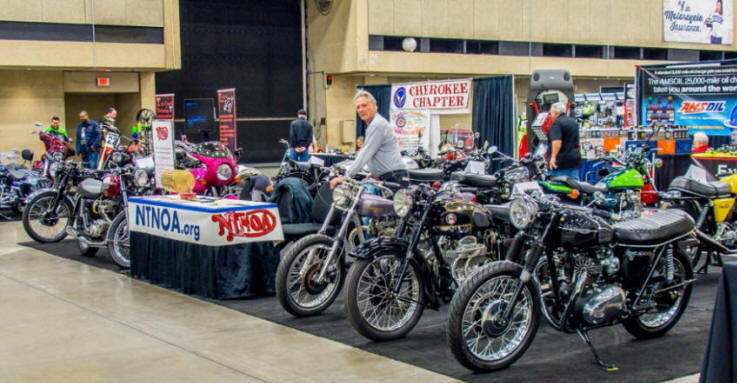 Click here to view all of Randy Bauer's photos.
The International Motorcycle Show was fabulous this year! Last year's Event Organizer Lisa Nordholm set us up with a great spot. This year Lisa did even better. We had a great location. It was next to the big manufactures and close to the restroom. Got to love it. She also called Wednesday and told me that somebody backed out and could we get any more bikes for that space. That worked out because the Cherokee Chapter wanted to get the Pate Swap Meet word out. Last minute I grab my '65 X6 Hustler and my '68 M65 Harley. Stanley Miller put his Knuckle Head Harley in the Cherokee Chapter's display.

David Bradford took two days vacation to help out. He said that was his contribution to the club. Thank you David! Randy Johnson let us use his enclosed trailer. With it raining Randy, David, Steve Akins, Nick Stump and I loaded Randy's Norton and Nick's highly custom Norton Atlas into the trailer. Nick's spot for the show was the first bike when you entered the show. We stuck a NTNOA sticker on the license plate! Second trip was for Dave's Street Tracker and my two bikes.

We had some fabulous bikes for the show. Thanks to the following members!
| | | |
| --- | --- | --- |
| David Bradford's '66 Triumph TR6 Street Tracker | Charles Edenfield's '59 AJS | Charles Edenfield's '59 AJS |
| Clinton Haddock's '74 Norton Interstate | Gary Brooks' '64 Triumph Bonneville T120R | Randy Johnson's '72 750 Norton Commando |
| Wendy Griffiths' 2015 Norton Commando | Laura Keating's 'pink 75 BMW R90S | Richard Asprey's '55 Ariel Square Four |
| Richard Asprey's '52 Vincent Comet | Richard Asprey's '57 Norton 19S | Richard Asprey's '46 Norton Big Four |
Special thanks goes out to our volunteers for selling raffle tickets. You guys and gales sold (for the two and a half days) $1,765.00. That's a record! Cathy Ramsey was selling tickets like crazy. She was wearing them out. We think some of them were going out of their way to go around our booth! Way to go!
| | | | | |
| --- | --- | --- | --- | --- |
| Cathy Ramsey | Bob Dodd | Charles Edenfield | Leroy Green | Frank Jakab |
| Bill Keating | Laura Keating | Michael Fairchild | Dicky Hunter | Wendy Griffiths |
| Dave Griffiths | Gary Brooks | Stanley Miller | Olof Beyer | Dennis Tackett |
| Richard Cross | Paul Valentine | George Tuttle | Gary Vicksell | Mike Geng |
Thanks to Ryan Ambrose and Jerrett Martin of Big "D" Cycle for hauling the Raffle bike and some of Richard's bikes to the show. Thanks guys.

At the end of the show on Sunday Audrey Menarik, owner of Moto Liberty, raffled off a custom fit Bell helmet, a $1,000 value. After drawing what seemed like a 100 door prize numbers without any takers to the delight of everyone, especially Audrey, our own Ryan Ambrose won the raffle.

I thank all of you who made all this possible,
Your VP Randy Bauer.