International Motorcycle Show Recap
Friday, January 22nd to the 24th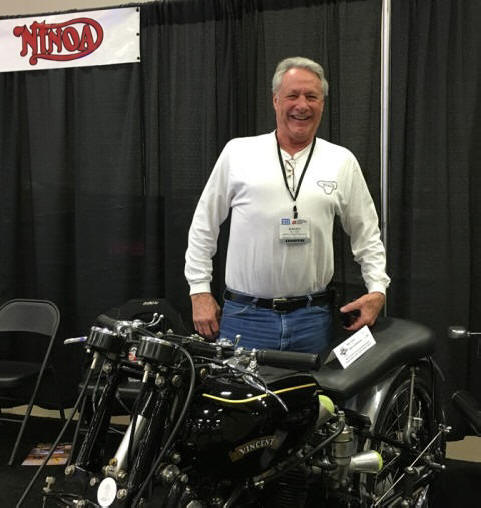 Click here for Randy's photo album.
Randy Bauer once again managed our display at the Dallas Convention Center.
Well another show is behind us. That was the easy part, now the hard part comes. My two fingers have to type out this summery with the lack of a big vocabulary, here goes. Thanks to Nicole Sandoval and Patti Ros from the IMS organization we had an outstanding booth. I was hopeful we would get a spot like the last two years but we were up against the curtain. It worked out great because she gave us a 10' by 70' booth. With the help of David Bradford we were able to angle the bikes to get maximum viewing.

Thanks for all the volunteers who did a great job working the booth. David Bradford took Friday off to help the club and was there Saturday. Will Mazurek who was not scheduled came up to help Saturday and Sunday. Even our newest member Randy Jones stepped up and helped out.
| | | | |
| --- | --- | --- | --- |
| Bill Beardslee | Gary Vicksell | Bev Bowen | Gary Brooks |
| Michael Fairchild | Olof Beyer | Ralph Reynolds | George Tuttle |
| Clay Walley | Darrell Leverington | Randy Jones | Michael Marshall |
| Travis Coover | Dicky Hunter | Louis Torres | Dennis Tackett |
| Jim Crandall | Ben D' Avanza | | |
Thanks again for all your volunteer work.
We had a great selection of bikes. You got to thank these guys for there effort to battle all that congestion just to display their bikes.
Jay Pope -'78 Laverda & '42 Harley UL
Gary Anderson -'74 BMW R75/6
Big "D Cycle- '50 Triumph Thunderbird & '63 Triumph T100
Chris Parry- '79 Bonneville & '74 Norton Commando
Bev Bowen- Vincent Racer
Clay Walley- '56 Triumph Tiger T110
Bill Beardslee- '70 Triumph T100c & '71 Triumph TR6C
Richard Asprey-'26 Scott Flying Squirrel & Harley Sprint
We had enough space so Richard left his Sprint and I went home and got my '68 Harley M65 & '67 Suzuki T20 X6 Hustler.

Michael Fairchild, Dicky Hunter, and Travis Coover were selling machines, they kicked-ass, I had to dock Clay Walley's pay but everybody did a great job, Thanks.
Friday ticket sales $365.00
Saturday ticket sales $1,780.00
Sunday ticket sales $730.00
One new member $25.00
Total 2,900.00
I can't thank everybody enough, I'll get a few pictures posted. I lost my charger for the camera so it won't be many.
Thanks again,
Randy.
---
Copyright © 2000 NTNOA All rights reserved.
Revised: January 05, 2018.