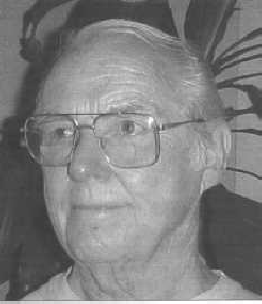 Charles Busbee - Our honored Member
If you attend the NTNOA meetings, sooner or later you're going to meet Charles Busbee, a remarkable chap. He's the tall silvered haired gent always wearing a smile. On days when it's too cold or too hot for some, Charles motors up on his BMW with a look of indifference about the elements. This guy rides. From the first time I met him and was presented with his business card, he intrigued me with his personality, his dry British like humor and interest in bikes. From time to time I would hear a member make reference to Charles and his young man exploits. At first I thought it was an exaggeration but later learned first hand, it was all true. This guy's tougher than he looks. It took a while for me to get around to spending personal time with Charles but my curiosity finally got the better of me and last summer he graciously agreed to meet for lunch. It was there, I got to learn about Charles and his life of good fortune.
Charles' good fortune started the day he was born in Oak Cliff in March of 1922. Arriving in Dallas a few weeks early, his heath was good and survived the birthing ordeal. His luck grew and as an only child, he was assured to get the full attention of his parents. At the age of three he must have been testing his instincts for long distance travel and wandered off from home. He was found 11 blocks away without a scratch.
In High School, he and his compadres were caught painting "Seniors '38" on the school steps. Lady Luck was with him and graduation arrived on time. On a trip from Mineral Wells with the ROTC, Charles and his buddies swapped tires and later found that one had major tread problems. The tire would heat up and melt the patches on the tube. Imagine repairing the tire 13 times to keep their appointment with friends.
He got his first bike in 1940. A 1937 Harley Davidson, Knucklehead. His neighbor and sweetheart Marian agreed to ride with him if he could would take it easy and safe. Of course Charles used the opportunity to demonstrate his riding skills and frightened her so much that she would never get on a motorcycle again. Not wanting to break his lucky streak and loose Marian, they married and Charles put his riding on hold for 52 years.
When the War broke out Charles enlisted. His musical prowess paid off when he returned to Santa Ana for reclassification after washing out of pilot training. He entered the reclassification band as the bass drum beater. This was a cushy job with a fair amount of freedom. He was sent to Bombardier school where he taught navigators how to bomb. Then in Salt Lake City where crews were being assembled, luck smiled on him again when he met up with a friend that was an excellent pilot and aircraft commander.
Charles saw his share of active duty looking out the nose of a B-17. However, on the morning of July 7, 1944 the Lady must have been busy with other tasks. Somewhere near Leipzig, Germany, the 155mm guns got the better of Charles plane. The plane caught fire and was out of control so the crew had to bail out. Charles kept his wits and delayed the opening of his parachute to minimize being shot from the ground. When the chute opened, he found himself falling out of the sky over a German reforestation area.
Because of the tree stumps, he couldn't roll to absorb the shock, so the impact doubled him in half as his chest hit the ground between his knees. He met up with his tail gunner almost mistaking him as the enemy. They evaded capture for 5 days moving about only at night. On the fifth day a Luftwaffe corporal on leave in his home town, arrested Charles and his friend after not returning a proper greeting in German. They were eventually taken to the local jail then an interrogation center. For 10 months, Stalag Luft 1 in Barth Germany was his home.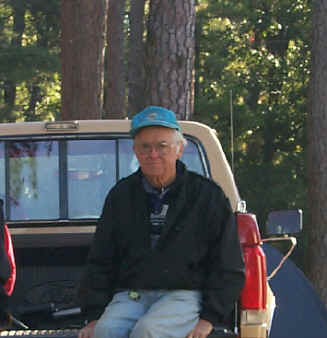 Charles at '99 Lake 'O The Pines Rallye
Lady Luck got back to Charles when 13 days after the Russians liberated the POW camp, Charles outfit, the 398th Bomb Group was assigned to fly out. They ended up in a tent city appropriately named Camp Lucky Strike in France where thousands were waiting for transportation back to the states. Expecting to be there weeks or even months, Ms. Luck must have been trying to make up for dropping the ball, because a guy comes in Charles' tent saying that there's limited space on a shuttle ship to England and if he hurries he'll be taken. In England she smiles again and in record time, he's on a ship to the USA.
At home in Texas, Charles graduated from SMU as a mechanical engineer. However, he opted for the insurance business where he owned his own agency for years.
52 years passed since the Harley riding incident with Marian, when Charles was reading the Dallas Morning News classifieds and found a 1985 Nighthawk. The Lady must have been listening in on the conversation with Marian and Charles, because Marian raises the question to Charles "Why don't you go buy it?" That's all he needed to get him back on the road. Since then, Charles has had several bikes over the years that have taken him to Illinois, Daytona, Montana, Sturgis, Big Bend, and the Hill Country. Like I said he's a rider.
Charles is retired now but you couldn't tell by his weekly schedule of activities. He's a busy guy that likes to ride. So the next time you see him, take a moment to introduce yourself. He's a wonderful engaging personality and as luck would have it, he's a member of the NTNOA.