Joe Edwards, aka Dr. Norton
5/07/1933 - 11/24/2012

It is with great sorrow that I must announce the passing of one of my best and longest friends. Those of you will know him as Dr. Norton aka Joe Edwards. Joe passed away Saturday morning following a long hospital stay near his home in Washington State.

Joe was one of the founding members of the NTNOA and held the position of "Member #1." Joe was very influential and dedicated to the NTNOA in the early days of the clubs formation, always volunteering his time and contributing in any way that he could to further the club. He held the position of Vice President two times during that period again doing what needed to be done.

Although Joe moved away from the DFW area over twenty years ago he always attended the Lake 'O' The Pines rally every year no matter how far he had to travel.

The club has lost a great member and a dedicated Norton rider. He will be missed.

For those of you who sent cards, I sincerely thank you. They were pasted all over the wall in his hospital room and I know he tanks you as well.

Capt. Commando

RIP Joe
---
October, 2012
Joe has been hospitalized since February 2012 recovering from back surgery. He is one of the club's founding members as well as an honorary member. Joe has attended every Lake O' the Pines Rallye except one. From time to time Joe is lucid enough to read cards wishing him a speedy recovery. We ask that you put a card in the mail preferably with a photo of yourself from one of the NTNOA events.

Joe's address is: 662 Sprague Valley Dr., Maple Falls, WA 98226
Photo on left was taken at the First LOP Rallye held 1984 at Fisherman's Cove outside of Ore City.
Photo on right was taken by Paul Valentine at the 2010 LOP Rallye.
Click on photo to enlarge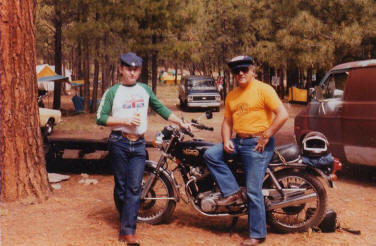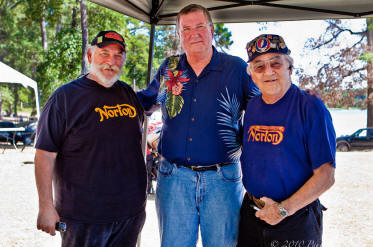 left to right; Phil Dansby and Joe Edwards Sam Ingraffia, Herb Harris and Joe Edwards
---
Joe Edwards, aka "Doctor Norton"
October, 2006
During this years 22nd annual Lake O' The Pines rally, it was my extreme pleasure to recognize one of our original club members. Joe Edwards aka "Dr. Norton" was awarded a "Life Time Membership" to the NTNOA. Dr. Norton holds the proud designation of being member number one in our club. Besides being one of the founding members, Dr. Norton has faithfully attended almost all of our LOP rallies. Traveling many times from as far away as California and the last couple of years all the way from Washington State.

Joe has also been instrumental in providing the T-Shirts for our rallies as well as collecting door prizes from many out of state supporters/dealers.

God speed Dr. Norton and we'll see you again next year!

Captain Commando
---
Joe alongside Geoff Duke in January 2005 at the pre-reopening of the National Motorcycle Museum in Birmingham, England after the museum fire in September 2003. Six-Time World Champion and Six-Time TT winner Geoff Duke passed away peacefully on Friday, May 1 at his home in the Isle of Man, at the age of 92. Geoff won three Grand Prix World Championships for the Norton Works Team, winning two 350cc titles in 1951 and 1952 and the 500cc title in 1951. Photo taken by Phil Dansby.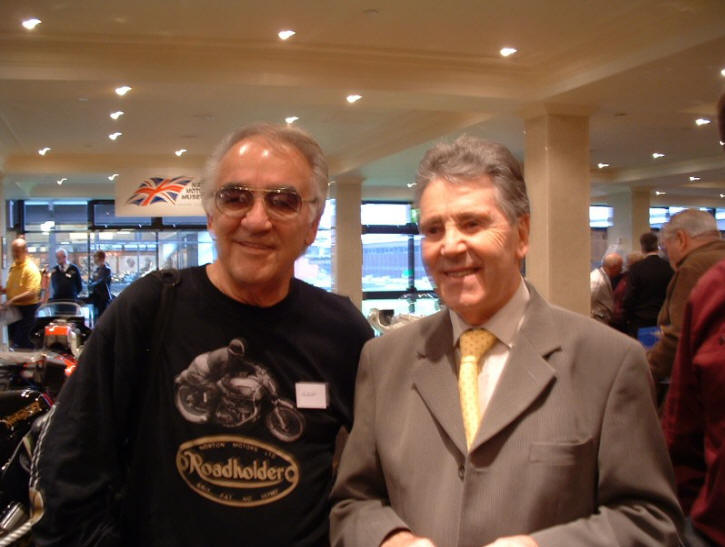 ---
Copyright © 2000 NTNOA All rights reserved.
Revised: January 05, 2018 .