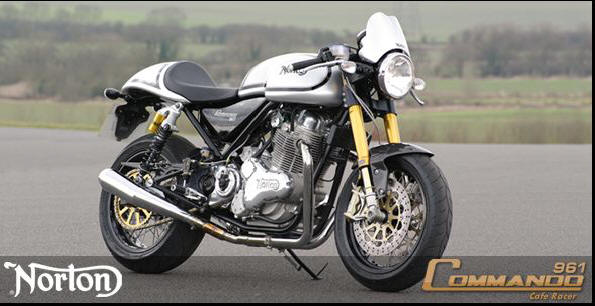 Subject: CARB Approval
Date: Thu, 31 Jan 2013 16:18:47 -0500
Hi Folks

Just a happy note to say that we have received our Executive Order for our engine family. In other words we are approved for California. This combined with the previously received EPA approval defines our system specifications and allows us to confidently begin production component manufacturing.

Now with CARB approval in hand, on to California State manufacturers license application, another bureaucratic hurdle.

Cheers
Dan Van Epps
Norton Motorcycles USA
---
Subject: EPA approval!!
Date: Thu, 8 Nov 2012 16:15:53 -0500
Gentlemen:

I am happy to report that subsequent to my last report of the successful completion of the EPA and CARB testing, we have received the EPA 49 State 2013 Model Year Certificate of Conformity from the U.S. Environmental Protection Agency.

This major milestone now allows us to complete the process of planning for 49 state production. There is still much work to do, but now that we have confirmation and acceptance of the specifications and components by the EPA, engineering can begin the component build process. Further we can print Warranty booklets, Service manuals, parts books, owner's manuals, PDI instructions....... You can see that much is driven by final specification approval.

I estimate that actual production can begin by year end.

We are still waiting for NHSTA to respond, but most individual State licensing can now be submitted with the EPA certificate in hand. New York, New Jersey and Illinois are quite simple, while California, Texas (the most challenging) and Indiana are surprisingly complex and require very large stacks of documentation and records (and large checks too).

It is estimated that California will complete their review and approval process by year end. Be aware however that CARB is now more often than not conducting their own running vehicle emission testing, in addition to the previously received certified lab testing. Until CARB issues their final approval, we are cautious to plan and production engineering of EVAP systems etc.

Recent CARB and EPA advisories indicate that every container of motorcycles shipped into the USA, no matter the country of origin, is being opened and scrutinized for EVAP systems, part numbers on emission components, specification and more. This is a direct result of a few manufacturers sending bikes over here that modified specification compared to approved specification. You can see why we needed to wait for final approval before final emission control engineering and component production.

This has been a ton of work and a real education for a small company, (the company in Italy that I worked for had a team of six dedicated to this process). We have learned much and now have in place the right partners to help guide and assist us through the process.

I have mentioned this before, but it bears repeating: There is a silver lining to the wait. After the long term testing and in-service road proving of production models in Europe, the bikes that we will be receiving here are truly well sorted, highly reliable and finely tuned British Roadsters, of a specification significantly advanced compared to the initial production.

As you can imagine, no one wants to begin deliveries more than all of us at the factory. Your patience in waiting for all of this to come together is greatly appreciated, and we will all be happy when the conversation turns to issues like "how soon can I get another red Cafe Racer".


My sincere best regards
Dan Van Epps
---
From: Dan Van Epps (Norton Motorcycles USA)
Date: Tue, 26 Jun 2012
Gentlemen
Here are a few updates for you:
EPA and CARB homologation continues to go well and without problems. There is greater than 8,000 kms test time on the bike, with 7,000 kms to go. We are expecting final certification in a few weeks. We then need to supply data to the individual states and of course California Air Resources Board, which is notoriously slow this year (60 days with luck). We still plan to begin deliveries this summer as forecasted.
Dealer development update: FYI, we continue to receive requests everyday from dealers around the U.S. seeking to add Norton Motorcycles to their dealerships. For the moment, I have decided to put most leads on hold until we are able to get production for the USA up and running. I am sure that you can all appreciate that although this may seem a bit short sighted, we must be cautious to not create any additional unfulfilled expectations from the market until we get up to speed with our current customers.
Thank you for your patience with our start-up company, and the delays we have faced. Your continued support and enthusiasm helps us through these challenging early days.
Cheers
Dan Van Epps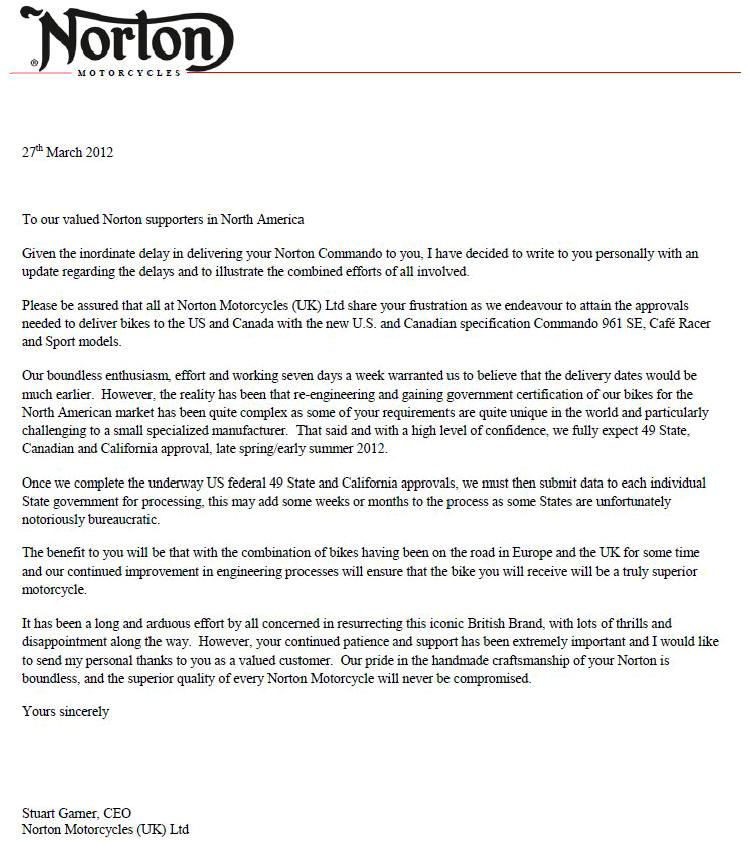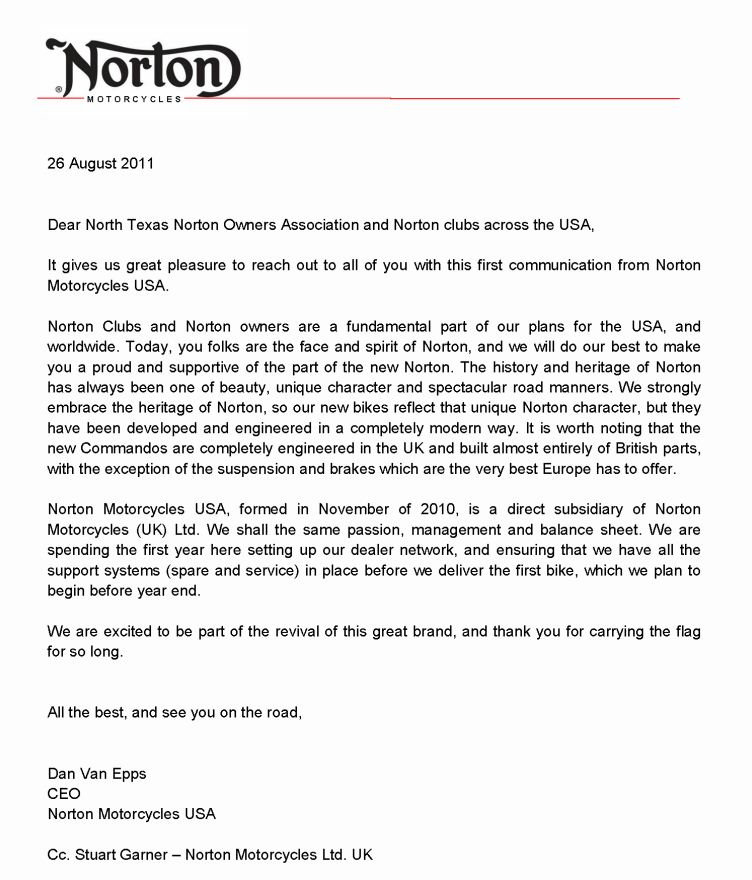 ---
Copyright © 2000 NTNOA All rights reserved.
Revised: January 05, 2018 .