On the trip over to England he and 2400 other freshly minted pilots were on a ship that was built for the Mediterranean, so the Atlantic had its way with the ship and passengers. To ensure the ship arrived safely with its cargo, it was escorted all the way back to England.

Vic was assigned to the Hurricane Squadron. One of their tasks was to escort the D-Day gliders. Vic was shipped off to Asia and there he flew out of Burma behind the Japanese lines running what he calls a taxi service for 250 pound bombs. In time the Hurricanes were dispatched to Europe but Vic stayed behind and flew P-47's. After Hiroshima, the Allied Forces had driven the Japanese out of Malaya, Burma, Borneo and Sumatra. What was left of the Japanese army together with the very large number of prisoners had retreated to the island of Java. Only four RAF squadrons were equipped with P-47 aircraft due to the spare parts availability. These were selected to go to Batavia (now Jakarta) Java to take over and rehabilitate the prisoners. These four squadrons had the doubtful honor of being the last RAF operational squadrons in the War. Vic was released from Her Majesty's Service in early 1946 and returned to Southampton. He took a civilian job with Marconi EKCO as a material's buyer.

About 1947, Vic returned to the US with the help of a friend who assisted in the Green Card paperwork. Vic found his way to Texas because of another good friend whose folks were here. This pilot friend met an untimely death while flying. In Dallas Vic started to work for the Dallas newspaper then moved on to an oilfield equipment company as an inventory clerk. Opportunity knocked and Vic applied for and was accepted in an accountant position. He stayed with this company until 1971. This company was the largest oilfield company in the world but went bankrupt 10 years later.

Vic always had a love for the open road and Canada. Around 1961 he rode his Vincent to Canada and claimed to be the first person to cross the Canadian Rockies on a motorcycle. During that time Vic kept his 1948 Norton International and made 8 trips to and from Canada on it. He's proud to say that he had the trip down pat, taking only 2 ½ days each way.

At the ripe old age of 57 he joined Vernon Hardwick's BSA shop as a parts man. However, when his mother passed away he needed to return to England for the services. His employer promised to keep his position open but when he returned to Dallas, he found that he had been replaced. After that he opened a small shop on 10th street in Dallas near Davis street. There he charged his clients $5 per month for bike storage and work shop privileges. This worked out quite well for Vic.

Well, that's about it. By this time I was mentally exhausted. Vic on the other hand seemed to be getting warmed up. I had taken in so much of Vic's life, I was concerned that I wouldn't be able to decipher my own chicken scratching and keep the details straight.

Composing this brief essay about Victor Toogood has been a great experience for me and I hope for the NTNOA members as well. We are extremely fortunate to have a member like Vic to tell us first hand about motorcycling in its infancy, how it influenced his life and the resulting memories. So the next time you see Vic, take a few moments to introduce yourself, and shake hands with the NTNOA's one and only English Gentleman. It's a privilege to have Vic as an Honorary Member and one of the very early members of the NTNOA.

[John Cary Yuill's tribute to Victor Toogood]
[Toogood: A Story - By Bev Bowen]
---
The Houston based classic motorcycle enthusiasts, including members of the BMOA, and BRMC will always have fond memories of Victor. For many years he attended the Annual New Ulm Rally. Victor always camped out and was open to developing new friends while offering his intellect and wisdom for those within his presence. I will remember Victor as a kind man that always offered inspiration. He will undoubtedly be remembered and missed by the many that were fortunate enough to make his acquaintance.

Posted by: John Martin Houston/Segui, TX - friend Dec 19, 2010
---
From: James Ingram
Sent: Thursday, December 23, 2010
To: ntnoa@ntnoa.org
Subject: Victor Toogood Remembered

It is with great sorrow that I heard about Victor Toogood's passing. I wanted to relate a small story to you that happened at last year's 2009 LoP rally. It was said the Vic had an exceptional recall of faces and names. This is very true.

In the 1990s I was riding and hanging out with Jerry Hubbard. At some point (I am not sure exactly when) Jerry and I paid Vic a visit at his place down on Davis. We got the grand tour and as both Jerry and I were mad for old British bikes, we were enthralled with everything he showed us. Fast forward to 2009. I was walking along the rows of bikes set up for judging that the 2009 LoP. At the registration tent sat Mr. Toogood. He was alone so I thought I would go and renew old acquaintances. I said "hello" and shook his hand. He smiled, looked intently at my face and said "I know you. You came to my shop with that other fellow several years ago." I was dumbfounded. I can't remember what I did yesterday much less the people I met ten years ago. After that we chatted like old friends.

Victor Toogood was a true gentleman and I grieve his passing. We need more gentlemen of his caliber and now we have one less.

James Ingram
Ingram And Friends.com
Leonard, TX
---
Vic's Quotable Quotes
* From racing at Brands Hatch on an AJS R8: If its not raining, it's a good day for racing.

* On Vic's decision to return to the States after the war: Well, I saw how bloody much money you Yanks are paid for such bloody little work and so I decided to get in on it.

* On Vic's planned retirement to Barbados someday: Barbados because there are beautiful sandy beaches full of lovely young ladies in bikinis, they speak the Queen's English, and there are damn few Yanks!

* On when he will retire: Why, when I get old of course!
---
Some Memorable Times with Vic (from Dave Howe a.k.a. Flat 2)
* Vic once worked for Doc Storm, organizing all the bits in the attic. Vic was a sight blaring down Chalk Hill in his old Hillman with no top. When it rained, he still blared down the hill, having donned his only proper rain gear - an old pair of goggles. When the Hillman expired, it was the same drill, rain or shine, on his trusty bicycle!

* In the late 60's, I met the other bikers at work and immediately began hearing about "the old Englishman". At that time, his shop was down a dirt alley in Oak Cliff. My friend had an old Matchless 500 single he was trying to keep running and had lost a weird little shoulder bolt in the rear end. We went to Vic's and he was very polite and cordial. We described the odd bolt and he said, yes he thought he had two of them. He dug around in bins, boxes, tins, nooks and crannies for a while and came up with the badly needed part. Cost – 35 cents!

* The first several LOTP rally's were held at "The Cove". There were several small cabins, one which had a nice porch that overlooked the entire rally area. Vic was appointed the Grand Marshal and received a cottage for his trouble. A large Union Jack was placed on the porch railing and each morning Vic would come out, stand there by the Jack and survey his domain. Quite a sight, the Englishman standing up there, waving to his court, and in his best high-tea English, delivering greetings to NTNOA from Her Royal Majesty, The Queen of the British Empire, complete with anecdotes from the Queen Mum and Maggie Thatcher, all of whom he claims to know quite well, of course.

* Vic has always been happy to take on any task for NTNOA at the rally. His main station is at the sign-up table working all day until late in the night. Then going off to sleep wherever he could find - one year on the ground with only a single thin blanket!

* The last motorcycle Vic rode, I am proud to say, was my BSA M20. This was at the last LOTP at The Cove. Vic sheepishly came up and asked if I would mind terribly if he road the M20 a short ways down the road. So with the W.W.II British India Campaign pith helmet as a topper, he motored down the road. What a sight! The English gentleman, riding British ramrod straight in the saddle, a dignified smile on his face, probably reliving fine memories of riding all types of bikes over the decades. The M20 was given the name "Victor" on that day. Vic seemed pleased and I certainly was.
---
Examples of Some of Vic's Bikes
1914 Douglas

Flat twin, belt drive with carbide headlamp. Vic's first bike. Acquired at the age of 10. License plate LO 218

Montgomery


680cc JAP V-twin side valve. Same engine as placed in a Brough Superior.
1923 Raleigh
350 side valve. Originally owned by Lord Petre.
1913 Brown
3 speed in the rear wheel with oil lamp.
1928 BSA
Round tank 250

1929 BSA


497cc BSA (ohv 'Sloper')


1933 Royal Enfield Bullet
4 valve, 4 speed

1930 AJS
R-8 500cc racer

1936 Norton Manx


500cc single, fine racer but not a road bike.

1947 Norton


Model 30 500cc


1951 Vincent Black Shadow


Purchased for $400.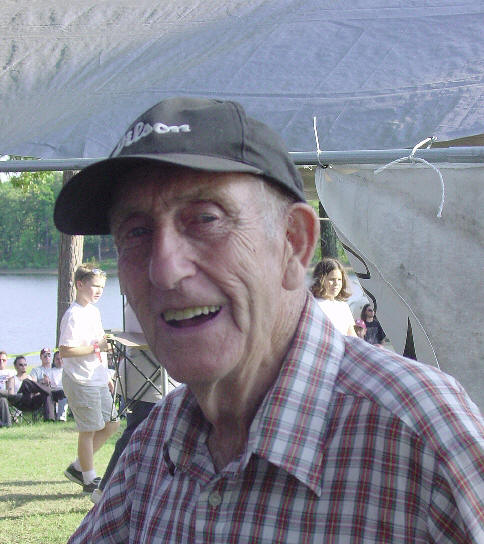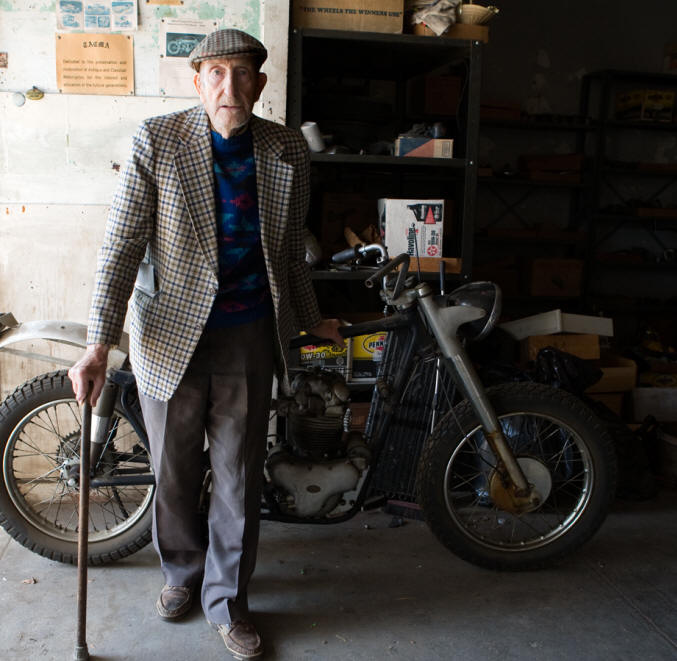 RIP Victor