The NTNOA's April Club Meeting
was Sunday, 27 April '08 at 2:00 PM at
Phil Craine's hangar (home of the Harley Dog Saloon)
at Hicks Field
---
Once again the meeting at the Harley Dog Saloon was one of the best attended in spite of the inclement weather. Many thanks to Phil Craine for hosting another very enjoyable meeting.

There were around 30 members and guests present with most (except for our president) ridding their vintage bike to the meeting. Nick Nichols road his 1942 side-valve Harley to the meeting but needed his wife to rescue him during his ride home after the rear wheel seized at close to top speed (around 30 mph?). Ward Hogue rode his 1970 Triumph Bonneville from Bridgeport and reluctantly sold it to our Treasurer, Mike Vance. Mike will continue the meticulous care of the T120R.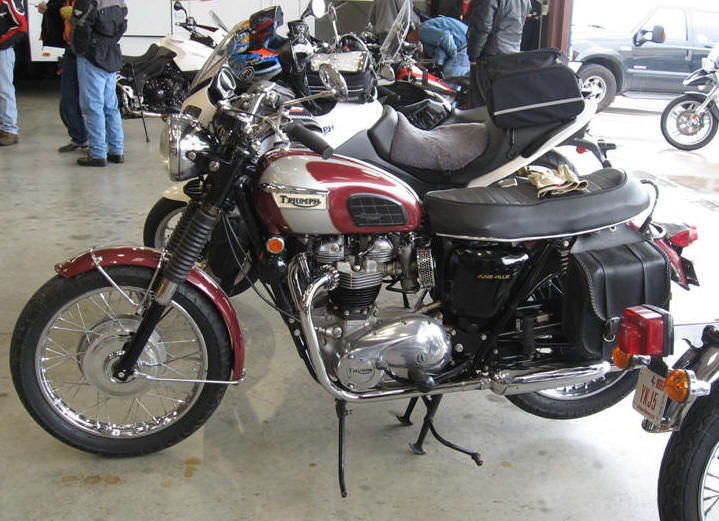 Dennis Tackett trailered the Lake O' the Pines raffle bike, a 1979 T140V Bonneville, and sold raffle tickets.
This year's LOP Raffle Bike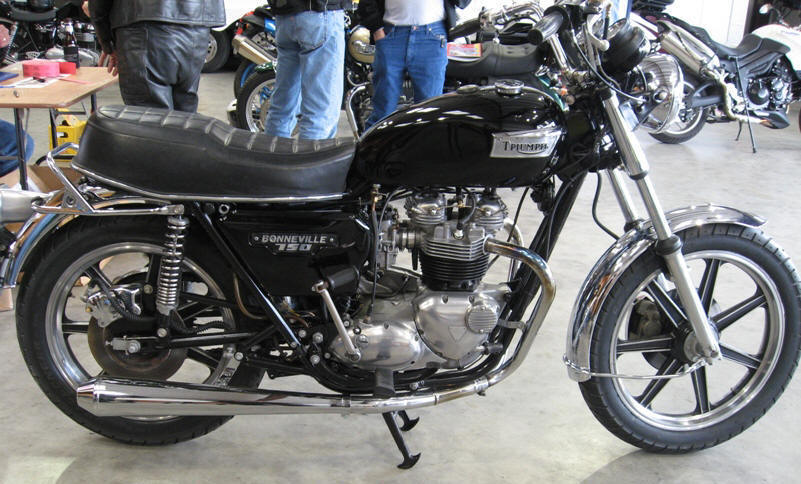 Dennis also trailered Keith Martin's Big D Cycle vintage T140 race bike. Ryan Ambrose (aka Hot Rod) is Big D's racer. Hot Rod took a couple of "hot laps" down the taxiway to demonstrate the Triumph 750cc motor's finer qualities. After four races Ryan has the points lead in both the AHRMA Sportsman 750cc class and the Battle of Twins class riding a Suzuki SV650. You can check out Ryan's results at www.bigdcycle.com/roadracer.htm Hot Rod's next race is Talladega on May 17th and 18th. The club voted to continue supporting Ryan's racing effort by donating another $500.
Hot Rod with his AHRMA race bike.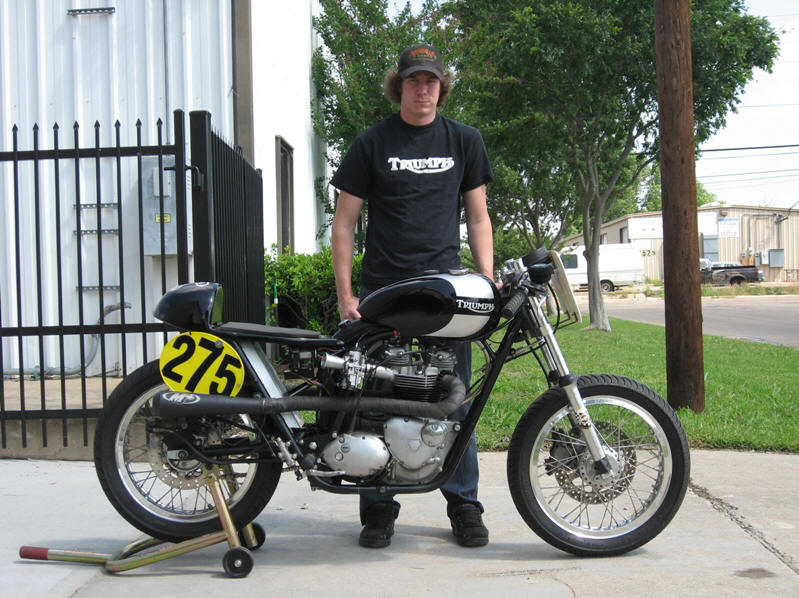 During the meeting Clay Walley announced that Cycle World magazine's VP and Editor-in-Chief Dave Edwards will be attending our Lake O' the Pines rallye and is looking for a bike to ride in the new Rolling Concours event.
---
Click on photo to enlarge.
---
Copyright © 2000 NTNOA All rights reserved.
Revised: November 30, 2010 .