Our April Club Meeting was Sunday, 1 May at 2PM at Moto Liberty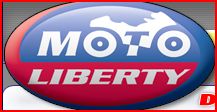 Due to a conflict with Easter our normally scheduled end of the month meeting for April was held Sunday, 1 May.

Many thanks to Audrey for hosting our April meeting in May. As before Audrey provided sandwiches and cold drinks for us to enjoy. After the meeting she raffled off motorcycle related merchandise.

Our president Chris Parry called the meeting to order. His first order of business was to thank Audrey for her generosity. Chris discussed the upcoming All British & European Car Day at White Rock Lake on May 22. Wayne Parfitt volunteered to organize our participation. The club will have a booth to sell raffle bike tickets and promote the club. Members should ride their vintage Brit or European bikes and enter them in the show. For the first time there will be two motorcycle classes, one for pre 1970 bikes and the other for 1970 and newer bikes.

Chris announced that the club donated about $300 to the proceeds from the Vintage Bike Show during the Lone Star Classic for the Rusty Bradley memorial fund. In total $1,000 went to the Rusty Bradley memorial scholarship fund at the University of Texas at Arlington. Check out The Lone Star Classic for more information.

Chris mentioned that the club needs another trailer to store club equipment. The existing club trailer is too small and is already full storing the club's cooking equipment. He asked to allow the Executive Committee to purchase a larger club trailer. A motion was made and seconded to allow the expenditure of up to $5,000 for the purchase of a trailer. The motion passed unanimously.

Details were discussed concerning the 2012 visit to the Isle of Man. It was agreed that instead of going to the TT it would be more appropriate to observe the Manx Grand Prix. More information to follow.
---
Copyright © 2000 NTNOA All rights reserved.
Revised: January 05, 2018 .