Our April Club Meeting is now at Pappas Bar-B-Q on Sunday, 23 April.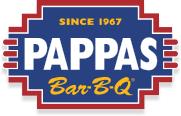 2231 W Northwest Hwy, Dallas
Meeting is a week earlier due to the Spring Hill Country Ride on the last Sunday of April (27 Apr. to 30 Apr.)
Members and guests are encouraged to arrive early to socialize, meet new members and guests and look over the different assortment of antique and modern bikes. This usually occurs between 12pm and 2pm with the formal meeting starting at 2pm.
---
Copyright © 2000 NTNOA All rights reserved.
Revised: March 27, 2017.