The NTNOA's August Meeting
was Sunday, 28 August, at 2:00PM
at Pappas Bar-B-Q
2231 W Northwest Hwy, Dallas, TX
214-956-9038
---

There was an excellent turn out with about a third of the membership in attendance. The weather although still hot cooperated a little and was cooler than the previous couple of days. As a result most members rode to the meeting.

Our President, Clay Walley started the meeting right on time with a run-down of old business. Dennis Tackett, our Rally Chairman gave a recap of this year's scheduled Rally events which include a Classic and a Modern Bike Ride around the lake. In addition there will be a Slow Slalom Race and a Kick Start Contest.

This year's Rally Raffle Bike, a Yamaha SR250 was on display for all to see. It's street legal and runs well. It was purchased at the Mid-Ohio Vintage Days swap meet last month by Berwyn Henderson for just this purpose. Note the very convenient "beer cooler" on the back. Actually its a factory Yamaha trunk that locks on and takes the place of the pillion seat. Raffle tickets are $5 each (5 for $20) and will be available at our next meeting and of course at the Rally.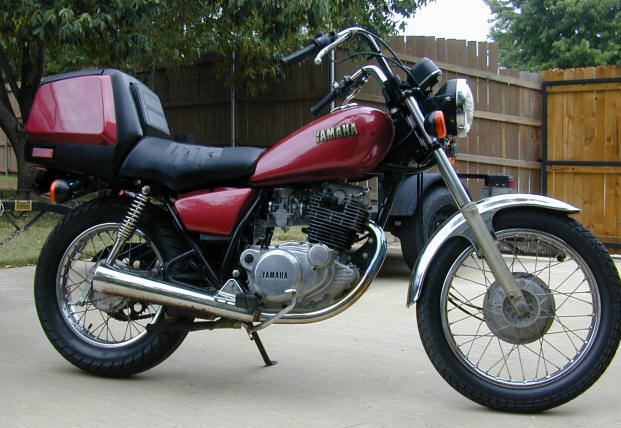 Dennis Tackett, gave out Rally flyers to be given to our local motorcycle dealerships for their display and distribution.

Our annual club dues are due in August and Bill Keating, our Treasurer was there taking renewals. They are still $15 per year. For those who have not yet renewed the September meeting is a great opportunity to do so and also pre-register for the Rally.

New Business: Clay Walley announced that the Best Italian (Ridden to the Rally) Trophy will from now on be also known as the Derrel Robertson Memorial Trophy. Derrel passed away April 14, 2004. He was one of our most loyal supporters. He went to every Lake Of the Pines Rally ever since the second one driving all the way from Colorado or New Mexico. (see Derrel's Memorial). After notifying Derrel's wife Lana of the club's decision to name the Best Italian Bike after Derrel she emailed the club the following letter in response.

Dear NTNOA officers and members,
Words cannot express to you how deeply touched and moved I am that you will be honoring Derrel in this way. Derrel loved all the rally's and riding but this weekend at the Lake of the Pines Rally was always his favorite. He loved everything about it and he loved meeting and seeing you all. He mostly loved telling others about it and every year there were new participants there because of him. Even though Derrel never wanted to draw attention to himself....he must be so very very honored this morning. This would mean the world to him and I hope with all my heart he knows. But, rather he does or doesn't ...this means so much to me, our children and most of all ....all his friends who meant so much to Derrel. His motorcycle buddies. We will all be there this year and I hope to see you all and give you all the biggest hug and thank you in person. So, I thank you from the bottom of my heart for myself and our family of friends. Thank your for remembering him and for your love, sensitivity and for caring. He was, is and always will be the most special man and friend to us all.

I love you and thank you so much,

Lana

We also received the following email from Derrel's son, Sonny.

Hello NTNOA officers and members.

I just wanted to personally and most sincerely say thank you for the renaming of Best Italian Trophy after my father, Derrel Robertson. This means more to my family and I than I can possibly express knowing as I do how passionate my father was about Italian motorcycles and about getting together with all his buddies each year at Lake of the Pines. My mother always complained about him spending his one week of yearly vacation at the rally, but she never refused because she knew how much my father enjoyed it. It was the ultimate event for him and I am very touched by this honor, as I know he would be.

Thank you again very, very much,
Sonny Robertson
Portland, OR

The meeting was adjourned but most everyone stayed to enjoy the camaraderie and vast assortment of bikes in the parking lot.

---
Copyright © 2000 NTNOA All rights reserved.
Revised: January 29, 2008 .