Big Bend Annual Ride
by Steve Ledbetter
If you want some of the best off-road and paved bike riding in Texas, try the Big Bend Thanksgiving Ride. Nick Burke (RIP), Bob Speer, Jim Mosher and others were the first to make the Big Bend at Thanksgiving an Annual event. The logic behind making the trip at Thanksgiving is, you are riding in the desert and it can get really hot in summer, and it's not a peak tourist time of the year.

Ralph Delmar one of our NTNOA members runs CycleTek, a successful bike repair and accessory business in Study Butte. Study Butte is where we stay due to its central location in the Big Bend area and a choice of motels and campgrounds. Check out this web site for details of the area. http://www.visitbigbend.com/

The off-road trails are rocky, dusty and some times sandy, but always beautiful as you ride through the desert and mountains. I've been lucky to have Bob Speers as a "guide" because its easy to get lost and a long way to anywhere, so always have a map, and a GPS with TOPO is added insurance. A licensed bike is a must because the trail usually starts and ends off a paved road, but it might take a lengthy road ride to get back were you started. There are a lot of trails but they can be widely separated and long so you have to be able to ride on paved roads to get to them.

After a long day riding it's mandatory that you refresh yourself at the "porch" at Terlingua Ghost Town. This is a popular local spot to watch the changing shadows in the mountains as the sun sets.

There are some good places to eat, a lot of characters to meet, and beautiful scenery in Big Bend and most of all some great riding.
Tommie (Ralph Delmar's better half), Bob Speer and myself on "the Porch" in Terlingua Ghost Town rinsing the dust out.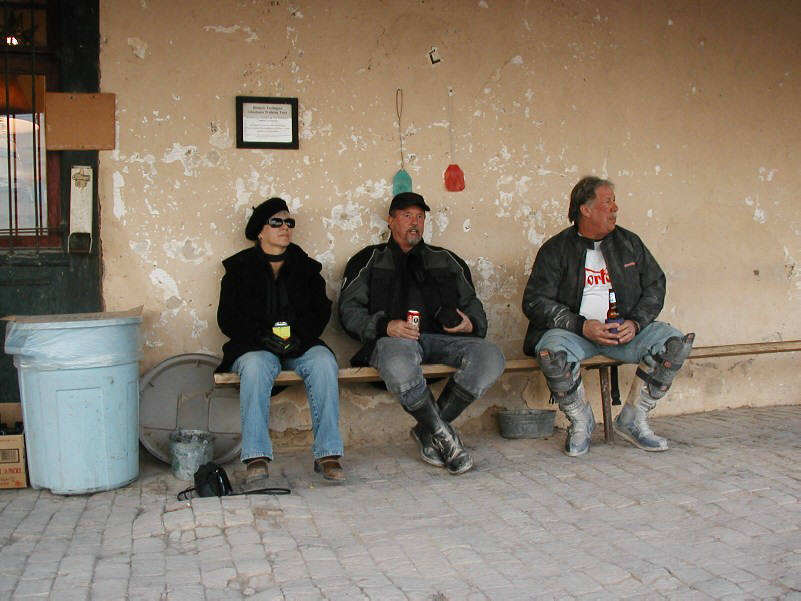 ---
The Porch again. Shane Bradford's Yamaha TT250 on left Notice extra gas strapped to back.
Bob's KLR650 is in the middle. Bob has a lot of stories with all the places he has been on this bike.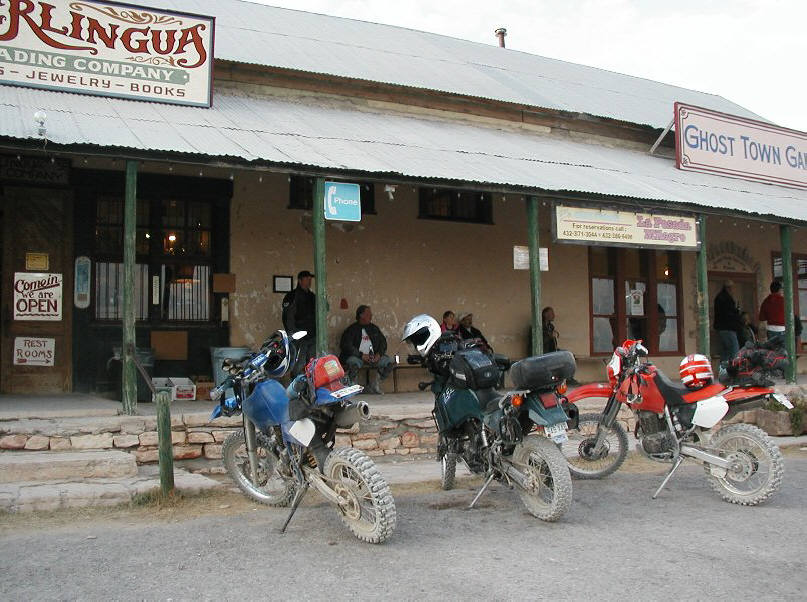 ---
All the dust is gone. Bob and I getting ready to enjoy a cold one.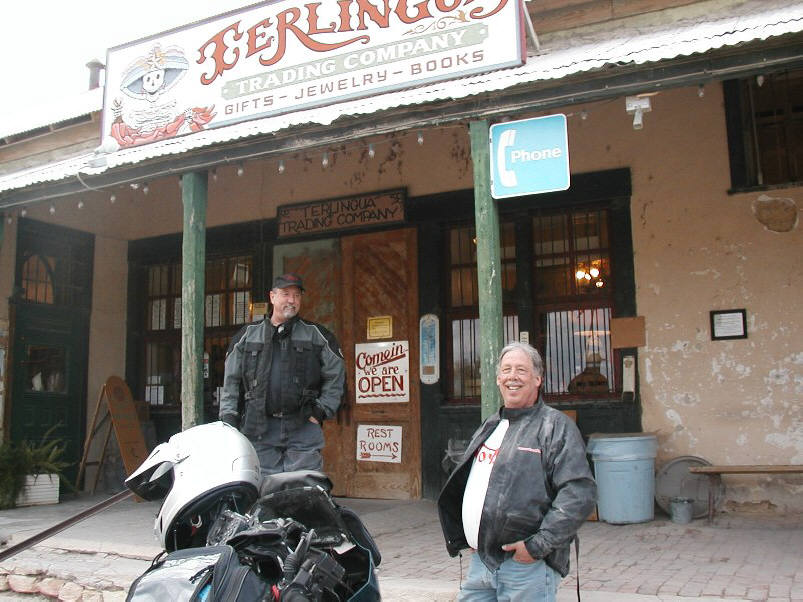 ---
My XR400 modified for Big Bend, Baja Designs street legal kit, 4.0 gallon tank,
GPS, dual output stator, rack on the back for gear, and a Peckerhead graphic.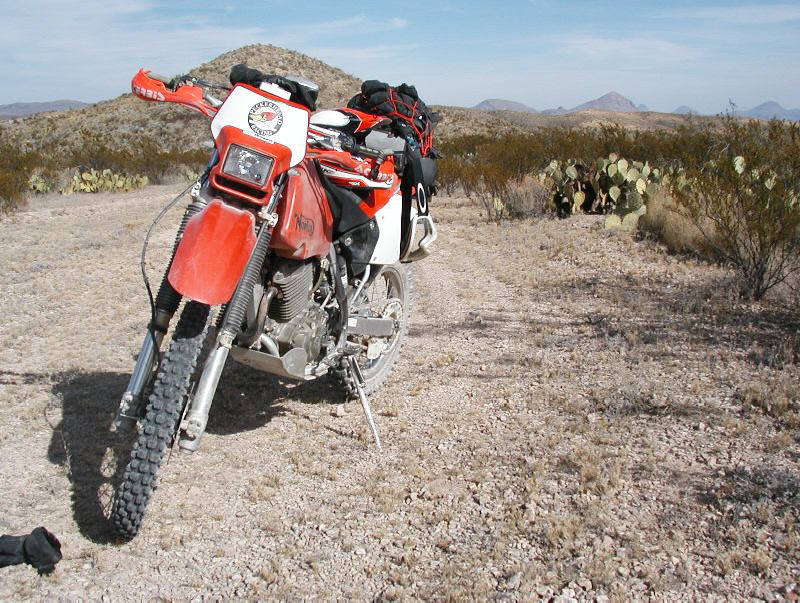 ---
Clay Henry - Mayor of Lajitas, a beer drinking goat.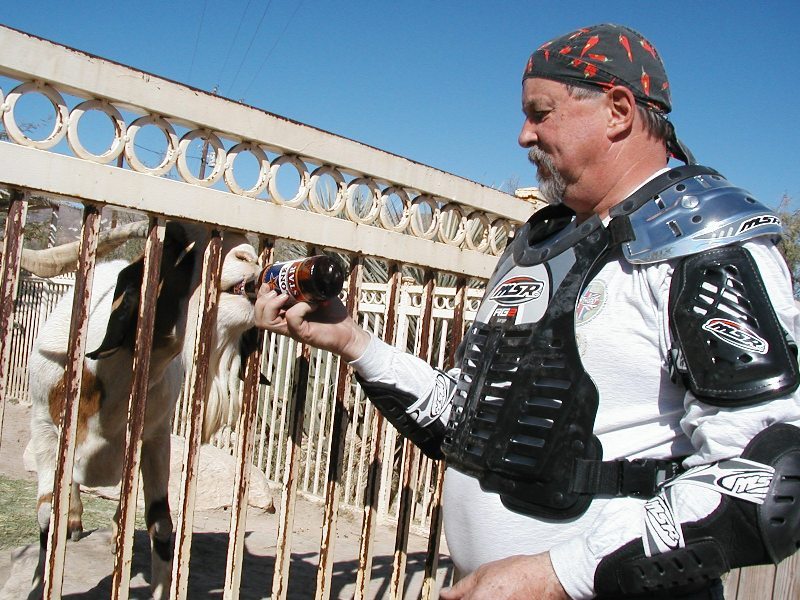 ---
Click on photos to enlarge.
| | |
| --- | --- |
| Riders on Hwy 170 stopping at Fort Leaton/San Jose. | Shane and me - after taking leak. |
| Shane and Bob getting ready to ride after a break. | Typical sign in Big Bend Park. |
| Trails west of Study Butte. If you get off the trail you will get a flat. Everything has spines, stickers or is poisonous. Stay on the trail! | A Locals Eastern Block 50cc. He built from a basket case; he loves the 100mpg+. Not so good up the steep slopes, but great going down. |
| Jim Mosher and Bob Speer in Big Bend Park. | Local Store. It has an official "Greeter" Dog |
| Jim Mosher riding by at a creosote ghost town. | View from motel in Study Butte. |
| | |
| Stopping near Hen Egg Mountain | Looking through window at a creosote ghost town. |