2012 Christmas Dinner Party
Our annual Christmas Dinner party was once again at the Spirit Grille in Irving on December 15th. There were 108 members and guests in attendance, the most ever for our club's annual Xmas Dinner Party. Richard Asprey, our Rallye Chairman made sure there were plenty of buckets of beer and a table full of wine for any and all to enjoy. There were even a few who rode their new Triumph motorcycles. We've been told one in particular had a little difficulty keeping it upright while backing out of his parking spot right in front of the Spirit Grille. Luckily there was no harm done.

Randy Bauer was busy selling 50/50 tickets. Again, our Rallye Chairman on behalf of Aggressive Insurance donated many Christmas Teddy bears and three Christmas gift hampers to raffle off along with the 50/50 drawing. Tony & Martha Lewis, owners of Eurosport Cycle donated a Track Day at MotorSports Ranch. Aggressive Insurance also provided all the wonderful deserts. Not surprisingly there were many happy faces after all the winning tickets were announced. All the 50/50 funds were donated to Ryan in support of this racing next year on a Triumph Daytona 675 provided by RPM Cycle thanks to Boris Loera.

The Spirit Grille did a great job with the dinner. Everyone seemed to really enjoy what they had ordered. The staff's ability to deliver 108 orders in just a few minutes was amazing. Our president, Chris Parry thanked the Spirit Grille and staff for their great service and hospitality.

Chris also read a letter from former club president Dean Baker acknowledging the efforts of our webmaster, George Tuttle. Chris presented George with a beautiful plaque in recognition of his service to the club. Dean is a Delta Air Lines Captain who moved to Seattle to avoid having to commuting after Delta closed the DFW pilot base. Click here for a copy of Dean's letter and a photo of the plaque.

As the evening wore on toward 2AM one person became so bored (or inebriated) they fell asleep.
From left to right: Monica Parry, Alton Gillespie (snoring), Chris Parry, Bruce Jones and Dennis Tackett.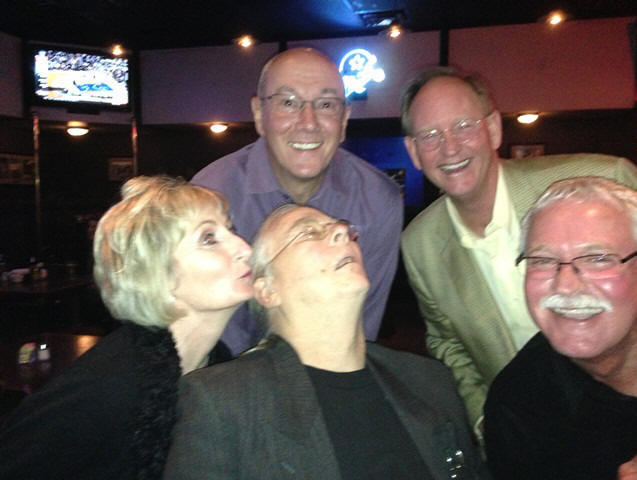 ---
CHRISTMAS MENU
Social Hour started at 5.30pm
Dinner was served at 6.45pm
Bar was open till 2.00am
Choice of:
Shrimp Linguini
Fresh sautéed shrimp with garlic, onions, white wine, roasted bell
peppers, tossed with a creole cream sauce.

Rosemary Garlic Chicken
Golden pan seared rosemary crusted chicken breast topped with lemon butter
sauce. Served with Mashed potatoes and asparagus.

Bangers and Mash
Pan seared sausage atop horseradish mashed potatoes then topped with an onion gravy along with green peas.Pan seared sausage atop horseradish mashed potatoes then topped with an onion gravy along with green peas.
4030 N. MacArthur Blvd., Suite 112, Irving - View Map
---
Copyright © 2000 NTNOA All rights reserved.
Revised: January 05, 2018 .