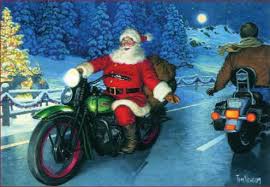 Our 2015 December Meeting & Christmas Dinner Party
was at the Spirit Grille on Sat., 19 Dec.

Our Christmas Dinner Party is always our best attended meeting of the year with over 100 members and guests. The staff at the Spirit Grille needs to be commended. They were remarkable keeping everyone supplied with adult beverages all through the evening. The dinners were well prepared and they were all served on time.

The social hour started with a handful of members just before 5:00pm. The dinner was served at 6:45pm and for a few members (Alton, Richard, Dennis, et al) the Bar stayed open till 2am!

A very special thanks goes to Richard Asprey who supplied most of the door prizes including Santa figurines with a bottle of sparkling champagne inside. Dennis Tackett handled all the MC responsibilities with his usual flair including the 50/50 and raffle prize drawings.

The menu consisted of:

Bangers 'N Mash
Two grilled bangers topped with and onion brown gravy. Served with mashed potatoes, peas, and Coleman's mustard.

Atlantic Salmon


Grilled fillet of Atlantic Salmon topped with a tomato dill cream sauce. Served white rice and asparagus.

Rosemary Garlic Chicken
Pan seared chicken breast topped with a lemon butter sauce. Served with mashed potatoes and mixed garden vegetables.
---
Copyright © 2000 NTNOA All rights reserved.
Revised: November 01, 2016 .