Our February Club Meeting was Sunday, 27 February at 2PM
at Ed Mabry's Race Shop, Headquarters of Mabry Racing
and Home of Team Triumph Texas.
Paul Valentine's photos of February's club meeting

Ed Mabry with Ward Hogue (both honorary members)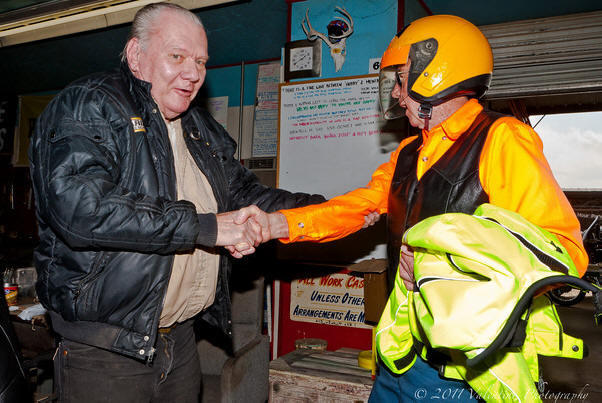 The early morning hours were overcast with intermittent light rain but as the morning wore on the weather improved and by 11AM the threat of further rain diminished. As a result a record number of members and guests rode to Edís shop arriving early enough to socialize prior to the meeting. The club always has a good turnout at Edís race shop and this was no exception.

Chris Parry trying to start the meeting.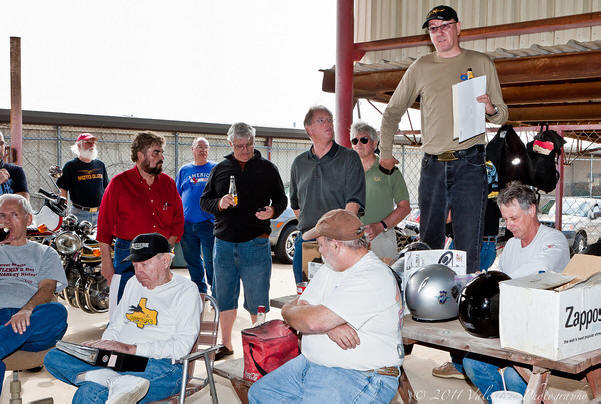 Chris Parry started the meeting at precisely 2PM. The first order of business was to thank Ed for hosting our meeting.

Bob Cox reported on Phil Dansbyís condition. Bob was following Phil on Sunday, 13 February from Philís Up N Smoke BBQ House to Coppell where they both live. They were on Dove Road in Southlake when a 16 year old kid who has a restricted hardship drivers license made a left turn immediately in front of Phil. Phil somersaulted over the car and landed unconscious. He was care flighted to John Peter Smith Hospital in Ft. Worth. His injuries included a broken femur just above his right knee, three broken ribs and a broken clavicle. They operated on his right leg on Monday, 21 February. His doctors reported he had a clean break and he should make a complete recovery. On Saturday, 26 February Phil was transported to the rehab facility at Baylor in Irving for physical therapy. He is expected to be home by the second week in March.

Dennis Tackett reported on AHRMAís upcoming Lone Star Classic (LSC) being held at the MotorSport Ranch in Cresson, TX on March 25 - 27. Big D Cycle and the NTNOA are hosting the event. Dennis is the overall coordinator. The club is responsible for registration, parking and the Bike Show on Saturday. Our March club meeting will be at MotorSport Ranch on Sunday, 27 March just in front of the operations building at 2PM. More information can be found at www.thelonestarclassic.com.

Ryan Ambrose, the clubís sponsored racer described the results of his first race of the season. Ryan won the Clubman Class in Central Motorcycle Roadracing Associationís (CMRA) first race of their season at the Sugar Land Road Course, Angleton, TX on February 20. Weíll see Ryan race at MotorSport Ranch during the LSC.

Bruce Fishlock won the 50/50 drawing and gave his winnings to Ryan to support his racing. Thanks much Bruce.

Jerry Hatfield brought dozens of his motorcycle books that he has accumulated since the early 60's. He was selling them at a discount for NTNOA members. Most were hard-bound and included specialty books about the Aermachi, AJS, Ariel, BSA, Harley-Davidson, Indian, J.A.P., Matchless, Moto Guzzi, MV, MZ, Norton, Panther, Royal Enfield, Rudge, Sunbeam, Triumph, Velocette, and Vincent marque. There were also books about Francis Beart, Geoff Duke, Mike Hailwood, Sammy Miller, Dick Mann, Bart Markel, Gary Nixon, Kenny Roberts, John Surtees, Colin Seeley, and Edward Turner. Many members took advantage of the sale and at the end of the meeting Richard Asprey purchased all of Jerry's remaining books.

Mike Vance looking over Jerry's books. That's Jerry watching Mike like a hawk.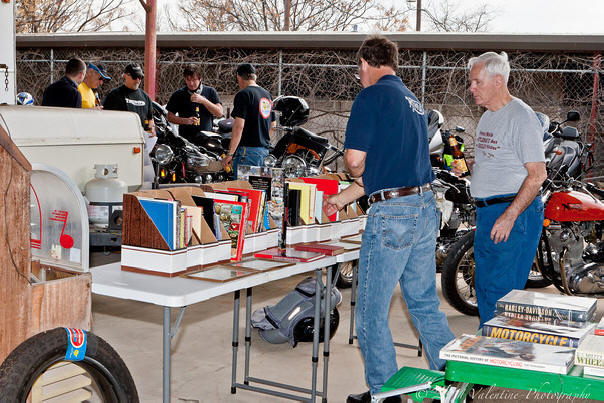 After the meeting many stayed to enjoy the camaraderie and look over Edís race bike collection.
---
Copyright © 2000 NTNOA All rights reserved.
Revised: January 05, 2018 .