Cycle World's January 2005 Up Front Editorial,
"Hogslayer's Last Pass"
Reproduced here with permission from David Edwards, Editor-in-Chief, Cycle World magazine. - Thanks David.

David Edwards at NTNOA's 20th Annual Lake O' the Pines Rallye
Funny thing about our sport/hobby/lifestyle of motorcycling, you never know when or where you're going to run into a legend.

I was at the annual Lake o' the Pines Rallye this past September at the invitation of the organizing North Texas Norton Owners Association, who asked that I present a trophy in honor of my late brother Kevin, a longtime club member. Classy move on NTNOA's part and very much appreciated.

I knew that the famous "Texas Cee-gar" streamliner would be at the concours, freshly restored by a dedicated group of Dallas-Fort Worth Triumph fanatics after its meltdown when Britain's National Motorcycle Museum went up in flames in 2003. A magnificent job by Keith Martin, Ed Mabry, Dennis Tackett, et al, as the fiberglass missile looked as immaculate-probably more so-as the day it bombed across the Bonneville Salt Flats in 1956 to set a new world speed record of 214 mph.

Big surprise was that the double-engine "Hogslayer," nastiest Norton to ever line up at a pro Christmas tree, was also in attendance, as was its rider, T.C. Christenson, still a pistol at 62 years of age. Retired from regular competition in 1977 when Norton went belly-up, Hogslayer has spent most of the last quarter-century in a backroom at Sunset Motors, T.C.'s small Kenosha, Wisconsin, shop, taken out sparingly, which has only added to the bike's almost mythical status.

This is an important motorcycle, a bridge between drag racing's early amateur days and the professional sport it's become today. Cycle magazine's Cook Neilson saw the change from the Top Fuel front lines, campaigning a nitro Harley capable of low-9-second, 170-mph passes.

"Top Fuel racing was fun in the late '60s and early '70s. Spend a couple of thousand dollars, build yourself a Sportster or 74, run 9.0s and win your share. Fun it was then; business it is now," he wrote in a 1976 article about the then-reigning top guns of the quarter-mile, Joe Smith's double-Shovel Harley, Russ Collins' outrageous "Atchison, Topeka & Sante Fe," powered by three Honda 750s, and Christenson's clean Norton double, all capable of high 7s. "These guys put their foot on the neck of the single-engine Sportsters and double-engine Triumphs," he says today.

Ironically, it was a Triumph double that inspired the building of Hogslayer, namely Borris Murray's sanitary twin 650, first bike to clock a 170-mph terminal.

"I remember the first time I saw Borris run," says Christenson. "He pulls up to the line and everybody runs to the fences to watch. Away he goes, all smoke and noise and haulin' ass and wheelstanding, and I said, 'That's for me!"' On the spot, T.C. made plans to retire his single-engine Norton.

The brains behind Hogslayer belonged to builder/tuner John Gregory, who pirated a Hilborn mechanical fuel-injection system from a midget Offenhauser, and adapted it to be driven off the front engine's camshaft.
The injection system was cool as hell for the late '60s," says Neilson.
"The Harley guys all used big, sloppy S&S carburetors; the Britbike doubles all seemed to have a quartet of bored out Amals or some such."

Hogslayer's driveline was even more revolutionary. Standard operating procedure at the drags back then was to wing the revs at the line, drop the hammer and leave in a flurry of screeching and smoke, using high gear all the way. In effect, the spinning rear tire was the clutch, as stock plates were barely adequate for 50 horsepower, let alone Hogslayer's combined 300 bhp running on a witch's brew of 95 percent nitro, 2.5 percent methane and 2.5 propylene oxide.

Taking a cue from the car guys, Christenson and; Gregory built Hogslayer to handle an 8-inch M&H slick, twice as wide as the norm. Hooking horsepower to asphalt and doing away with wheelspin was a homemade slipper-type clutch using bronze-sintered plates taken from the brakes of a giant earthmover. A Rambler overdrive was carved up to give the Norton drag racing's first workable two speed transmission. In this trim Hogslayer ran in the mid-7s at 180 mph and was almost unbeatable on consistency.

One impressed bystander was a high-schooler named Terry Vance, running his Honda 750 Four streetbike in the bracket classes at Lion's Dragstrip in Long beach when Christenson & Co. came to town.

"T.C. was the Don 'Big Daddy' Garlits of bike racing, part gunslinger, part rock star, ready to set the world on fire; he made a big impression me," says the multi-time champion whose Pro Stock Harley team is about to wrap up the 2004 NHRA title.

Today, Christenson is semi-retired and at the Texas rally announced that his would be Hogslayer's last stateside appearance. It's been sold to the Brits, and will be installed in time for the National Museum's re-opening ceremonies this January 15th.

"Sure, I'm gonna miss it," T.C. replied when I asked. "That bike has been the highlight of my life-every time I rode it, it was an awesome trip. But it's the coolest thing in the world that it's going to a museum. What better place?

Then he leans closer and gives me a wink. "Besides, they compensated me pretty well for it..."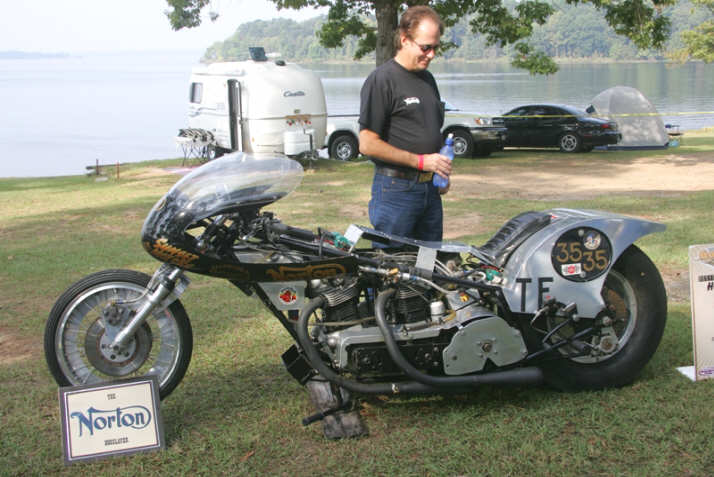 ---
Copyright © 2000 NTNOA All rights reserved.
Revised: January 29, 2008 .