The NTNOA's 2006 May Meeting
was Sunday, May 28th at 2:00 PM at
Ed Mabry Racing
Home of Team Triumph Texas
and the World's Fastest Triumphs!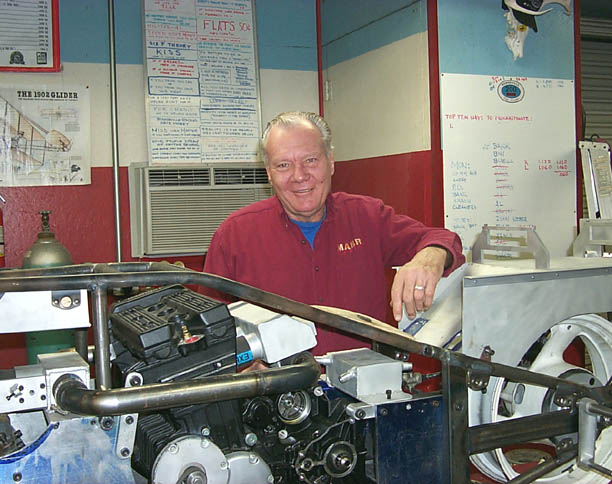 The May meeting at Ed's racing facility - Mabry Racing - was very well attended. Ed's Bonneville crew was there in mass along with over twenty club members. Although the weather was a little warm many rode their vintage bikes to the meeting. Gene "Bub" Arrington, Vice President Telemetry & Metrological Analysis & Commissioner of Fun for Mabry Racing rode his vintage 1948 Indian Chief. Dave Howe rode his award winning highly modified Commando for the very last time as it was picked up by its new owner the next day. There were a large number of Ducati's ridden. Dean Baker rode his beautiful Ducati 916, Phil Dansby (Capt. Commando) was on his '79 Ducati 900 SS, Dave Edinger (Johnny Cool) rode his Paul Smart and Huston Matlock rode up on his 900 SS/SP. In addition, there were many vintage Triumphs and four other Nortons ridden to the meeting.

Clay Wally, our president did an excellent job keeping the formal portion of the meeting short and to the point leaving ample time for socializing and viewing Ed's race shop and museum of record setting Triumph powered Bonneville racers.

Jay McCurry hosted an executive meeting an hour prior to the general meeting with the focus on the Lake O' the Pines rally. This year's rally will include more field events. The bike show registration and voting will be moved up about an hour to accommodate the additional events. Events discussed included a ring toss (two up), ride the plank and cold engine start which will include a sprint of about 20 feet to the finish line. The Avenger FFA will host a Saturday night diner for a fee which will be collected during registration. Only those wanting to eat on-site at the lake need to pay the extra amount. Ways to streamline the bike show were also discussed. There will be a revised schedule of events posted on the website as soon as it is finalized. For those who plan on staying in Jefferson or off site it's a good idea to make your reservations now.

Our next meeting will be at Phil Craine's hanger at Hicks field.

---

Ed has fabricated some of the fastest Triumphs that have ever raced on the Bonneville Salt Flats.
The 2005 Bonneville Race Team

Left to right: David "Packmule" Wade, Gene "Bub" Arrington, Jerry (Hi-Speed) Hawkins,
Kenneth Walthall, Ed Mabry, Pat Mains, and Steve "Rockett" Starrett.
---
Team Triumph Texas


2528 Weaver Street
Fort Worth, Texas 76117
817 831 1805

Email: emabry@ev1.net
---
Copyright © 2000 NTNOA All rights reserved.
Revised: November 15, 2017 .