Our May 2011 Club Meeting was, Sunday, 29 May at Kip Motor Company.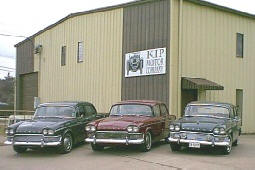 Kip Motor Company
2127 Crown Road
Dallas, Texas
Click here to view a map.
Kip Motor's mission is to help you enjoy your British vehicle, safely! Their vision is to be the premier source providing the parts and information required to restore and maintain any British vehicle to the highest level.

Prior to the meeting Kip Lankenau, the founder and driving force behind KMC gave us a guided tour of the facility. KMC makes parts for antique British and European cars, motorcycles and even vintage airplanes. They recently replicated a magneto switch for a Stutz Bearcat and a distributor cap for a WWII Liberty engine. Since many parts today are unavailable KMC has over 30 antique European cars that are used exclusively for their parts in order to make replacements. Kip demonstrated the process they use to make a mold of a part and produce an exact copy of the original. KMC also makes their own wiring harnesses. They have a room with an assortment of wiring harness boards for various makes and models. The tour was impressive.

VP Randy Bauer started the meeting off by thanking Kip and welcoming our guests. Old business included the judging results of the All British & European Car Day (ABCDE) at White Rock Lake. Our raffle bike, a 1970 Norton Commando won first place in the pre-1971 class and Wayne Parfitt's 1974 Norton Commando won first place in the 1971 and newer class. Our raffle bike also won first place at BMOA's New Ulm rallye earlier this month. Click here for Paul Valentine's photos of ABCDE.

It was mentioned that the memorial service for Ed Mabry was well attended by club members. Ed was a close friend of the club and our meeting's at his race shop and home of Team Triumph Texas were always the best attended. Ed's Guest Book provided by the Ft Worth Star-Telegram has been kept permanently online by the NTNOA. If you haven't had a chance to sign it please do so.

New business included the upcoming bike show in Deep Ellum at Reno's Chop Shop Saloon on Sunday, June 12th organized by Peter at Moto Liberty. Our June club meeting is Sunday, June 26th at 2PM at Rick Fairless' Strokers Dallas in conjunction with an Antique British & European Bike Show. It will be similar to the Strokers Bike Show the club hosted last year except this year will include antique European bikes.

Phil Dansby was presented with a bottle of Johnnie Walker Blue Label as a get-well gift from the club members. Phil was the victim of a teenager's lack of judgment when he made a left turn immediately in front of Phil. Phil was riding his customized '73 Commando at the time that he bought brand new from Doc Storm in '73. Knowing how much Phil enjoys a good Scotch Whisky Chris Parry came up with the idea and arranged for the purchase. For those who don't know, the Blue Label is Johnnie Walker's premium blend. Every bottle is serial numbered and sold in a silk-lined box, accompanied by a certificate of authenticity. It is also one of the most expensive blended Scotches on the market, fetching prices upwards of $225 a bottle.

Clay Walley won the 50/50 drawing and donated his winnings to Ryan's race fund. The club's portion of the drawing was also donated to his race fund by popular choice. Ryan continues to win. Earlier this week Ryan won the Central Motorcycle Roadracing Association's (CMRA) Clubman race at Hallett Motor Racing Circuit in Hallett, OK. Ryan is currently number one in points.

Randy adjourned the meeting and led a group ride to the Brit Bike Burn-up.
---
Copyright © 2000 NTNOA All rights reserved.
Revised: January 05, 2018 .