For the first time in many weeks the weather was perfect and despite some of the flooded roads on Northwest Hwy attendance was great and the best seen in a long time.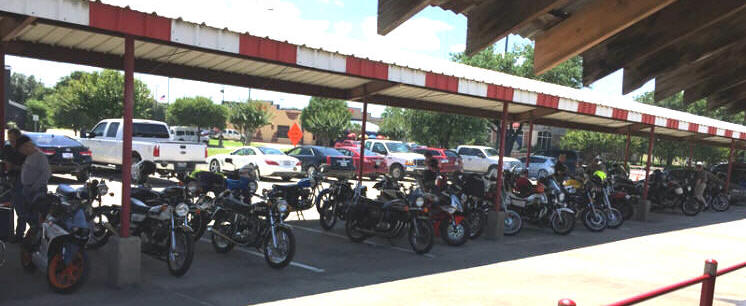 Most members arrived early to have lunch and socialize and check out the many different makes and models of new and antique motorcycles.

Richard started the meeting introducing new members and quests. Included were Lance, Jim, Chris Parry's brother-in-law Connie and Richard's son Charlie. With great applause Richard introduced Charlie's fiancé Madison who just graduated as a 2nd Lieutenant from the US Military Academy at West Point.

Mike Mediterraneo announced that the club membership is now at a record high of 180 members.

Richard recognized the hard work of many volunteers who made the Pate Swap Meet and the All British & European Car Day such a success. Click here for a review of that weekend.
A special thanks to Wendy Griffiths for coordinating the two events and selling raffle bike tickets and Gary Brooks for transporting the club's canopy and raffle bike and selling tickets.
Others who made significant contributions include:
Gary Vicksell – Selling tickets and set up.
Mike Mediterraneo – Organizing and loading raffle bike stuff.
Keith Martin – Transporting the raffle bike.
Frank Jakab – Selling tickets.
David Griffiths – Selling tickets and set up.
Dennis Tackett – Selling tickets and set up.

Richard, Mike Mediterraneo, Rob Green and VP Randy Bauer attended BMOA's Rallye on Lake Somerville, May 15th – 17th. Despite some inclement weather everyone had a great time. Richard took first place in their 500cc or below Cold Start contest on his 350 Norton single. Fortunately for Richard there were no other contestants in that class.

Jerrett Martin rode his race bike to the meeting and updated us on his racing accomplishments during AHRMA's Road Racing Series at Sonoma Raceway, May 24th & 25th. On Friday Jerrett won the Thruxton Challenge. He took third at the Battle of Twins by Aggressive Insurance. On Saturday once again Jerrett won the Thruxton Challenge and is leading the championship.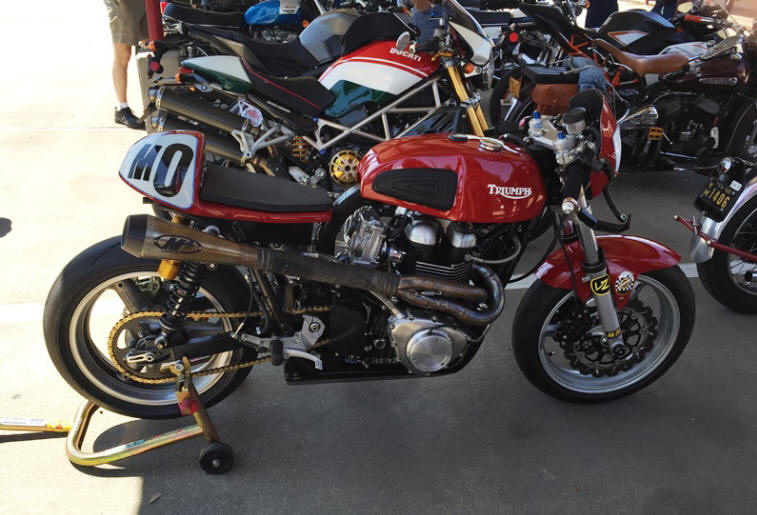 Upcoming events:
Our next club event is on Friday, June 19th. Richard is hosting the First Annual Little House Construction (aka Erection) Party. There will be parking for motorcycles only. All four wheel vehicles much park at least five miles away IAW Little House rules. The party starts at 3pm and lasts until ???. Click here for the address and a map.

On Sunday, June 28 our club meeting will be held in conjunction with our annual Strokers Dallas bike show. More details to follow.

Dennis Tackett reminded everyone of the British Invasion of the Ozarks. A ten day ride on pre 1983 motorcycles in and around Arkansas - Sep. 11th to 18th. If you haven't signed up already you need to contact Dennis Tackett at dennis@ntnoa.org

Dave Overton won the 50/50 drawing. The club's portion was donated to Jerrett to support his racing.

The meeting was adjourned and most rode over to the Goodfriend Beer Garden & Burger House to support GT- Moto's Benefit for Bethany.
Bev Bowen leaving on his Vincent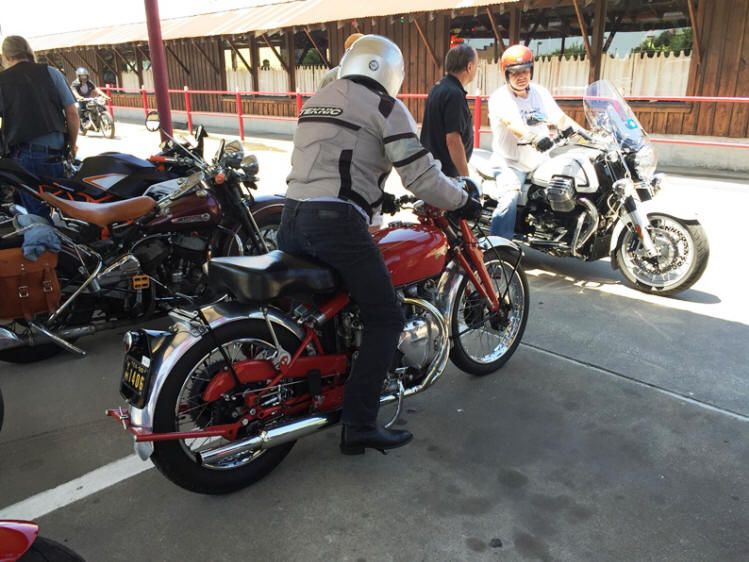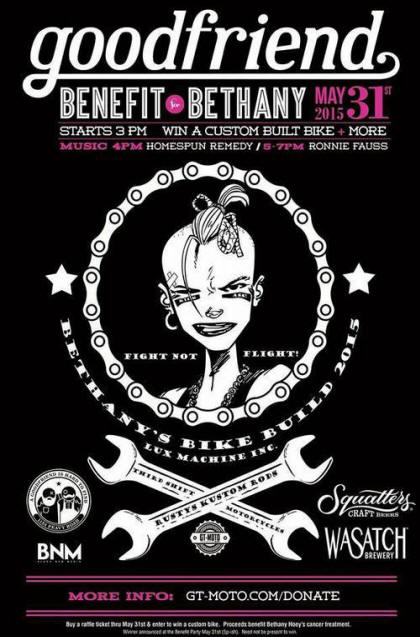 Copyright © 2000 NTNOA All rights reserved.
Revised: January 05, 2018.