Michael Brown
Born March 25, 1947 - Murdered June 30, 2013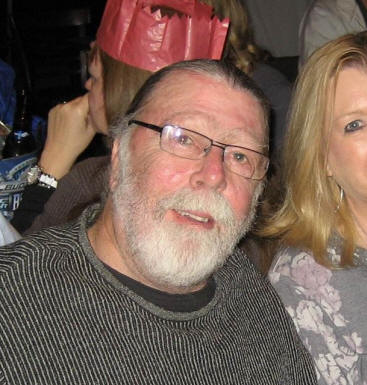 Mike and his 1956 Harley-Davidson KHK Sportster at the Strokers Bike Show the day he died.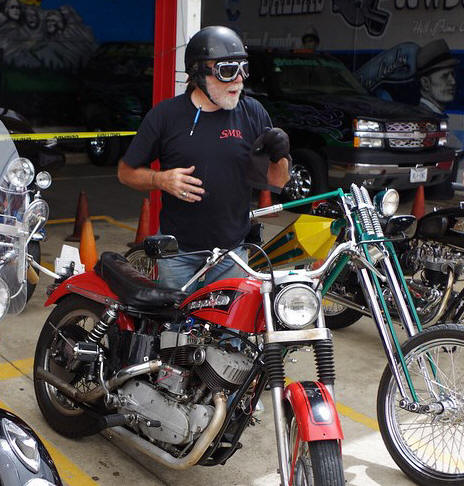 Tragically, the NTNOA has lost another fine member. Mike Brown was quite simply a very nice, friendly, talented man. I consider myself lucky to have known him. When he and his good friend Frank Jakab recently attended the gathering of our club's officers, and fellow members, to discuss this year's Lake of the Pines rally, it was proof of his dedication to the NTNOA.

I got to know Mike when he and Frank were recruited by the ever generous "King Richard" Asprey to crew his BSA which I was privileged to race at the Lone Star Classic at the Cresson track in 2011. It was such a rewarding experience to be able to race 25 years after hanging up my leathers. Words can't describe what a magnificent time that was in my life.

There aren't enough words to describe the way I feel right now, either. I'll just say that I will miss him greatly. There is a song titled "Stars" performed by Grace Potter which contains the lyrics "up on Heaven's boulevard". I imagine that's where Mike is now, riding his Harley, with his 12 string guitar strapped to his back.

God speed my friend.

Jake Hendricks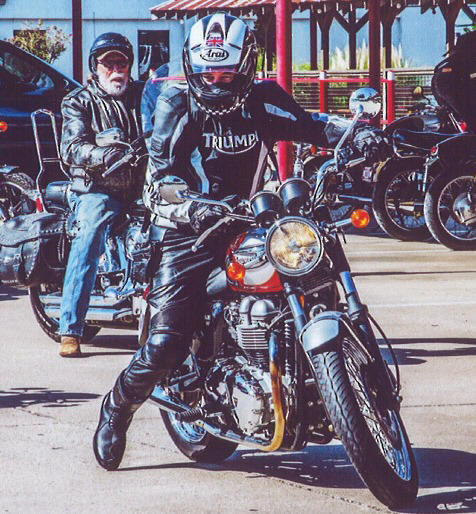 Photo by Paul Valentine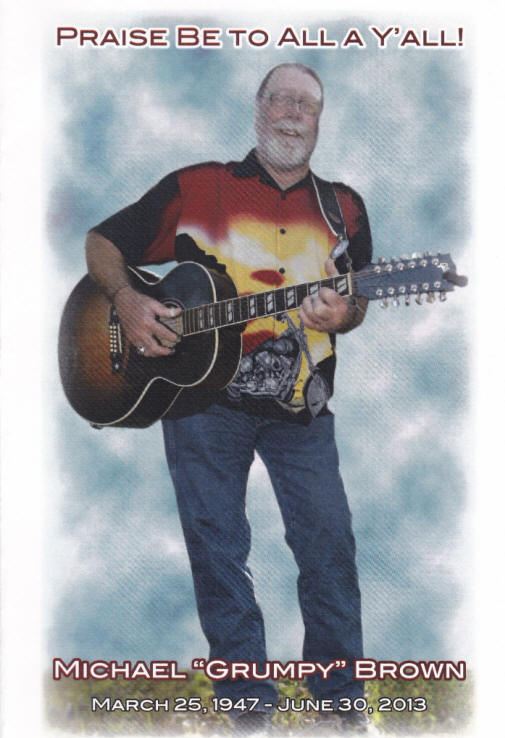 There was a celebration of life on Friday, July 5th at the Sons of Hermann,
3414 Elm St Dallas. There was also a benefit for Mike on Sunday, July 28 at Marie Red's in Arlington.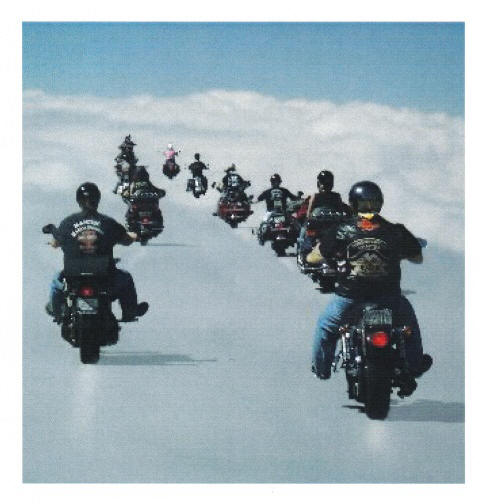 RIP Mike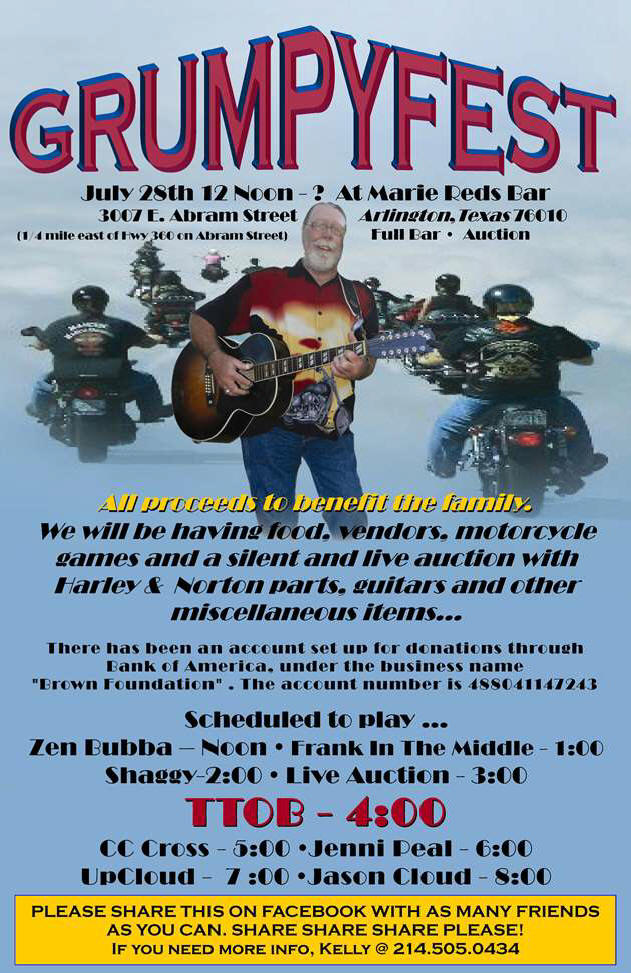 ---
A friend of his was riding with him, the girl went through a red light and hit him straight on, he bounced onto the windshield, came off and she ran him over leaving the scene. The friend chased, along with Dart police; however she out ran them. They were able to get her tag; arrested at home; currently out on $125K bond. On Thursday, 29 January, 2015 Samantha Badillo was sentenced to 4 years jail time and 10 years probation.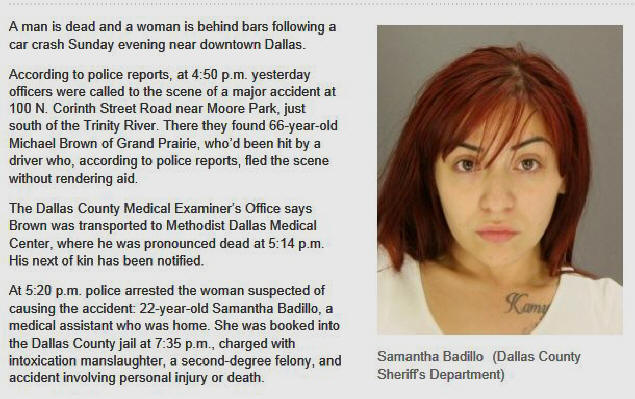 Samantha Badillo was sentenced to 4 years jail time and 10 years probation.
Parole Denied!!!
Dear Friends,

Samantha Badillo's parole was denied yesterday, see below for details. Justice has been served. Nothing will ever bring our old mate Mike Brown back, and of course we all know that 4 years is not nearly enough time for this awful crime, but this will have to do. The roads are a just a tiny bit safer for two more years.

Thanks to all those that wrote letters and added their names to the protest, I do hope we influenced the boards decision.

Kindest regards,
Wendy
---
Last Parole Decision
Denied on 01/31/2017

SERVE ALL- Deny parole and not release the offender until the serve-all date, which is the projected release date or minimum expiration date as determined by the Texas Department of Criminal Justice.

Denial reasons: 2D, 3D

2D NATURE OF OFFENSE - THE RECORD INDICATES THE INSTANT OFFENSE HAS ELEMENTS OF BRUTALITY, VIOLENCE, ASSAULTIVE BEHAVIOR, OR CONSCIOUS SELECTION OF VICTIM'S VULNERABILITY INDICATING A CONSCIOUS DISREGARD FOR THE LIVES, SAFETY, OR PROPERTY OF OTHERS, SUCH THAT THE OFFENDER POSES A CONTINUING THREAT TO PUBLIC SAFETY.

3D DRUG OR ALCOHOL INVOLVEMENT - THE RECORD INDICATES EXCESSIVE SUBSTANCE USE INVOLVEMENT.
Copyright © 2000 NTNOA All rights reserved.
Revised: January 05, 2018 .