Technical Editor Kevin Cameron takes a look back at the classic motorcycles of yesterday
By Kevin Cameron Posted Dec 5th, 2016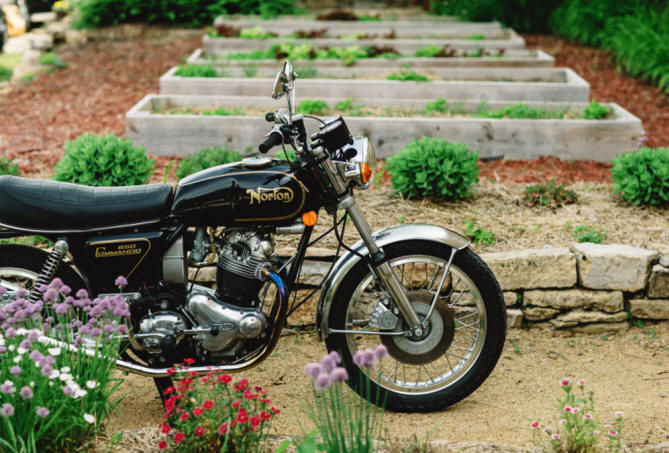 Peter Egan's 1974 Norton Commando.
For 45 years I have been a witness to Norton love and it remains strong among many to this day. I think I am beginning to understand it a little. I certainly did not in 1972, when a couple of minutes with pencil-and-paper showed that a race version of the Commando 750 twin was never going to make much over 75 hp. I was busy with two-strokes at the time – the Kawasaki H2-R at 90 hp, the Suzuki TR750 coming in at 100 hp and climbing fast to 125. Two-strokes were reality, so to me, the Norton twin's two-bearing crankshaft made as much sense as a single with a one-bearing crank.
Since then I have seen countless experienced builders replace every part of their Norton twins except the head, crankcase, and rocker-arms with the very best possible specialist-made components. And then I have seen those engines explode in the traditional way when called upon to do the impossible. The bottom of the gas tank is smashed upward by the head and cylinder block tearing free from the crankcase. These are comprehensive blow-ups; senior men remember blown-up Gold Stars, whose only remaining usable part was the magneto.
Because the love continues or even intensifies after such events, I see that this deserves further study.
When World War II ended England was a victorious debtor nation on food and fuel rationing. Its powerful Board of Trade (at one time reckoned to have the world's most sophisticated intelligence agency) made exports a priority as a means of obtaining hard currency. Motorcycles and whiskey were its two star exports. Triumph already had a machine with US sales appeal—the 500 Speed Twin—which was inexpensive to build, light and handy, exciting to ride. Norton needed such a machine (or was forcibly told it did), because its respected but ancient OHV single-cylinder Model 18 offered nothing that fun-loving Americans wanted.
So on April 1, 1947, Norton hired a man with parallel-twin experience—Bert Hopwood. He described Norton's Bracebridge Street premises; "The whole Norton building was…a slummy shambles, sandwiched with machines and parts, and men and vermin, in a noisy and dirty conglomeration…"
That aside, Hopwood had just what the situation needed: He was up-to-the-minute on engine design and he had hands-on experience of the mistakes that were built into Triumph's Speed Twin. He designed a cylinder head of the most modern type, with shallow hemi combustion chambers of reduced surface area and with valves of moderate size set at the trend-setting low included angle of 58 degrees. He designed the rocker boxes and finning atop this head so that cooling air could easily reach the hot area between the widely-splayed exhaust ports, and circulate between and around the rocker boxes (On the Triumph, the valve angle was 90-degrees, the hemi chambers very deep, gathering excess heat through their large surface area. Its rocker boxes acted as dams preventing cooling air from directly reaching the fins directly above the hot combustion chambers).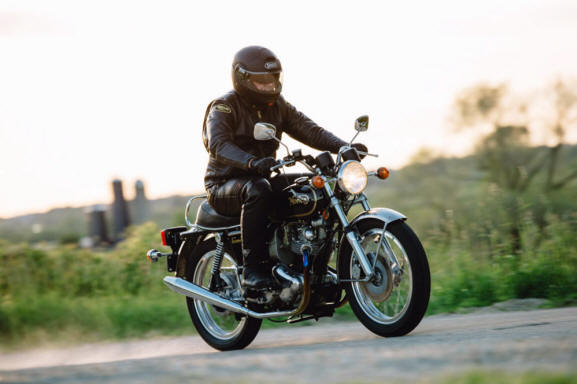 Peter Egan's 1974 Norton Commando.
Hopwood's cylinder head would be the brilliant heart of all Norton twins, giving them exceptional performance. His design took a couple of weeks but production was thereafter held up by Norton's race boss, the respected Joe Craig, who insisted the engine needed refinement. Hopwood wrote, "Craig continued to fiddle with cam forms and inlet port shapes…dilly-dallied and slowly wore me down until, at last, I wrote out my resignation."
When in April 1955 Hopwood was re-hired, he found that Craig had after all changed nothing; cylinder heads and cam forms were still being made to drawings bearing Hopwood's original signatures.
That's history, but what interests me here is today's "Norton love," which treasures particularly the later Commando. Sure, all postwar Norton twins handled well and had wide and usable power. But for a fraction of what you'd spend to buy or restore such a twin, you could have your choice of two decades of wonderful and very cheap 600 sportbikes, all of which accelerate, turn, and brake far better. So performance isn't all that drives the love. What is?
I think that like riders Kevin Schwantz and Noriyuki Haga, Norton is perceived as gloriously, unstoppably attempting the impossible, and coming so close, so very close, to succeeding. And it happened again and again. While Triumph and BSA produced far more bikes, Norton, the underdog, produced something exceptional again and again.
I see waves or episodes of this in Norton's history. First was its complete dominance of the 500 TT 1931-1938. Then postwar, when Gilera's new four-cylinder racer should have crushed the single-cylinder Manx Norton, the late Geoff Duke did the crushing in 1951 (and would have won the title in 1950 as well, but for tire failures…). The Norton he rode combined Joe Craig's rugged Manx single with the revolutionary McCandless chassis (aka "Featherbed") to leave the Gilera in its dust—even on the very fast Spa circuit in Belgium...
But it's Hopwood's twin that concerns us. The production bike garnered excellent reviews, yet also responded well to tuning—both as improvements from model to model and in racing. Five special twins were prepared for Daytona in 1953. Bear in mind that Manx singles had won the Daytona 200 every year from 1949 to 1952, but in '53 Paul Goldsmith won on a Harley-Davidson and Bill Tuman was 4th on a production-based Norton twin.
Norton internal culture regarded the twin as a tissue rejection in the company's long tradition of exclusively single-cylinder bikes. Almost all development funds went into racing the Manx singles (sustaining the idea of "The Unapproachable Norton"), with little left over for the essential "lifeboat"—making a sales success of the new twin in America, as Triumph and BSA had done.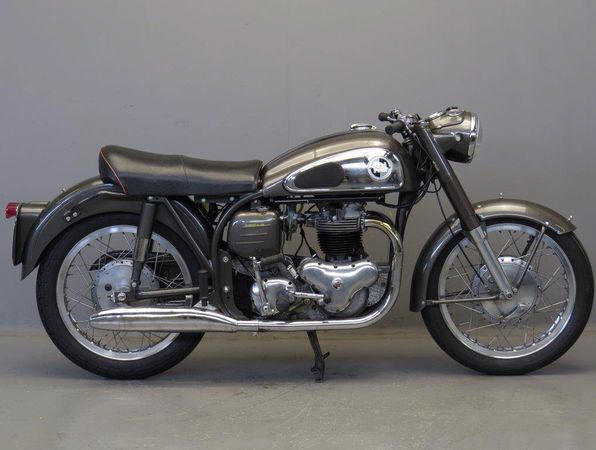 Norton Dominator 650SS, 1962-1968
In 1961 it was decided to develop a 497cc Dominator twin as replacement for the aging and expensive-to-build Manx singles. Engineer Doug Hele said at the time, "Experiments during the past four years have indicated that the Dominator would readily respond to development so that it should not be difficult to extract as much speed as from the Manx, maybe even more. Even with the engine in its present semi-standard form we start with an advantage, for it is already 28 pounds lighter without having to resort to Elektron crankcase castings. Moreover it is smoother, so we can get away with a much lighter frame. Finally, it has a lower center of gravity, which should ease handling problems."
Tom Phillis rode one of these "Domiracer" twins in the 1961 500 TT, finishing third. Significantly, that day was to be the last 500TT win by a Manx Norton—Mike Hailwood came through to win on a Bill Lacey-tuned Manx after the throttle on Gary Hocking's leading MV stuck intermittently.
This Manx replacement never came to pass because of "poor trading conditions" and the dislocation of moving everything from Bracebridge Street. This was far from the only upset—in 1952 Norton was absorbed into AMC, and when AMC became insolvent in 1966 it shapeshifted again, reforming as Norton-Villiers.
The next year, the beloved Commando was introduced at the Earl's Court show. Because 360-degree parallel twins vibrate in a single plane (with no side-to-side rocking), it was possible to allow engine and swingarm to orbit around so-called "Isolastic" rubber mounts, decoupling their vibration from the rest of the chassis—and from the rider. Vibration had intensified with every displacement increase—497 to 600, 600 to 650, and now 650 to 750—but the Isolastic concept greatly reduced perceived vibration, keeping the larger engine usable.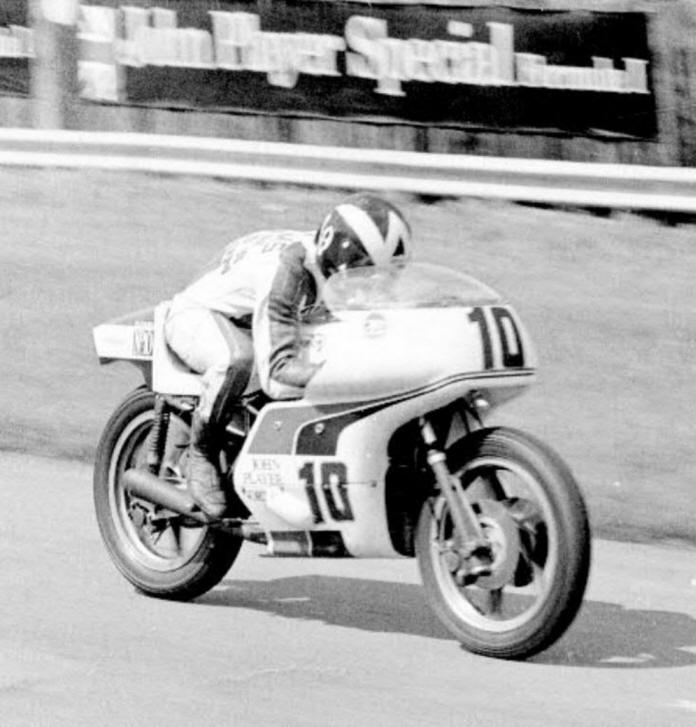 Peter Williams on the John Player Norton 750 with tubolar space frame (1973-1974).
In 1969, Peter Williams, son of distinguished ex-racer and engineer Jack Williams (who at AJS developed the classic 7R racer), came to work at Norton Andover. A revolution was brewing—but what would it be? We now know—it would be Japanese manufacturers, trying to make new 100-hp two-strokes go fast using outdated 1960s chassis technology.
Williams's situation was different. He had to find ways to go fast with only the old Norton parallel-twin for power. He had to develop the very qualities that were evidently impossible for the two-strokes: stability, mechanical grip, controllability.
In a rapid series of experiments, punctuated by the very kinds of failures endemic to small organizations, Williams came through to an incredible triumph—winning the 1973 F750 TT with a single lap at 107 mph.
The following year it was all over. Injured, Williams could not ride again. And Yamaha did what all feared it could do—combined two of the little two-stroke 350 twins that had left the 750 behemoths behind at Daytona in 1972 and 1973, into the nine-year reign of the unstoppable TZ750.
Eventually, after the further dramas of the Cosworth-Norton twin (F1 technology! Potential for 100 hp!) and then the promise of the Norton rotary, legend settled into history. Since then there have been almost as many "revivals" of Norton as of Indian. The name has power.
The original Dominator 497 shown in November 1948 gave 29 hp at 6000 rpm. Its dimensions were 66 x 72.6mm. For operation on dreadful postwar fuel, compression was a low 6.7:1. Three years later came the export-only version in the McCandless twin-loop chassis. Evolution continued.
Triumphs had two gear-driven cams ("clatterbox" was Hopwood's name for this noisy arrangement), the exhaust cam in front of the cylinder, the intake cam behind. BSA twins had a single cam behind the cylinder. But the Norton's single cam was ahead of the cylinder, driven by a quiet chain, with free air circulation around the tappet carrier/pushrod housing structure (which was part of the cylinder). Because of Hopwood's advanced, shallow two-valve combustion chambers, this engine responded well to tuning. Because the chambers were shallow, little piston dome was required to reach higher compression ratios, preserving their fast-burning open volume. Look it up—Norton twins needed as little as 28-32 degrees of ignition lead. This was superior to anything being done at the time in racing, and would later be a model for the chambers of Japan's first big two-valve four-strokes.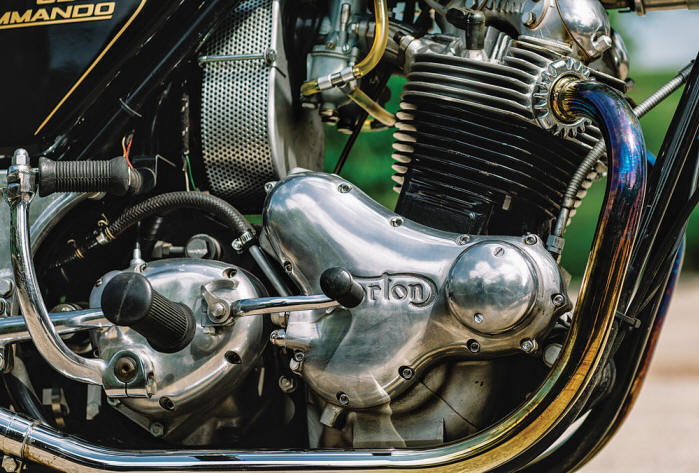 Peter Egan's 1974 Norton Commando.
These parallel-twin engines had the inherent weakness of just two crank main bearings, allowing them to become by increasing degrees "crank-benders" as displacement and rpm were increased. Norton was again and again forced to compromise with the antiquity of their factory equipment. Progress became a matter of "If we had some ham, we could have ham and eggs. If we had some eggs."
When crank bending began to crush the edges off of main roller bearings, those edges were relieved in production to make a kind of poor-man's self-aligning bearing. The problem—crank flex—never went away, but the symptom—case crushing in the main bearings—was treated.
In the end, the Norton story was classic English tragedy: Strong and workable ideas were constantly proposed, a few were brilliantly successful, but most went untried because of limited resources and otherworldly management.
Who can resist such a saga? I find I've even persuaded myself.