The November 2009 Club Meeting
was Sunday, 29 November at 2:00 PM
at Pappas Bar-B-Q
That's Clay being pushed to the meeting by Dean and Mike while Chris watches in the background.
Seems 1966 Harley-Davidsons don't much like the rain. Photo courtesy of Mike Fairchild.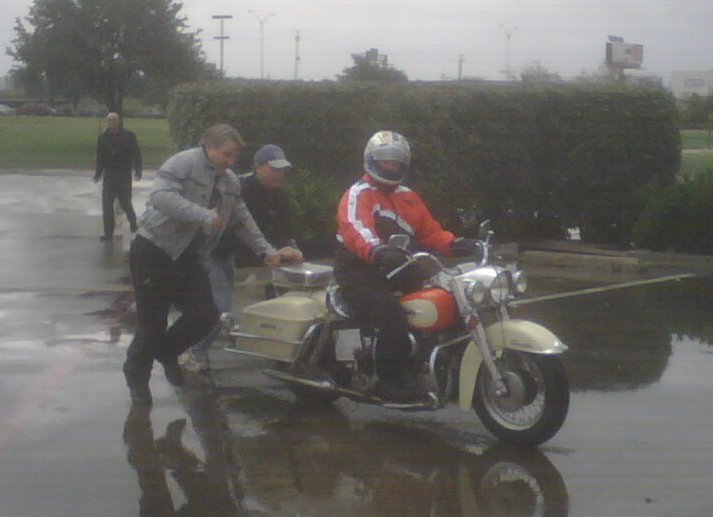 The weather was unseasonably warm an hour before the meeting started and despite the forecast of rain a few members rode to the meeting (see photo above). The first to arrive on a motorcycle was Dean Baker on his T140 cafe. Dean got to Pappas just before the rain started. Unfortunately our president wasn't so lucky. After the rains came the temperature dropped 20 degrees. In spite of the inclement weather there was a good turn out.
Clay started the meeting on time. Clay's first very unpleasant order of business was to announce the passing of club member Ben Phillips.
Ben Roy Phillips was born in Dallas, Texas on July 11, 1961 and passed away on November 26th during a single vehicle accident riding his Commando on North West Hwy in Dallas. He is survived by Lynn, his loving wife of 22 years; son, Payton and daughter, Avery. Ben leaves behind his parents, Mary Jo and George Phillips of Farmers Branch, Texas, and his brothers, George Phillips of Madison, Wisconsin and Mike Phillips of Montgomery, Texas. Ben received his BA from Texas A&M and his Masters from the University of North Texas. He loved sharing Boy Scouts and outdoor activities with Payton and adoring his "Princess", Avery. Ben was loved and will be missed by many extended family and friends. The service to celebrate his life will be at 2:00 p.m. on Tuesday, December 1st at Preston Road Church of Christ, Dallas. Ben once light-heartedly said, "I don't want any black at my funeral". Sign the Guest Book
---
After five years, Clay's role as our president is coming to a quick end. The results of the elections held in accordance with the club's By-laws are: President - Chris Parry, Vice President - Randy Bauer, Treasurer - Bob Hagemann. The remaining Executive Committee positions are appointed by our club officers. Richard Asprey volunteered and was appointed our rallye chairman and George Tuttle volunteered to remain as webmaster. We are looking for someone to volunteer to be our newsletter editor.

Thanks to Steve Ledbetter for making the club's display at the International Motorcycle Show (IMS) in Dallas the best we've had. Thanks also to Richard Asprey for locating a 1975 Norton Commando MKIII to be used as our 2010 LOP raffle bike. Richard was also able to have the bike delivered just in time for the IMS where it generated $1,000 in ticket sales.

Our next meeting is Sunday, 13 December during our annual Christmas dinner party this year at Up N' Smoke.
---
Copyright © 2000 NTNOA All rights reserved.
Revised: January 05, 2018 .