Club Meeting - 24 November, 2013 at Up N Smoke.
Our president Chris Parry started the meeting at 2pm.

After thanking our host Phil Dansby and introductions and welcoming Steve Ledbetter back after his work related absence from club activities Chris thanked Wendy and David Griffiths for organizing the JFK ride in and around Dealey Plaza. Chris reported that his '79 Triumph T140 performed brilliantly and only the tail light bulb failed and only one of the carbs developed a leak.

Chris described the Grand Opening of RPM Cycle's new dealership location and the unveiling of one of only ten new Norton Commandos in the country. Their new location is on the same block just up the street from their old location. The showroom is awesome and much larger. The new Commando is beautiful and although not inexpensive has state-of-the-art Öhlins suspension and Brembo radial brakes. During the presentation of the new Commando our good friend Alejandro Romero, the owner of RPM Cycle committed to bringing one and having it at the top of the hill during our 30th Lake O' the Pines Rallye in October.

In addition to our normal club business the February meeting is when we elect club officers. In accordance with our bylaws they are president, VP and treasurer. For 2014 our club officers will be Clay Walley as president, Randy Bauer as VP and Mike Mediterraneo as treasurer. As expected all three were unanimously elected. All other positions are appointed by the president. Immediately following the election Clay appointed Dennis Tackett as our Rallye Chairman.

Chris announced that Richard Asprey has purchased tickets to see the only Dallas Showing of "Why We Ride" - a Documentary detailing the passion of riders and the soul of their machines. See the trailer at the bottom of the page. The showing is at AMC NorthPark 155, 8687 North Central Expressway Dallas on Monday, December 2nd at 7:30 PM. This event is sold out and there are only a few tickets left, so please respond quickly if you would like to attend by sending an email to ntnoa@ntnoa.org. For those who would like to eat first - we are gathering at the Gordon Biersch Brewery on the other side of 75 at 6pm onwards. The address is Gordon Biersch Brewery Restaurant, 8060 Park Ln #125, Dallas.

Ryan Ambrose announced that he exceeded his own expectations this year racing for the first time in a CMRA modern class on a Daytona 675 provided by RPM Cycle. Ryan was hoping to finish fifth overall for the year but finished second to a much faster machine compared to the Daytona. Dennis passed a hat to support Ryan's racing effort for next year.

Our 50/50 drawing was won by Jim Hemsworth. Jim graciously donated his winnings to Ryan.

Our next meeting will be at our Christmas Dinner Party at the Spirit Grille. More information including menu items and schdule to follow.

On a sad note, it was one year to the day, 11/24/2012 that Joe Edwards (aka Dr. Norton) the club's #1 founding member die.
The new Norton Commando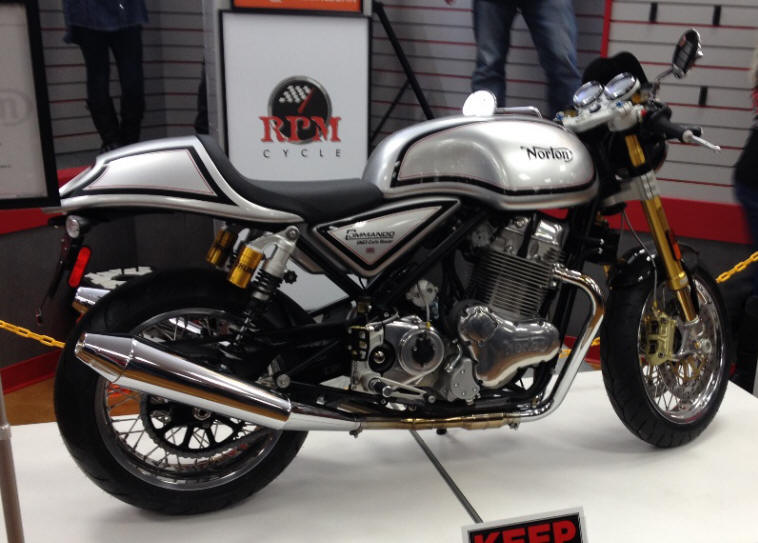 Click here for the official minutes of the Nov. club meeting.
---
Copyright © 2000 NTNOA All rights reserved.
Revised: January 05, 2018 .