Our October Club Meeting was Sunday, 28 October
at 2:00 PM at Tony's & Martha's EuroSport Cycle.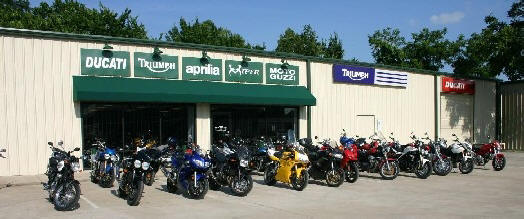 3100 Airport Freeway
Ft. Worth, Texas 76111
800-838-8135 or 817-838-8135
Email - eurosportcycle@sbcglobal.net
Tony and Martha opened up their dealership for us and provided a great venue for our monthly meeting. The weather was perfect and just about everyone rode.

Clay Walley started the meeting with a special thanks to Tony and Martha. Dennis Tackett announced that Denis Manning, builder of the World's Fastest Motorcycle has agreed to be our Grand Marshal next year and that we made $2,500 on our raffle bike. Definitely mark you calendar for 2-4 October, 2009. That will be the NTNOA's 25th Anniversary. The plan is to bring our past grand marshals back for this special event. That includes Sam Wheeler, Denis Manning, Dave Edwards of Cycle World, Brian Slark of the Barber Motorsports Museum and Ed Mabry. Sam, Brian and Denis are very good friends. They worked together for Norton back in the early '70's.

The NTNOA will have a display at the International Motorcycle Show in two weeks at the Ft. Worth Convention Center. The promoters gave the club 1,000 sq. ft. for our display. Details can be found at '07 Motorcycle Show.
---
Copyright © 2000 NTNOA All rights reserved.
Revised: June 01, 2009 .