Pate Swap Meet - Apr 30th - May 3rd. and the All British & European Car Day - May 3rd.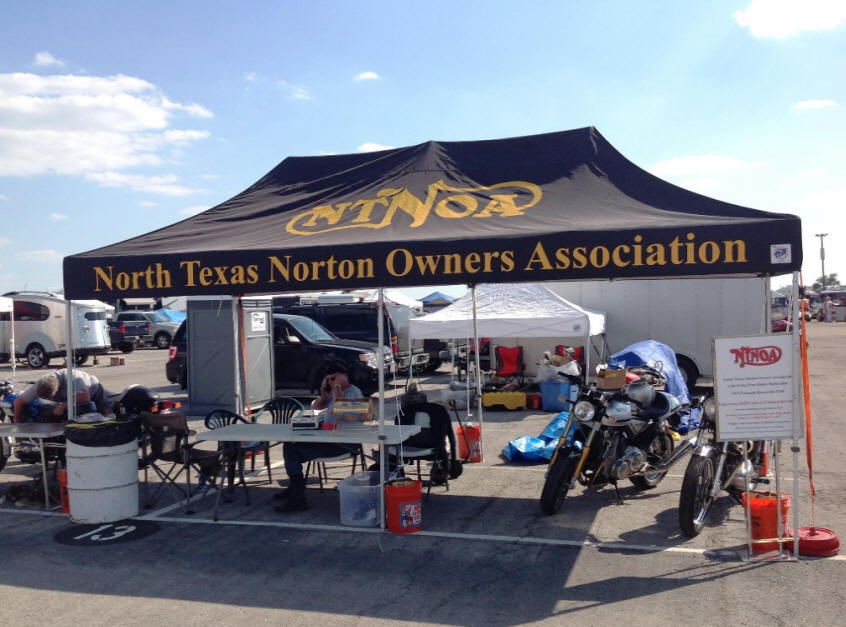 We had fun setting the awning up, hope no one was filming our Three Stooge antics! But we got it done, and it all looks great. Gary Vicksell has taken the raffle kit and money home with him, and he will kindly return in the morning to do it all again. I understand that both Gary's, Frank and Larry are going to be volunteering tomorrow (Friday). I will be back there on Saturday.

There's some really great stuff to see at TMS. I highly recommend y'all coming out.
Thanks for helping guys.
Wendy Griffiths
---
Pate Swap Meet and ABC Day Weekend
We planned a big double header weekend for selling raffle bike tickets and promoting the club. We would set up at the Pate Swap Meet on Thursday through Saturday then break everything down to set up and the All British and European Car and Bike Day on Sunday. Mike Mediterraneo jumped in and organized everything starting with a conference call of all the volunteers then meeting Gary Brooks at the club storage to load the canopy, chairs, and tables. Gary Brooks was instrumental all weekend getting everything where it was supposed to go. Keith Martin at Big D Cycle volunteered to get the raffle bike from Big D to Pate on Friday in time to begin selling tickets. Wendy and the crew had a great time figuring out and setting up the double large NTNOA canopy. We couldn't have asked for better weather for the events so we were all excited to have a good showing for the club. Friday morning I arrived at Pate which was held at the Texas Motor Speedway. I was not prepared for the massive size of this swap meet. Over 1100 vendors and 25 miles of walking if you wanted to see it all (you could rent an electric scooter for only $65 a day!). Shelby with the Cherokee Chapter of the Antique Motorcycle Club got us a great spot on a main aisle of the motorcycle section. Friday and Saturday were non-stop working the crowd all day to sell tickets and promote the club. This was definitely the $5 ticket crowd so we earned every dollar. Saturday at the end of the day we packed up the circus in preparation for ABC Day. 9am Sunday morning we did it all again setting up at White Rock Lake for the ABC event. The vintage motorcycle class was given a prime location at the top of the hill across from registration so we got great exposure. All sorts of exotic and classic cars arrived, from elegant Rolls Royce to wicked Lotus sports cars. The motorcycle turn out was rather light but I had the Chromium Cruiser there. The bikes that got the most attention was an early teens Triumph and a Vespa with a side car (go figure). We sold tickets all day and this was definitely the $20 ticket crowd. At the end of the day our exhausted crew packed everything up again and said farewell. Gary Brooks would transport everything to storage then take the raffle bike back to Big D. We hade a successful weekend and sold $1660.00 in raffle bike tickets. Many thanks to all the volunteers!

Gary Brooks – Transporting canopy and stuff and raffle bike and selling tickets.
Gary Vicksell – Selling tickets and set up.
Mike Mediterraneo – Organizing event and loading stuff.
Keith Martin – Transporting raffle bike.
Frank Jakab – Selling tickets.
Wendy Griffiths – Selling tickets and set up.
David Griffiths – Selling tickets and set up.
Dennis Tackett – Selling tickets and set up.

Dennis Tackett
Rallye Chairman

------------------------------------------------------------------------------------------------------------------------------------------

Gary Brooks was the man of the hour, every day he turned up bright and early with a big smile and his funny dry sense of humor. We couldn't done it without him, Mike and Keith Martin....and everyone else. Wish I was better with names, sorry.
Good times.....I'm exhausted today though.

Wendy Griffiths
Event Coordinator
Copyright © 2000 NTNOA All rights reserved.
Revised: January 05, 2018.