Our very good friend and honorary member Perry Bushong passed away on Saturday, March 4th.
There was a memorial service and celebration of life and a Motorcycle procession from Perry's Motorcycles & Sidecars business at 816 South Sylvania Ave., Fort Worth to the Ft Worth Botanical Gardens on April 1st.
Perry was born May 9, 1943. He was owner of the Legendary BMW Motorcycles of Fort Worth for 30 years. He then continued his passion as Perry's Motorcycles & Sidecars. He was best known by friends and colleagues as a sidecar king and European restoration genius. Perry took great pleasure in creating a many number of things from sling shots to frozen squirrels for his famous bee-bee competitions. He loved his customers and called most of them his friends. Perry spent 16 years living in Germany and gaining his knowledge of European motorcycles and sidecars before returning to the U.S. in 1968. He was a draftsman and structural engineer before beginning his career as a motorcycle dealer. Perry, with a team of friends, successfully competed in and won the Great Cannonball Race. He lived life to the fullest enjoying what he loved: family, friends, beer, food, motorcycles, sidecars and kneelers. Unfortunately, Perry was not the sailor he aspired to be as he sunk two boats in Lake Grapevine, both named after his wife. Perry could and did literally repair a motorcycle with a toothpick. One of his close friends once said, "If I'm ever stranded on a desert island, I'd be fine if Perry was there because he would be making dinner and building a boat to get home." Survivors: Perry is survived by his wife of 43 years, Merry Bushong, three children, Jennifer Vacca, Perry J. Bushong II and Michelle Bushong; grandchildren (who called him "Poppy"), Perry III (Cyrus), Ethan, Arianna, Maddy, Gavino and Adriana; sisters, Bonnie Cherrington, Cheryl Cummins, Sonya Bushong, Angie Sparrow; brother, John Bushong; and countless nieces and nephews, all loved and picked on equally.
RIP Perry
---
Click here for Paul Valentine's photos of Perry's Memorial Ride and the Service at the Botanical Garden.


RIP Perry...Ride in Peace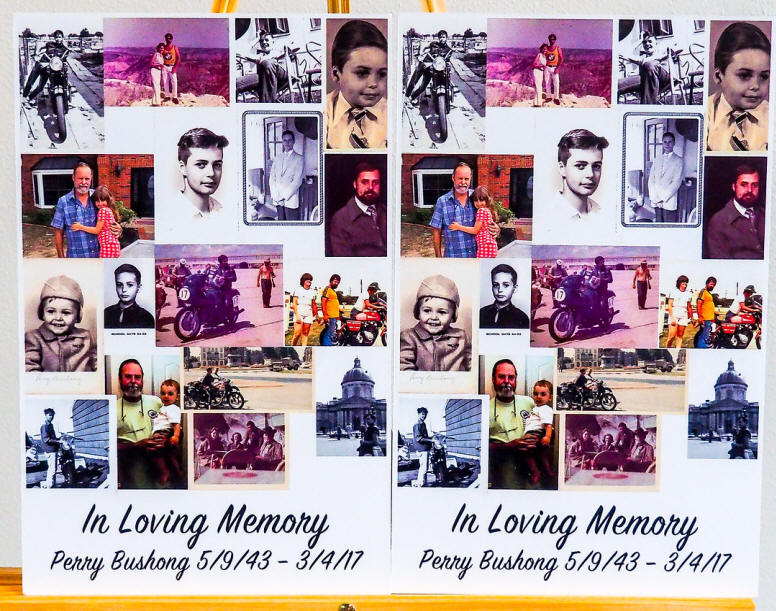 ---
From Mike Geng,
I spent the day gathering up pics I had of Perry and the shop. Almost every time I went, I'd snap some pics as I just loved the place, the contents, and the people--especially Merry and Perry. I am not doing this to sell pics, but to be used as a slide show. Click here for my photos.
---
Click here for a YouTube Tribute to Perry Bushong by John of Blue Moon Cycle.
I am sad to have lost a friend and fellow motorcycle enthusiast. Perry Bushong had a wealth of knowledge about old bikes. Perry was generous, I could always turn to him when I was stumped. He loved German motorcycles and sidecars. He ran Perry's motorcycles and Sidecars in Fort Worth Texas for many years. We were both BMW dealers who moved on to doing what we love most, old motorcycles. My condolences to Merry his wife and all his friends and family. We lost a nice man. I'm honored to have this stunning example of his work. RIP Perry. By John from Blue Moon Cycle
Copyright © 2000 NTNOA All rights reserved.
Revised: January 05, 2018.