Our September Club Meeting was
Sunday, 12 September at 2:00 PM
at Captain Commando's Residence.
The September meeting was moved up to the second weekend to allow time for preparation for our 20th anniversary Lake 'O the Pines Rally.

Phil graciously hosted this month's club meeting and provided for all the refreshments and entertainment. Thanks Phil.

Phil also used this event to showcase his new home addition - a room (more like a classic bike museum) with a double door entrance from the garage.

Our treasurer, Bob Hagemann worked hard all afternoon pre-registering folks for the LOP Rally and taking club dues renewals.

Our President, Dean Baker presided over the official part of our meeting and outlined some of the Club's upcoming events. Dean announced that we have been invited back again this year to be an exhibitor at the Dallas Motorcycle Show, sponsored by Cycle World. We have asked the sponsor for more space than we had last year to exhibit our classic motorcycles. Daryl O'Neill volunteered once again to head-up this project.

Our Rally Chairman, Bruce Davidson gave an overview of his experience at the recently concluded International Motorcycle Speed Trials by Bub shoot-out at the Bonneville Salt Flats. The Mangham-Wilson Streamliner was there for the celebration - marking its 48th year to the day it set the world speed record.

Photo taken by Dennis Tackett
There were professional digital weight scales setup again this year for members to weigh their bikes. Both front and rear wheel weights were recorded. The lightest bike belonged to Daryl O'Neill, a 350cc two-stroke, weighing in at just over 350 lbs. The heaviest bike belonged to Daryl Bane, his home grown Harley which weighed in at over 655 lbs.

---
Paul Valentine took the following photos
Our host, Phil Dansby (with arms folded) watching the X-rated entertainment.

---
This is how Daryl Bane spent most of his afternoon - just kidding.

---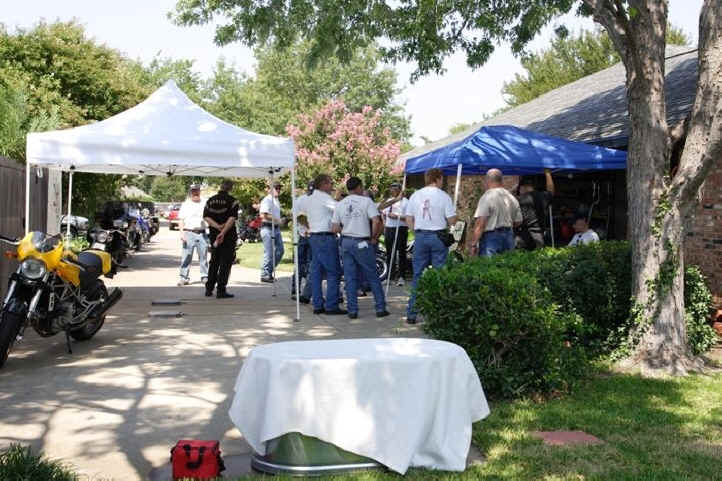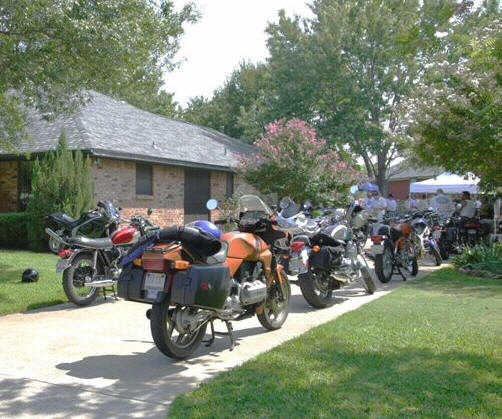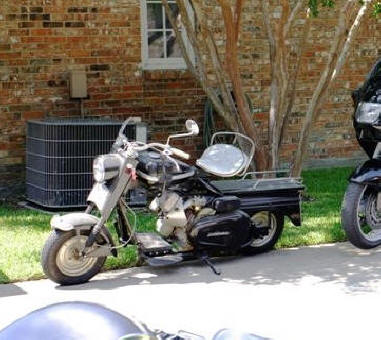 ---
Copyright © 2000 NTNOA All rights reserved.
Revised: June 01, 2009 .