2014 September Club Meeting
Our September club meeting was a week early on 21 September at Bid D Cycle.
Most members and guests arrived early to enjoy Bobby Vaughn world famous Gumbo, socialize and look over Big D Cycle's assortment of classic bikes.

Club president Clay Walley started the meeting at 2pm. Clay's first order of business was to thank Bobby for once again making his delicious Gumbo for the club. It was a special treat that everyone really enjoyed.

Dennis Tackett briefed us on the 8 day ride that Richard Asprey coordinated with the South California Norton Club. It was from Tacoma, WA to just north of LA on vintage Brit bikes. Several NTNOA club members took part in the ride including Dennis, Chris Parry, Michael Mediterraneo, Alton Gillespie, Ben D'Avanza and Prieto Rosell Adolfo who is from La Habana, Cuba and of course Richard Asprey.

Dennis also briefed us on our upcoming Lake O' the Pines Rallye which is in two weeks. He asked for volunteers to help set up for the rallye on Wednesday and packing up after the rallye on Sunday. He was sporting this year's rallye t-shirt. On the back is former club president Dean Baker's 1975 Commando with his wife, Jill straddled across the seat like in the Norton ads back in the day.

Ryan Ambrose updated us on his latest racing results. Ryan's next racing will be at the Barber Motorsports Park for the AHRMA races during the 10th Annual Vintage Festival presented by Triumph Dealers of North America on October 10 - 12. Dennis then passed a hat to support Ryan's racing.

Kevin Stovall won the 50/50 and donated his winnings to Ryan. Bobby Vaughn also donated his tip jar contents to Ryan.

The meeting was adjourned and many rode to Strokers Dallas to harass the Harley crowd and sample Rick Fairless' cold beverages.
Here is the 2014 Lake O' the Pines T-shirt design.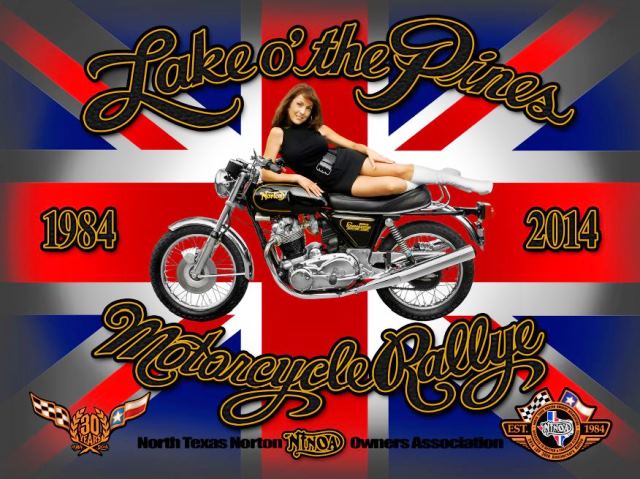 The original ad.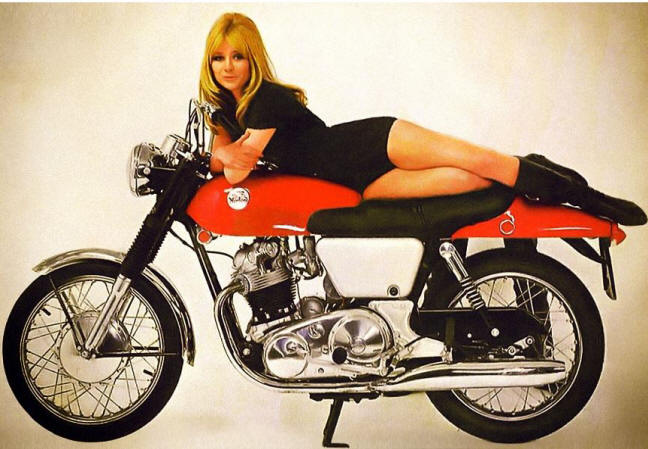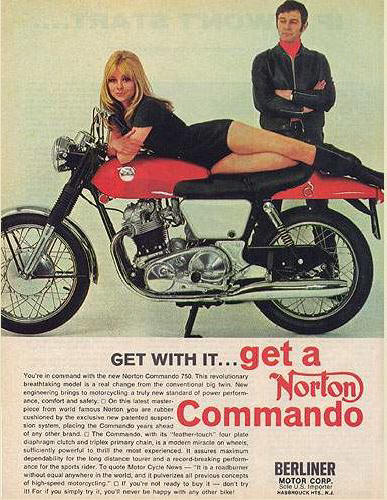 ---
Copyright © 2000 NTNOA All rights reserved.
Revised: January 05, 2018 .