2016 Spring Hill Country Ride.
The 2016 Spring Hill Country Ride was Thursday, April 28th through Sunday, May 1st.
Our annual Spring Hill Country ride is a gathering of British & European vintage motorcycles. This four day event is centered around Leakey, TX in the middle of the Twisted Sisters (hwy 335, 336 & 337). Once again this year the Lone Star Vincent Owners club joined us in the festivities.

Except for Friday morning the weather was great. Our members enjoyed riding the many outstanding roads each day. Our past nemesis trooper Jake Sanchez was stymied except for citing one unlucky member for 10mph over posted.

Mike Mediterraneo has already booked rooms and cabins at the Historic Leakey Inn (formerly the D'Rose Inn & Cabins) for next year. The dates are April 27th through April 30th.
This photo was taken Saturday at the Leakey Inn prior to the ride to Allen Johncock's Lone Star Motorcycle Museum.
Photo is courtesy of Daniel Peirce, Lord of Light, Master of the Pixel, www.trickphotog.com
Click on photo to enlarge to full size. This is a very large photo of over 1Mbs.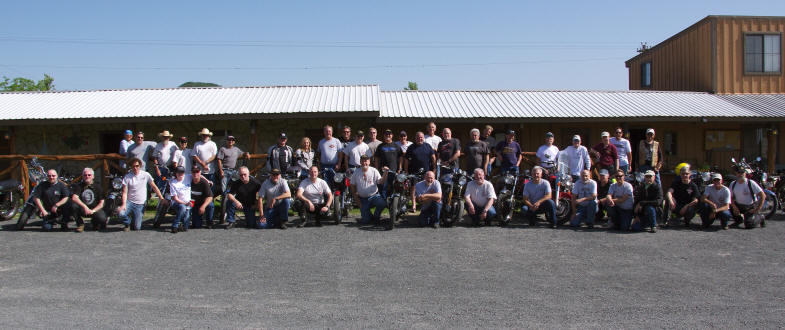 Although the ride officially starts on Thursday many rode out two days earlier on Tuesday and after a few cold beverages in Luckenbach rode to the Peach Tree Inn in Fredericksburg.
Eighteen members met up the following day at the Historic Rocksprings Hotel. The Hotel was built in 1916 and is celebrating its 100th year. Click here for Randy Bauer's photo album of Rocksprings, Leakey and Mac & Ernies Roadside Eatery.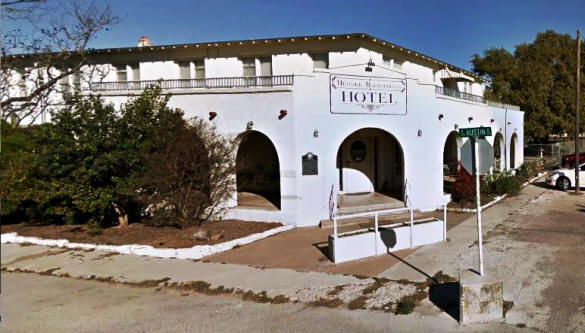 Friday evening the Lone Star Vincent Owners club invited everyone over to their hangout for pizza at the Frio Pecan Farms which is just across the Frio River from the Leakey Inn where most NTNOA members stayed.

The NTNOA hosted the Saturday night cookout at the Leakey Inn. Once again Master Chef Scot Patterson and Bailey Burk handled the preparation and cooking of four pigs with rice and black beans with salsa.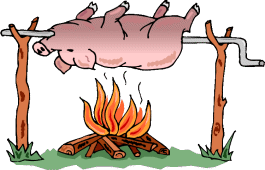 As we arrived on Thursday the final touches for eight new rooms at the Leakey Inn were being completed. Alton Gillespie seeing the need for room numbers immediately went to work adding numbers to each door.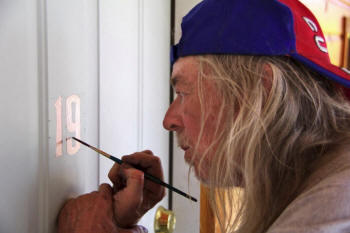 After dinner Chris Parry thanked everyone who made the event such a success with special thanks to our club president Richard Asprey for providing transportations of many vintage Brit bikes, the four pigs and much more. Last but not least was the second annual disco dance. To enhance the ambiance this year Mike Mediterraneo installed a disco ball with spot lights.

Click on photos to enlarge.
More photos taken Saturday morning at the Leakey Inn prior to the ride to Allen Johncock's Lone Star Motorcycle Museum.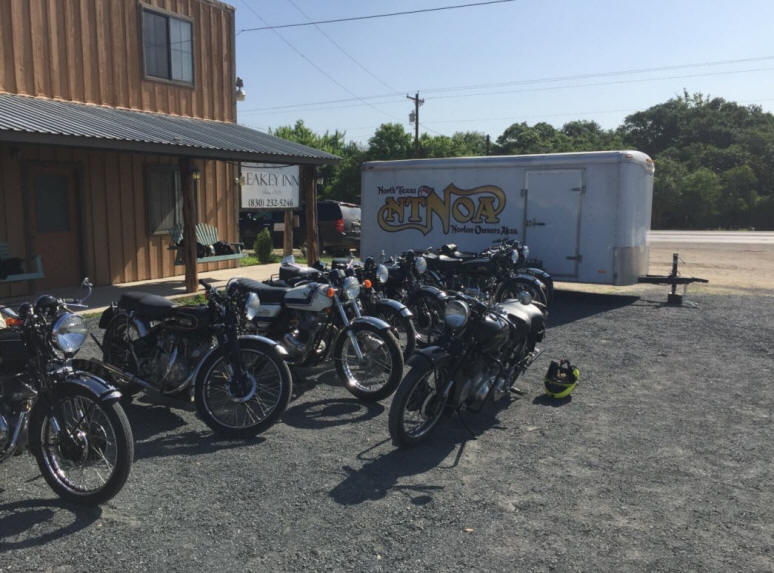 ---
Copyright © 2000 NTNOA All rights reserved.
Revised: January 05, 2018 .