2013 International Motorcycle Show Recap
Another year complete for the Dallas International Motorcycle Show and what a great event it was.

Thanks for all the good help we had. Lisa Nordholm, our liaison with the show promoters set us up with a wonderful spot. For those who were not there we had one out in the open with a huge banner hanging from the rafters that said Vintage Motorcycles. You could see it from one end of the show to the other.

We had some of the best quality bikes ever. The '36 Brough Superior with side car owned by Stewart Garrison and the '46 Indian Chief owned by Mike Vance probably got the most looks.

We had Charles Edenfield's '52 AJS, Clay Walley's freshly restored '56 Triumph Tiger, Jim Hemsworth's '74 Norton Commando 850 (winner of this raffle bike two years ago), Gary Vicksell's '50 Triumph Thunderbird, our own '75 Norton Commando 850 raffle bike, Richard Asprey's '54 Vincent Rapide, '61 BSA Gold Star and his '55 Ariel Square Four, Jerrett Martin's Triumph Thruxton Race bike, and Ryan Ambrose's Triumph Daytona 675 race bike.

Thanks guys for showing your bikes. A special thanks to Jerrett, Ryan and Alton Gillespie for transporting all the bikes for those who could not be there to and from the convention hall. They missed a good show.

Thanks to all who worked the booth: Jay and Shirley Pope, Gary Vicksell, Mike Mediterraneo, Travis Coover, Chris Parry, Laura and Bill Keating, Louie Torres, Cathy Ramsey, Wendy and Dave Griffiths, Ron Kempf, Gary Brooks, Leroy Greene, Frank Jakab, Richard Cross, Paul Valentine, George Tuttle, Mike Vance, Dennis Tackett, and Paul Fielder-White.

We had the most profitable raffle bike sales ever at any event. Friday night we sold $400 worth of tickets, Saturday $825 and $725 on Sunday. That is $1,950.00 for the weekend!

The gals (Cathy, Laura, and Wendy) were smoking hot - on ticket sales also. They out did the guys. Sorry I didn't get any pictures this year, my camera is broke. It's all up to Paul Valentine.

Thanks again,
Your VP, Randy.
Click here to view Paul Valentine's photos of the Int'l Motorcycle Show.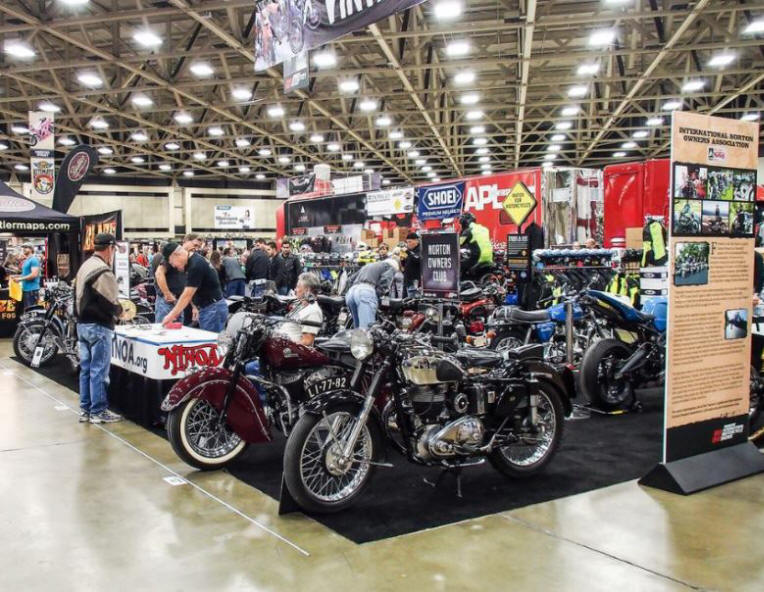 ---
Here is the list of the owners and the bikes for our display.
1. Ryan Ambrose - Triumph Daytona 675 Race Bike
2. Jerrett Martin - Triumph Thruxton Race Bike
3. Stewart Garrison - '36 Brough w/ sidecar
4. Richard Asprey - Vincent Rapide
5. Richard Asprey - BSA Gold Star
6. Richard Asprey - Ariel Square Four
7. Charles Edenfield - '52 AJS
8. Gary Vicksell - '50 Triumph Thunderbird
9. Clay Walley - '56 T110 Triumph Tiger
10. Jim Hemsworth - '74 Norton Commando 850
11. Mike Vance - '46 Indian Chief
12. Lake O' the Pines Raffle Bike - '75 Norton Commando 850
Here is a list of volunteers to man our booth.
.: Friday, November 8
3:00pm - 5:30pm
5:30pm - 8:00pm

Jay Pope

Mike

Mediterraneo

Shirley Pope

Travis Coover

Gary Vicksell

Chris Parry

.: Saturday, November 9
10:00am - 1:30pm
1:30pm - 5:00pm
5:00pm - 8:00pm

Bill Keating

Cathy Ramsey

Gary Brooks

Laura Keating

Wendy Griffiths

Leroy Greene

Louie Torres

Ron Kempf

Frank Jakab

.: Sunday, November 10
10:00am - 1:30pm
1:30pm - 5:00

Richard Cross

Mike Vance

Paul Valentine

Dennis Tackett

George Tuttle

Paul Fielder-White
---
Copyright © 2000 NTNOA All rights reserved.
Revised: January 05, 2018 .