Herb Harris


2010 Lake O' the Pines Grand Marshal

There are a few famous people from Midland, Texas; I'm not one of them. Growing up, I recall the exact day I fell in love with motorcycles. That day was the first day of school in junior high school and 5 or 6 guys swooped out of the heavens on scooters, one Mustang and a BSA to change my life forever. In college, I worked as a salesman in two cycle shops and in law school in Austin, I was blessed to do the legal work for the Norton, Ducati, Guzzi, Kawasaki store which was constantly being sued. Every case went to trial, I always won and my "fee" was the use of the latest motorcycle d'jour for free!

In about 1985, I bought one of my first "collector's bike." It was an R 69 S BMW with what seemed like a 45 gallon gas tank. After that, it was easy. I soon bought the bikes I had wanted before but couldn't afford. As the paycheck grew, bikes multiplied. Looking back now, I had the good fortune to own the first Ducati 750 Sport and the first Ducati 900 SS in Austin. These were very uncommon in the Seventies as were the three new Nortons that came and went as irate customers sued my clients on a steady basis. This was what the law was all about!

Being a lawyer has been a big boost to collecting motorcycles in other ways beyond the price I could afford. Having good negotiating skills was essential as was the skill to investigate and research. I turned up with Lance Weil's Laverda SFC not long ago by careful research as I did to find the Prototype post WW II Vincent twin. And the engine for the world's record runs by Vincent in France in 1952, the prototype Vincent Black Prince and one or two other, distinguished but "lost" treasures.

In the early Nineties, business was good and motorcycles taught me a great lesson about the practice of law. I asked myself if I could become the best motorcycle collector in America, whatever that meant. I decided I could and fate soon confronted me with the opportunity to begin to do just that. Almost by accident, I had the opportunity to buy the crown jewel of motorcycles, the Rollie Free Vincent Black Lightning we all know from the famous photo of it in 1948. I jumped at the chance assuring the owners it was sold and that we would work out all details, including the price. And we did. And soon, more followed. The bikes found me. I bought unimagined treasures like the original drawings by Vincent of his proposed bikes even before he made one. It became easy and I only had to follow my instincts. There were no price guides for the waters I sailed.

My first motorcycle show was, Lake O' the Pines, of course and I started with Triumphs. I learned that I was more of a British bike man than anything except perhaps Italian. Along the way, I've done shows in Rockefeller Center, Robb Report's Concourse in Carmel, London's Louis Vuitton Classic, Daytona, Del Mar, Calif., and last August, The Pebble Beach Concourse d' Elegance in Monterey. And a few more, but I learned more about bike shows at Lake O' the Pines than at any other venue. Thank you NTNOA. I am truly surprised and humbled that you couldn't find someone truly worthy to be this year's Grand Marshal, but before you guys realized that, I accepted and here I am. Let's ride!

Rollie Free at Bonneville 194 Herb with the Bathing Suit Bike at Pebble Beach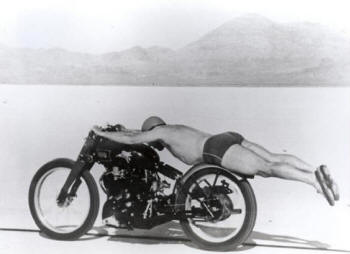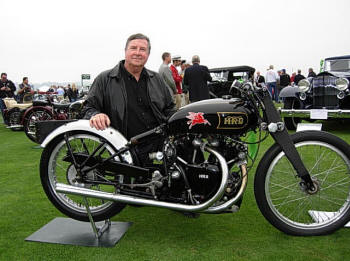 Click on photos to enlarge. Click here to check out the Bathing Suit Bike.
---