The NTNOA's April '09 Club Meeting
was Sunday, 26 April at 12:30 PM
at Pappas Bar-B-Q
The time for the meeting was moved to 12:30 to allow members time to attend either the All British Car Day at White Rock Lake or the Spring Car & Bike Show at Up N Smoke in Keller.
The meeting was perhaps the shortest on record but well attended. Clay gave an update on the status of our raffle bike. Dean Baker exchanged the new header pipes the club ordered through British Only because the left pipe didn't fit. The new pipes arrived this week and fit perfectly. Dean also fabricated a new license plate bracket that looks much better than what was on the bike.
Many at the meeting had just come from the All British Car Day (ABCD) and were on their way to the Car & Bike Show at Up N Smoke but most rode from Pappas to the ABCD. The weather threatened and although it was overcast the entire day everyone lucked out and remained dry. There seemed to be more vintage motorcycles at this year's ABCD event than in previous years.
Many thanks to Dennis Tackett for setting up the NTNOA display at the ABCD and selling raffle bike tickets. Dennis has devoted much of his time trailering the raffle bike to events such as this one. Thanks also to Chris Parry for helping Dennis pack everything up after the show. Dennis will display our raffle bike next at the British Emporium's Spring Car & Motorcycle Show on Sunday, May 17 from 11AM to 3PM in Grapevine. Unfortunately, it conflicts with B.M.O.A.'s New Ulm rallye but should be well attended. Thanks again Dennis.
Can you believe that people still run out of gas while riding vintage motorcycles - just ask our VP.
Photos courtesy of Paul Valentine
(click here for all of Paul's ABCD photos)

(click here for Paul's Up N Smoke Car & Bike Show)
ABCD Winners:
http://www.allbritishcarday.com/
More ABCD Photos:
http://www.flickr.com/photos/24440635@N03/sets/72157617345167141/
ABCD Best of Show – 1960 Ferrari 250 PF/ Brendel:
http://www.allbritishcarday.com/abcd/image/brendelFerrarix400.jpg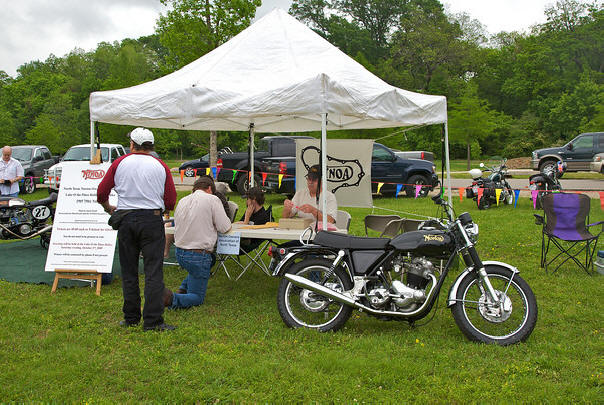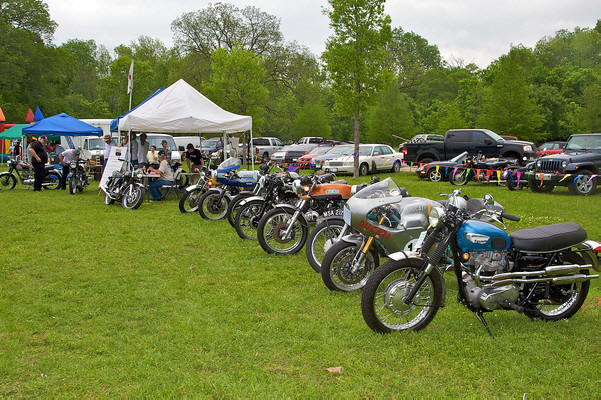 ---
Copyright © 2000 NTNOA All rights reserved.
Revised: January 05, 2018 .