The Blackies Four
by Dave Howe
Probably most of you have seen my bikes but never all together...well, here goes!

On the recent occasion of my beloved '73 Norton leaving the driveway on someone else's trailer I was a little emotional about it and that morning decided to get one last round of pictures, with all the bikes.

I'd had that bike since 1975, nursed and rebuilt it through two floods & an electrical fire, restored it once, done 3 "mini-restorations", thoroughly hopped it up once, restyled it several times, spent money and rubbed on it like a high-maintenance Italian girlfriend, had some great "roads races" on it and won a few, showed it for years on the Norton National & regional/local show "circuit" and often won, seen it featured & praised in national and international magazines, seen it straddled by the likes of Jack Wilson, T.C. Christenson, David Edwards, Victor Toogood, and others...all grinning and appreciative.

This bike was at the first ever meeting of the NTNOA, and before there even was an NTNOA, at the organizational meetings. It was there the first LOTP and most of the others. It was at the first BMOA Rallye at Lake Whitney and the first one at New Ulm. And at a number of USNOA/INOA rallies.

It carried my (then) young son Bill & I all over the Rocky Mountains and on the great roads of Texas, Ohio, Georgia, Missouri, Arkansas, Illinois, Wisconsin, Louisiana, Oklahoma, New Mexico & Kansas.

It gave me a bunch of trophies. It helped introduce me to many of my friends, including several of my "best" ones.

I've loved, nurtured and cared for it like a new baby girl and a fine mature son and there is more of my heart, soul, life's experiences, weird personality, and "blood, sweat & tears" in that machine than I would have ever thought possible. I could "communicate" with it more & better than any other bike I've ever owned, and there have been many.

I missed it before it left, while it was leaving, and do now...and always will.

But...all this started me thinking about bikes, my bikes in particular and wondering why they are all black? I've had bikes of most colors, more often than not red or black,usually black. Red is my favorite color, go figure. And since I'm pairing my stable down to three for good reasons, I will probably never have four again, almost certainly never four black ones. And absolutely not the Norton. Not *this* one.
I'll sell the "Black Kitty" soon and get a KLR 650 dual sport...and would you believe it? The 2007's are black!

So I thought I better get some pics of The Four Blackies before they became three.
The hole in my shop and in my heart is still there, but I enjoy the pics...maybe you will too.

So gentlemen, I give you The Four Blackies...2 Limeys, 2 Krauts, all modified for performance, all fun as hell in their own way, all black as night:
The Blackies Four:
2001 MZ 660 Baghira Black Panther Super Motard - "Black Kitty"
2001 BMW R1150R Roadster - "Darth"
1973 Norton 850 Commando "Special" - No name was ever good enough for this motorcycle.
2006 Triumph 1050i Speed Triple - "Hoochie Mama!"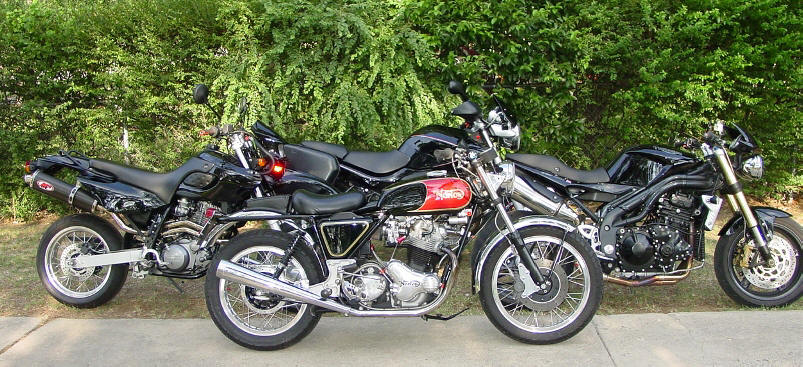 ---
The "Black Kitty" and the Norton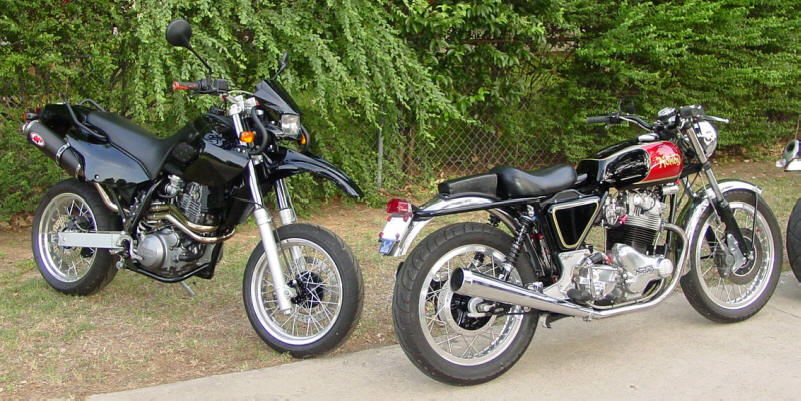 ---
The Nort & "Hoochie Mama!"

---
"Hoochie" & "Darth"

---
The Nort & "Hoochie"

---
The "Black Sheep Squadron". Not enough cool mirrors to go around so the Black Kitty got the funky stock Mickey Mouse ear specials...

---
The proud Moon-Headed dude & The Blackies Four

Update: Since I wrote this the "Black Kitty" has also left for a good new home in Peoria, IL, in the hands of a nice young engineer. Jason was Jonesing for one of these for years so it looks like a marriage made in heaven!

But now I only have 2 bikes in the shop and I'm gettin' the heebie jeebies! Anyone know where to get a smokin' deal on a late model KLR 650? Dual-sport riding is calling my name…

Dave

---
Copyright © 2000 NTNOA All rights reserved.
Revised: January 05, 2018 .