Our annual Christmas Dinner Party at the Spirit Grille was on 17 Dec. and was a huge success.
Thanks to Richard Asprey for providing all the party poppers, Santa arrangements & much more.

Thanks to Dennis Tackett for the superb job performing as our MC for the night.

Thanks to the following the club made $900 selling raffle bike and door prize tickets,
Wendy and Dave Griffiths donated:
1) A Voucher for Wendy to custom frame art/photo, frame up to 16x 20 inch - $100 value.
2) A one year membership to the Modern Art Museum of Ft Worth, with a catalogue of works from our collection - $100 value
3) An envelope containing 7 free tickets to The Modern, 3 expire Dec 31, 2016....4 expire Dec 31, 2017 - $70 value
4) An envelope containing 8 free tickets to The Modern, 4 expire Dec 31, 2016....4 expire Dec 31, 2017 - $80 value
5) A bottle of Jack Daniels w/shot glass - $25 value

RPM Cycle donated 2 battery tenders.

Dicky Hunter donated a bottle of Jim Beam Bourbon.

Randy Bauer donated a new pair of leather gloves.
This year's raffle bike. Click on photo to enlarge.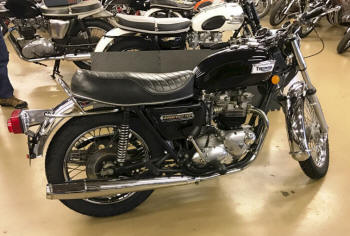 The social hour started at 5:00pm and dinner was served at 6:45pm.
The menu consisted of:
Bangers N Mash
Two grilled bangers topped with and onion brown gravy. Served with mashed potatoes, peas, and Coleman's mustard.

Grilled Port Loin
Brined and Grilled pork loin. Served mashed potatoes and asparagus.

Grilled Tuna Steak
Grilled tuna steak topped with a cilantro tomato cream sauce and served with a vegetable medley and white rice.
---
Copyright © 2000 NTNOA All rights reserved.
Revised: January 05, 2018.