The first club meeting for 2010 was 31 January at 2 PM at Keith Martin's Big D Cycle.
Members and guests started showing up at Big D Cycle a little after noon to look over their vast collection of vintage Brit bikes. Most drove to the meeting due to temperatures in the mid thirties. However, there were a few including our president Chris Parry who were not deterred and rode their two wheeler.

Chris called the meeting to order promptly at 2PM. Chris ran down the schedule of events for 2010. Other than the club's normal monthly meetings the next club event is Captain Commando's Invitational Spring Hill Country Ride. It will take place this year in Leakey between 15 & 18 April (Thursday thru Sunday) at the D 'Rose Inn and Cabins. It caters to two-wheels only, no cars allowed. Debra Rose, a PhD and the owner has given the club an exclusive for the entire weekend. There are limited rooms and cabins available so call and make reservations now. More information can be found by clicking here.

Our host, Keith Martin talked about his recent find and purchase of many pre-WWII Brit bikes and parts. There were many examples on the show room floor including a 1934 SOS (So Obviously Superior) 350cc water cooled two-stroke motorcycle. Chris and Richard Asprey, our Rallye Chairman, were able to convince Keith to be this year's Lake O' the Pines Rallye Grand Marshal. The Rallye is 1 - 3 October at Big Cypress Marina.

Dennis Tackett congratulated Ryan Ambrose for his racing success last year riding for Big D Cycle. Ryan, also known as "Hotrod" is a road racer extraordinaire. He won the number one plate in the AHRMA sportsman 750 class last year, bringing the AHRMA sportsman cup back to Big D for the second time. Ryan has decided to defend his championship but needs sponsorship to make it happen. Dennis donated $100 and passed a hat among members. The executive committee committed the club to match the donations up to $500. There will soon be a link on the Big D Cycle website to make a PayPal contribution to Ryan's racing.

After the meeting Keith gave everyone a tour of his large collection of very old Bike bikes and parts in the warehouse. Many thanks to Keith for opening his shop on a Sunday and hosting our January meeting.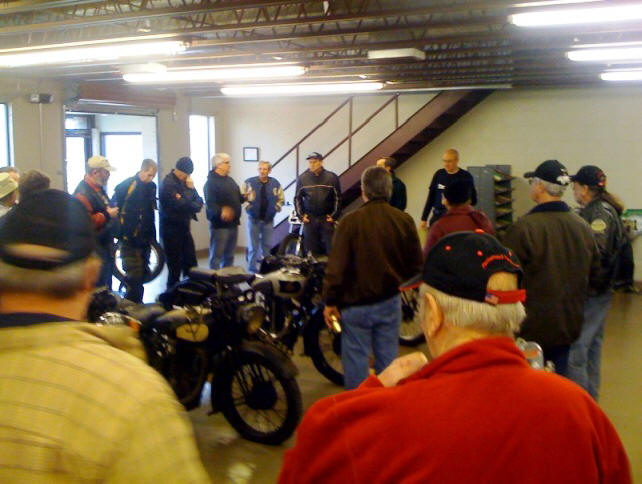 ---
Copyright © 2000 NTNOA All rights reserved.
Revised: January 05, 2018 .