Our January Meeting was at Pappas Bar-B-Q on 29 January, 2012 at 2PM
---
January Meeting Recap

Attendance was one of our best we've seen in a while and due to the nice weather most rode. Many came early for lunch or just to enjoy the camaraderie. There were more bikes of different makes and models than ever seen before at Pappas'. Chris Parry was in Australia for his brothers 60th birthday so Randy Bauer started the meeting promptly at 2PM.

Randy informed the club of Wayne Parfitt's passing. Wayne was a relatively recent member but quickly became a very active and prominent member. He volunteered for various tasks whenever the Club asked. He had a keen wit and a unique sense of humor. He will be remembered as always having a smile and a friendly handshake for all who knew him. He rode his FJR spiritedly as those who rode with him witnessed on the many Muenster rides, as well as down in the Hill Country. His '74 Commando was one of the nicest in the club and it will be shown at various motorcycle shows by Wayne's grandson.

Randy then read a toast prepared by Chris. It read: "I'll ask you to raise a glass in a salute to someone who served his country, worked hard, played hard, enjoyed life and his friends and most of all his family. Here's to Wayne!"

Next Dennis Tackett introduced Ryan Ambrose. Ryan gave a summary of his racing plans for 2012. The biggest change this year is that he will race dirt track events and compete for AMA's Grand Championship at Mid-Ohio during Vintage Motorcycle Days. In order to compete for the Grand Championship a racer must race in both road course and dirt track races. Dennis then passed a hat in support of Ryan's racing. Big D Cycle provides the bikes, but all travel expenses, race fees, tires, and maintenance are Ryan's responsibility. Ryan has outlined his personal expenses for the year (copy below). You can see from the chart that Ryan needs sponsors and our support.

Randy briefed the upcoming events which included the Capital City Rockers Vs. Mods in Austin on March 2 - 4. The Rockers Vs. Mods Dallas event is March 30 thru April 1. This year's annual Spring Hill Country Ride should be the best ever attended. The BMOA and North Texas Vincent club will be joining us the weekend of April 13 – 15. The venue for our February meeting hasn't yet been determined. It will be posted on the website as soon as it decided.

Dave Bradford won the 50/50 drawing and donated his winnings to Ryan. The club voted unanimously to donate its half to Ryan as well.

Randy adjourned the meeting and many then rode to Strokers.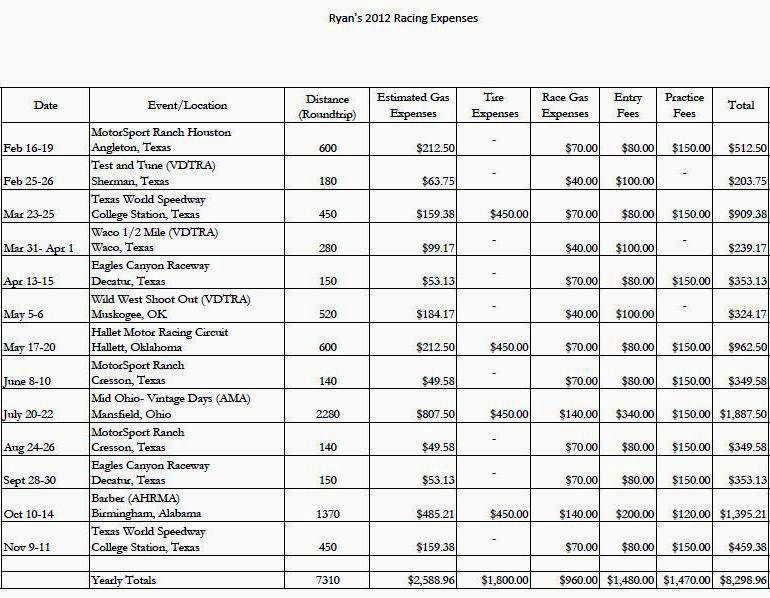 Copyright © 2000 NTNOA All rights reserved.
Revised: January 05, 2018 .