Our 2015 January Club Meeting was at Pappas Bar-B-Q on Sunday, January 18th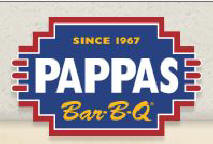 2231 W Northwest Hwy, Dallas
Finally the weather warmed up to the delight of the many who rode to the meeting. Our traditional January meeting at Pappas' BBQ is always one of our best attended. Most members and guests arrived early to have lunch and look over the various assortment of antique motorcycles and the one sidecar rig.

Richard Asprey, our new president for 2015 started the meeting promptly at 2pm sharp. There were a number of guests and new members present. Richard announced that Paul Dalton, aka the English Bloke was celebrating his 60th birthday. His daughter flew in from England to surprise him and rode to the meeting on the back of Paul's new Moto Guzzi.

Upcoming events:
Randy Bauer is coordinating the club's display at the Int'l Motorcycle Show which is next weekend. He reminded those who are displaying their bikes and those who will be manning our booth to collect a couple of free passes when they pick up their exhibitor's badge and give them to him or non-members as an enticement to join the club.

Randy encouraged everyone to attend the Capital City Rockers vs. Mods event in Austin. It's from Friday, February 27th to Sunday, March 1st. Wendy Griffiths, our Events Coordinator will trailer our raffle bike down to Austin and be selling raffle bike tickets. Everyone is encouraged to attend and help Wendy. Click here for more information.

The Rockers vs. Mods Dallas is Friday, March 17th to the 29th. Click here for more information.

Our annual Spring Hill Country ride is Thursday, April 23rd to the 26th. Once again it will be centered in Leakey, TX. Mike Mediterraneo will be sending out an email to all who attended last year to reserve their rooms for this year. It will include directions on how to pay for their rooms in advance.

Immediately following the Hill Country Ride is the Pate Swap Meet at the Texas Motor Speedway from Thursday, April 30th to Sunday, May 3rd.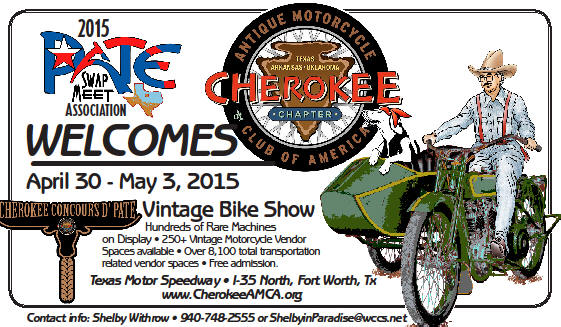 Stanley Miller mentioned that this event is growing and hopes to become the Nation's largest motorcycle swap meet. It is already considered to be one of the largest car swap meets in the country. The NTNOA is coordinating with the Cherokee Chapter of the Antique Motorcycle Club of America to rent some of the vendor space the Cherokee Chapter has already purchased. NTNOA members will be able to sell their motorcycle related items during the event. More information to follow.

Dennis Tackett is heading up the British Invasion of the Ozarks, a ride in and around Arkansas. It is open to any British motorcycle 30 years or older (exceptions will be made on a case by case basis). It's scheduled for September 11th to the 18th. Contact Dennis for more information at dennis@ntnoa.org.

Dennis also has volunteered to remain as our Rallye chairman again for 2015. This year's Lake O' the Pines Rallye is from Thursday, October 1st to Sunday, October 4th. It will be our 31st annual rallye!
Dennis Tackett won the 50/50 drawing and donated his winnings to Jerrett Martin's racing endeavor. Some say the fix was in.

Richard wanted to remind everyone that although the formal talking portion of our club meeting starts at 2pm everyone is strongly encouraged to come early, around noon to socialize and enjoy the camaraderie the club offers.

Our next meeting is at Audrey's Moto Liberty on Feb. 22nd. Click here for directions.