Our July Club Meeting was Sunday, 31 July, 2011 at 2PM
at Big D Cycle
11155 Morrison Lane, Dallas
In spite of the 105o temperature we had a great turnout. Many members braved the heat and rode to the meeting. However, many more drove to the meeting in air-conditioned comfort. Before the meeting Dennis Tackett, our club chef was busy cooking hotdogs for the masses.

Big D Cycle's show room was full of classic British two-wheeled eye candy. The highlight was without question Denis Manning's freshly restored twin Norton powered Norton Gulf streamliner. (see photo below)

Chris Parry started the meeting by thanking Keith Martin, owner of Big D Cycle for hosting our meeting. Keith generously opened his showroom and workshop for our members. In the shop there were bikes in various stages of restoration as well as race bikes being prepped for next weekend's CMRA races at Eagles Cannon Raceway.

Ryan Ambrose gave a summary of his racing successes at Mid-Ohio during AMA's Vintage Motorcycle Days. In essence, Ryan put on a clinic for the other racers and a show for the spectators. Out of eight races Ryan entered he won five and had mechanical DNF's the other three. Jerrett Martin, the other half of Big D Cycle Racing also had great results. Jerrett won the Twins Race on day one in less than ideal race conditions as the track was wet. (See video at the bottom of the page). Click here for the Mid-Ohio race results.

The NTNOA is a sponsor of Big D Cycle Racing. Dennis Tackett explained that Big D provides the bikes but the racers are responsible for their meals, lodging, gas and tires. Dennis then passed a hat for donations to support Ryan's and Jerrett's racing.

This year's Lake O' the Pines rallye will start on Thursday, 29 September. Those who camp will not have to pay separately for Thursday night as in the past. In an attempt to expand the rallye the Rolling Concours will now be on Sunday morning. Everyone is encouraged to pre-register for the rallye and save $5. You can pre-register online by clicking here or at the September meeting.

Chris made packets of LOP flyers. Members were asked to take them to a local motorcycle dealership and have them displayed in a prominent area. A sign-up sheet ensured dealerships didn't get more than one packet.

The last chance to renew your club membership is at our September meeting on Sunday, September 18th at Phil Dansby's residence. Note that this is not the last Sunday in September. The easiest and fastest way to join or renew is online by clicking here. You only need a Credit Card or a PayPal account. You may also join by filling out the application form which can be found by clicking here. In accordance with the latest changes to our by-laws members who joined after January 1st of this year remain active until August of 2012.

The meeting was adjourned but no one was in a hurry to leave.
Big D Cycle online:
View their Parts Book Library.
Click here to sell your vintage Brit bike.
Click here to buy a vintage Brit bike.
Photo courtesy of Paul Valentine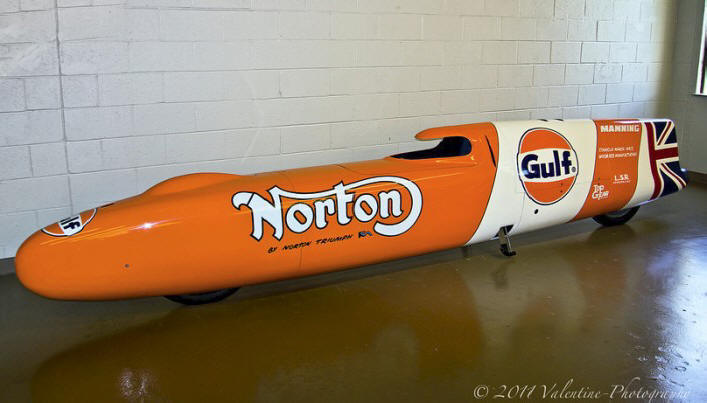 Click here for more of Paul's photos.
---
2011Big D Cycle's 2011 AMA Vintage Days report

The video below is of Doug MacRae crashing on the last lap at Mid-Ohio last weekend trying to pass Jerrett.
Doug Said: "It was raining off and on all day Saturday at Mid-Ohio where it is so treacherous in the wet the AMA will not run and it began to rain again as the race started and got more and more as the race wore on- I was racing Jerrett Martin on the Big D Cycles Triumph, I followed him all race and had him lined up for the pass on the last lap when the tires unexpectedly washed out coming out of the keyhole. Fixed the bike Sat night and then holed a piston racing Sunday." Thanks to Darrell Leverington for the above information.
---
Copyright © 2000 NTNOA All rights reserved.
Revised: January 05, 2018 .