The July 2012 Club Meeting was 29 July at the Parry's Residence.
Chris and Monica graciously hosted our July club meeting at their beautiful home in Grapevine. Dennis Tackett brought brats and cooked them on the barbie for all to enjoy. Most members and their guests showed up early and took advantage of the Parry's hospitality and swimming pool. With temps in the triple digits their deck and pool were the hit of the day. The actual meeting was held indoors in air-conditioned comfort.

Chris started the meeting a little late which is very unusual for our normally punctual president. Chris made colored flyers that advertise our Lake O' the Pines Rallye. He asked for volunteers to sign up an annotate which motorcycle shop or venue they would take them for their customers to have. Chris also asked for volunteers to help with the rallye itself. There is always much to do for the rallye before and during the rallye.

Dennis Tackett announced that Ryan Ambrose won AMA's Vintage Grand National Championship at Mid-Ohio the previous week at the 21st Annual AMA Vintage Motorcycle Days. Ryan gave a recap of his racing for the three days. See his video below. The Grand National Championship is awarded to the rider with the highest combined score for both the road races and the dirt track races. Essential Ryan won ever road race he finished. There were a couple of races that Ryan didn't finish because of mechanical issues, i.e., the bike broke. Ryan won three road races on Saturday and three more on Sunday and finished fifth on the flat track. Ryan just started racing in the dirt this year. After Ryan's recap Dennis started passing a hat in support of Ryan's racing by putting in $100. Big D Cycle supplies the bikes but Ryan is responsible for tires, transportation, lodging and meals.

After the meeting most remained and enjoyed the camaraderie and the enticing pool. Our next meeting is at Big D Cycle on 26 August.
Click here for more of Paul Valentine's Photos taken at yesterday's meeting.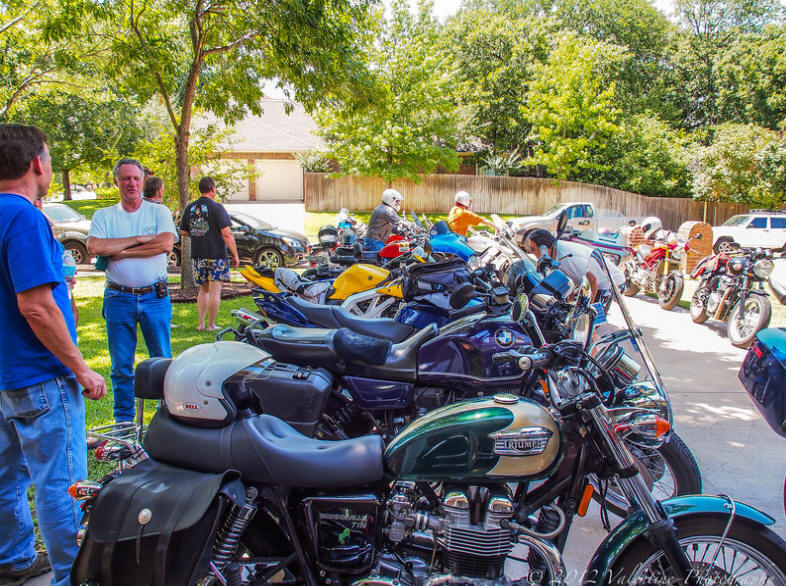 About Ryan's Racing
The NTNOA is one of Ryan's road racing sponsors. Ryan is a three time AMA vintage road racing champion, AHRMA Sportsmen champion and CMRA Clubman champion. He has also set multiple land speed records. Both his road racing and land speed records are on Big D Cycle built machines. Big D Cycle provides the bikes, but all travel expenses, race fees, tires, and maintenance are the responsibility of Ryan. Therefore sponsorship is critical for success. You can donate by going to Big D Cycle's website by clicking here.
Ryan Ambrose, 2012 AMA Vintage Grand National Champion


July 23, 2012

Ryan Ambrose, from Dallas, Texas, won the 2012 AMA Track Racing Vintage Grand Championship, which is awarded to the rider with the highest point total in expert classes in road racing and dirt track at the AMA Vintage Grand Championships.
---
Copyright © 2000 NTNOA All rights reserved.
Revised: January 05, 2018 .