Our 2015 July Club Meeting was at Southwest Superbikes on Sunday, June 26th.

2361 Fabens Road Dallas TX 75229
Mark Peterson, owner of Southwest Superbikes was our host. Mark provided brats and cold beverages for all to enjoy. Mark also gave us a tour of his impressive collection of vintage single cylinder race bikes. Click here for Paul Valentine's photos of Mark's collection. Southwest Superbike's assortment of low mileage motorcycles in like new condition of all types was amazing. Many thanks to Mark for hosting our meeting and providing a great atmosphere for our meeting.

Our VP, Randy Bauer conducted the short meeting while our president, Richard Asprey along with our rallye chairman, Dennis Tackett and treasurer, Mike Mediterraneo were out riding in Arkansas previewing the route for the upcoming British Invasion of the Ozarks ride from Sept. 11th to Sept. 19th. Click here for more details.

Randy highly recommended attending the 8th Annual Motorcycles in the Park bike show put on by Diamond Chapter of the Antique Motorcycle Club of America. Those on the Ozarks ride will be taking part in the show. Click here for the flyer. Click here for the entry form.

Clay Walley passed a hat to help with Jerrett Martin's racing expenses. Jerrett would have been at the meeting except he was racing at Motorsports Ranch in Cresson, TX.

Randy adjourned the meeting but many stayed and continued to socialize and look over the varied assortment of superbikes in the showroom.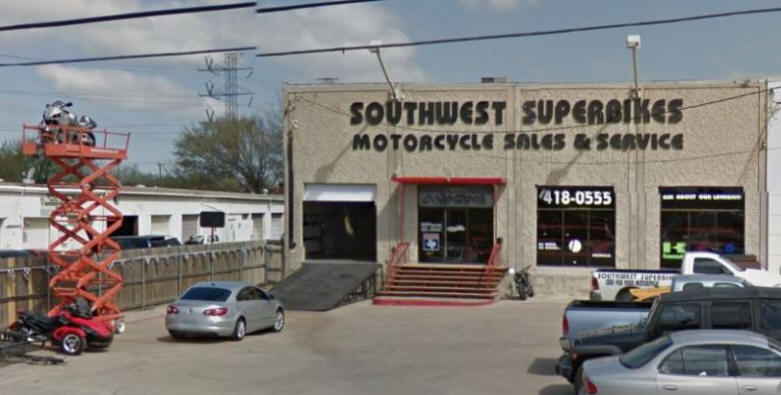 Southwest Superbikes and its creators have been in the motorcycle business since 1988. We are an all purpose motorcycle shop. We are a full service shop with a DYNOJET dynamometer for tuning. We offer the largest pre-owned sportbike selection in Texas. We have over twenty years of race history. As of now we currently hold three world records. We attained these records at the legendary Bonneville Salt Flats in Wendover, Utah. Along with setting these records our bikes have currently put five (5) people over two hundred (200) miles per hour. All of the motor and tuning work to our bikes was done in house. We are proud to provide services to the motorcycle community because we are part of the motorcycle community. Each of our employees rides and enjoys racing almost every weekend. We appreciate all the business that we have and hope that we can serve the industry for many more years to come.