Our June 2010 Club Meeting was Sunday, 27 June at 2PM
at Strokers Dallas in conjunction with an
Antique British Bike Show.
Our June meeting was held in conjunction with an antique British bike show at Rick Fairless' Strokers Dallas. Richard Asprey and Randy Bauer organized the show. Aggressive Insurance sponsored the event and provided lunch for all the participants and a medal for each bike to commemorate the event. Richard and Bruce Jones set up our '75 Commando raffle bike display and members including Michael Ber, Mike Brown, Chris Parry, Dennis Tackett and Clay Walley sold raffle bike tickets. Antique and custom British bikes started showing up around 11 AM and by the time the meeting got started there were exactly 50 bikes in the show. There were several standout bikes but one that was particularly interesting was Rick's own 61 Triumph Trophy. All the bikes generated a lot of interest and comment from the Strokers customers.

Rick offered the club the use of one of his air-conditioned rooms for the meeting which was a blessing since it was 100 degrees outside. Due to the very large number of members and guests present the room was rather packed. As a result, Chris kept the meeting short. Chris thanked Rick for providing us with the exclusive space for the show and all the support given by him and his staff. Chris announced that our July meeting will be at Ed Mabry's shop, home of Mabry Racing and Team Triumph Texas.
During the meeting Richard Asprey presented Rick with a commemorative trophy - a metal casting of a Norton Manx.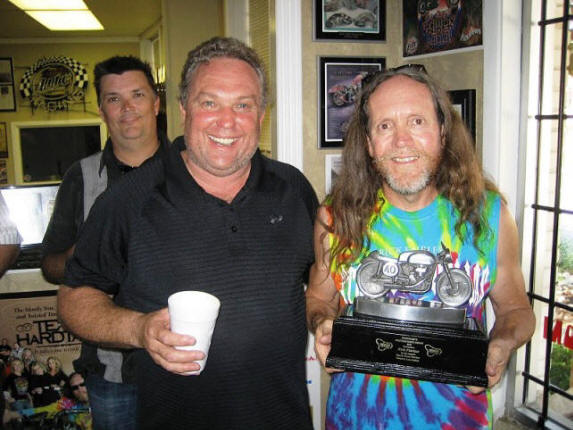 After the meeting Rick graciously led everyone on a tour of his immense operation. One of the highlights of the tour was Rick's collection of highly modified and customized antique trucks.

During the tour Dennis Tackett took up a collection to support Ryan Ambrose's upcoming racing at Mid-Ohio to defend his 2009 number one plates in the AMA vintage classes. Dennis was able to collect $480 for Ryan. If you would like to sponsor Ryan and the Big D racing effort, you can do so by going to http://www.bigdcycle.com/racing.html

As a result of everyone's effort this was perhaps the best attended meeting the club has ever had in its 26 years. In terms of bikes, we had a tremendous turnout for a show that was organized in only three weeks. Rick and many club members expressed interest in doing this again.

---
Copyright © 2000 NTNOA All rights reserved.
Revised: January 05, 2018 .