March 2016 Club Meeting
Our March meeting was held in conjunction with Big D Cycle's swap meet on Saturday, March 26th. The weather was ideal for such an event and our meeting. Dennis Tackett emceed the meeting.
Dennis taking a sip of his favorite beverage.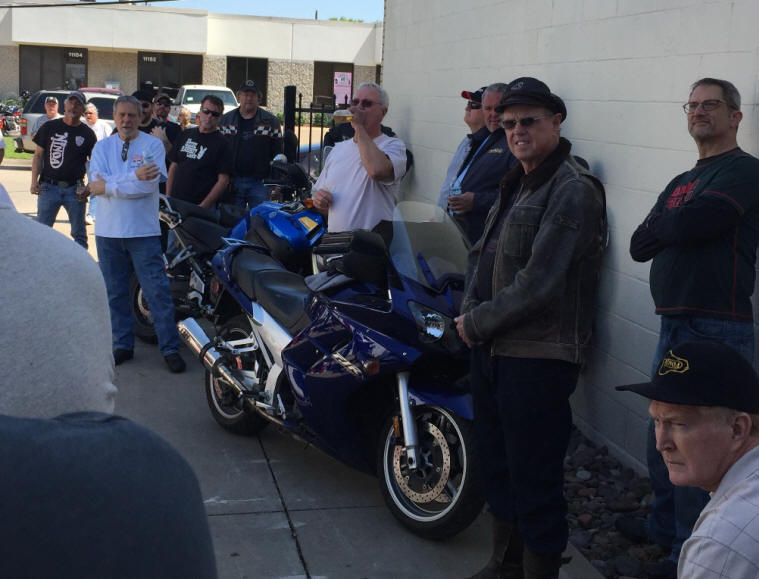 Dennis summarized the track day at Motorsports Ranch in Cresson, TX that took place two weeks prior. There were 35 participants and all gained much from the experience.

Next was a long list of upcoming events starting with the Rockers vs Mods Dallas event next weekend. The NTNOA will be hosting a bike show at Lee Harvey's on Saturday. Chris Parry, Dennis and Mike Mediterraneo have volunteered to organize and run the event.

Our next meeting is at Southwest Superbikes on Sunday, April 24th. Our Spring Hill Country Ride follows shortly after from April 28th to May 1st in Leakey, TX. Unfortunately the All British & European Car Day at White Rock Lake is on that same Sunday, May 1st. The BMOA Rallye at Lake Somerville is only two weeks later on May 13 -15.

Dennis wanted to remind everyone once again that our Lake of The Pines Rallye will be at Diamond Don's campground 1 mile north of Jefferson on Highway 49 from Sept. 29th to Oct. 2nd. There will be field events starting at noon on Friday so make

Our past president Clay Walley was at the meeting prominently displaying an array of straps and a significant brace around his right arm. While riding his Yamaha WR450 in Death Valley the terrain became so difficult he had to get off his bike and walk with it in gear with the engine running. His hand slipped off the clutch lever, the bike took off and he fell backwards onto his elbow. The impact broke his Humerus – the bone from the shoulder to the elbow. As the name Death Valley implies he almost died from the pain of riding 40 miles out of the rocky desert to his campsite. Iron man Clay even drove all the way home before seeking medical attention.
Clay contemplating what the hell did I do?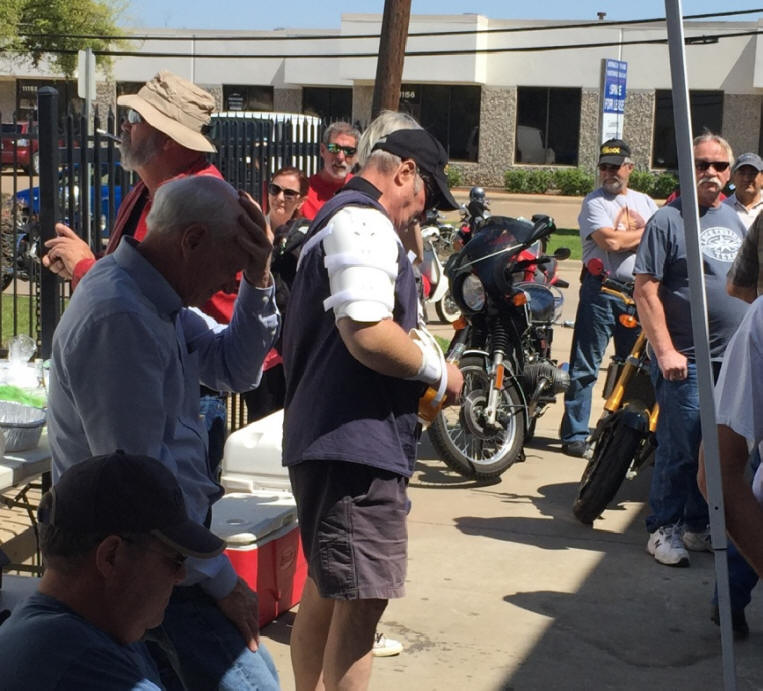 Dennis asked if anyone had a new ride. Michael Mediterraneo, our treasurer purchased a new Yamaha FJ-09 earlier in the day. George Tuttle picked one up last week. The meeting was adjourned and Dave Bradford won the 50/50.

Two NTNOA members, Wendy and Kent trying their best to look cool (perhaps a little too much) in their purchased apparel bought at the March club meeting / Big D swap meet.
Wendy and Kent trying their best to look cool (perhaps a little too much) in their apparel bought at the Big D swap meet.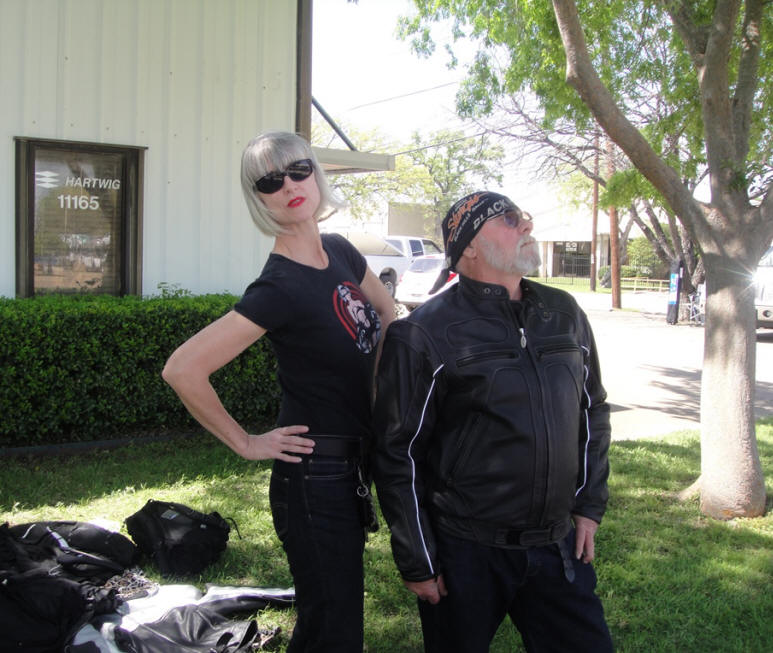 ---
Copyright © 2000 NTNOA All rights reserved.
Revised: January 05, 2018.