Our May Club Meeting was 27 May, 2012 at Pappas' BBQ
Due to a last minute change to our meeting location Pappas' BBQ was chosen as an alternative. Most members and guests showed up early to enjoy Pappas' BBQ and cold refreshments. By the time the meeting started there was an eclectic assortment of motorbikes in the parking lot ranging from a H-D Panhead to Phil's stunning Commando.
Chris Parry started the meeting at 2pm and had new members and guests introduce themselves. The first order of business was a discussion of our next meeting on Sunday, June 24th. It will be at Rick Fairless' Strokers Dallas in conjunction with our third annual Antique Bike Show. All marques this year are invited as long as they are 30 years or older (1982 or earlier). In order to receive a Commemorative Medal and a Voucher for food and soft drink participants MUST pre-register. To pre-register just send an email to bikeshow@ntnoa.org with your name and the year, make and model of the bike you plan on showing.

Next on the agenda was a discussion of a group journey to the Isle of Man for either the 2013 or 2014 Manx GP. Ryan Ambrose would like to race at the Manx GP if his schedule will allow. Therefore the year depends on Ryan's availability to race. Paul Dalton has been there many, many times. He said the Manx is usually held in August but the exact date isn't know until the TT races in May. Paul also said that we will need to make plans at least a year in advance. The package would include airfare to London, motorcycle rental from London to the ferry over to the Isle of Man with about three days on the island plus the return to London and the flight back to the states. The package will have some flexibility as to the number of days gone from around 7 to 10. If you are sure you will most likely go contact Mike Mediterraneo at mike@ntnoa.org. The more people who sign-up the greater the discount. Mike needs a relatively firm number. He will contact a couple of travel agencies for pricing.

Ryan briefed us on the results of his racing at Willow Springs. Ryan and Jerrett Martin went out to Willow Springs for the AHRMA races the beginning of May. They had never been there before. Ryan put on a clinic winning by wide margins. On Saturday Ryan won the class C race by a very healthy distance and beat Scott Jennings who was on a Rob North BSA Triple. Scott had previously won the formula 750 race at Willow around 17 times. Scott was a little upset that a guy from Texas who had never been to Willow before beat him on a Twin. On Sunday, Ryan was again uncontested for the Class C win. Jerrett took second in BEARS and in formula 750, Ryan won again; this time Scott and his BSA were absent. Dennis Tackett passed a hat to support Ryan's racing. Including the club's half of the 50/50 the club contributed around $400. Complete racing details can be found here - http://bigdcycle.com/blog/?p=1999

Paul Valentine briefed us on Dave Howe's accident. Details can be found on the Motorcyclist Cafe Forum by clicking here. Paul also passed around a card for us to add comments and sign that he'll mail to Dave.

The last agenda item was a ride to the British Bike Burnup led by Chris.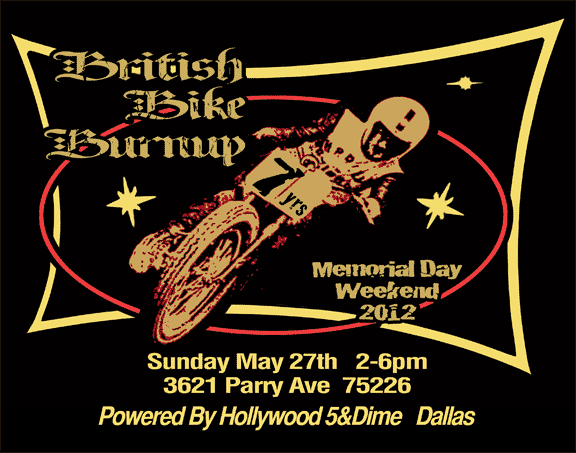 ---
Copyright © 2000 NTNOA All rights reserved.
Revised: January 05, 2018 .