Richard Asprey and Berwyn Henderson arrived in California on Saturday, 15 September, 2012 exactly one week after leaving St. Louis for the start of the Southern California Norton Owners Club's "Route 66 Ride" from St. Louis to Santa Monica. To be eligible the bike had to be British and built no later than 1982. Alton Gillespie trailered four of Richard's bikes to St. Louis for the ride; the Vincent Rapide, the '75 Kenny Dreer Norton Interstate, the four valve head Triumph T140W TSS and the Norton Atlas. After ignition problems grounded both the T140W and the Interstate Richard ended up riding the Vincent and Berwyn the Atlas the rest of the way. Out of their four bikes the Norton Atlas was the only one that didn't have a mechanical problem. The Vincent's gas tank started leaking so they fitted a Harley Sportster tank decorated with Alton's artwork on the rear fender and connected a fuel line from it to the carbs. Out of the 45 bikes that started the ride all but three made it all the way.
Richard's Vincent entering California. Note the Sportster gas tank with Alton's artwork. (click on photo to enlarge)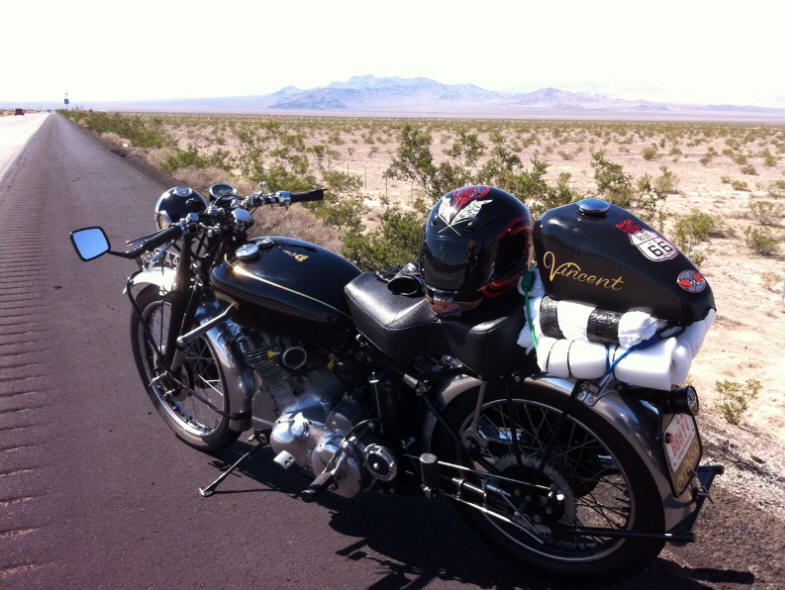 Richard writes:
When we arrived in Flagstaff Arizona, we had three broken down motorcycles. At three in the afternoon I was able to contact Curtis at Eurogeek and he agreed to help out.

We went to his shop which was only a few hundred yards from our hotel and Curtis jumped straight on our bikes.

He also allowed us to work on the Vincent on his premises. Also at The shop was a great guy called Bill Buker who not only helped out but also showed us his stash of Norton and Ducati motorcycles and parts. Bill led me on test rides of the bikes and the following day took us into the canyon roads from Flagstaff to Sedona.

Curtis is a very experienced motorcycle mechanic and an AMA tech at Bonneville and deserves the recognition of both the North Texas Norton Owners Association and the Southern California Norton Owners Club.

If anyone needs assistance on a long trip and you are within trailering distance of Flagstaff I would suggest calling Curtis.

If you see Curtis at Bonneville speedweek make sure to say hi and if anyone ever meets Bill Buker he is one real nice guy.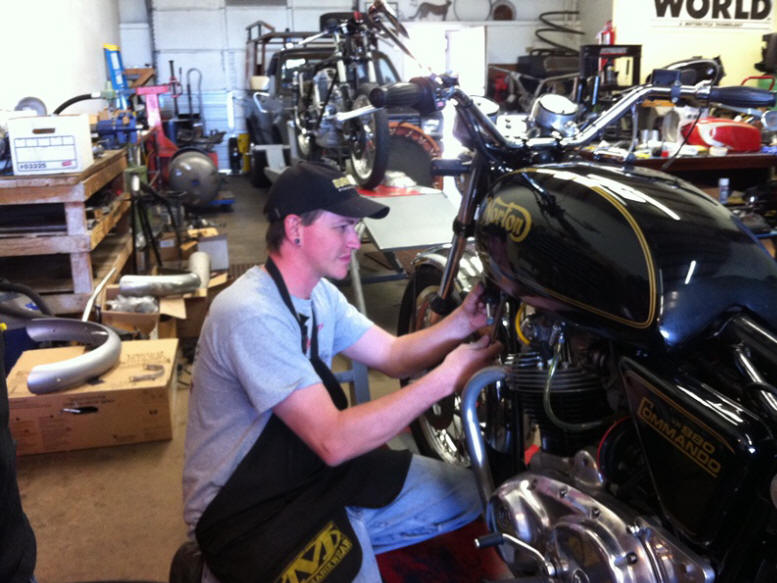 The following photos were taken by Daniel Peirce, Lord of Light, Master of the Pixel. Click to enlarge.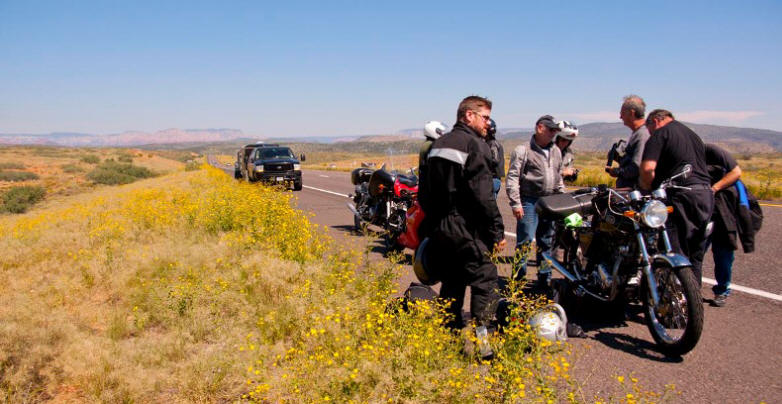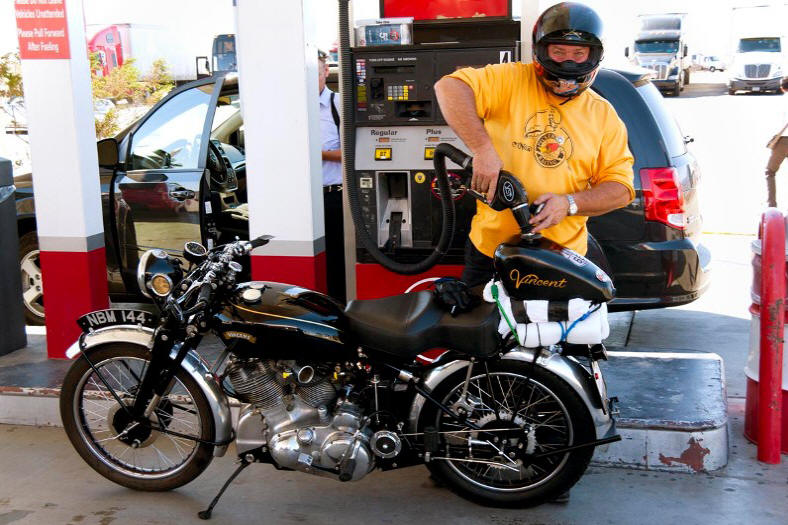 This is the rear disc on the Norton Interstate, the bike Berwyn was riding. It was found after we stopped for another problem. Scary.