This year's Christmas Dinner Party was held at Mercado Juarez (http://www.mercadojuarez.com) in Dallas on Saturday, 22 December, 2007. It was very well attended with over 90 members and guests. The Social hour started at 4:00 PM and the diner at 6:00 PM. Unfortunately by 4:15 we drank them out of Shiner Bock to the displeasure of many.

Clay Walley started the very short formal portion of the meeting immediately following the dinner. Clay acknowledged our honored guests in attendance: Doc Storm, Charles Busbee, Ward Hogue, Marlene Gabrielson, Tony & Martha Lewis and Keith Martin.

Indian Princess Audrey Martin (Keith's daughter) assisted Clay in drawing door prize tickets. Nancy Dansby won the free track day donated once again this year by Tony and Martha Lewis, owners of Eurosport Cycle. (Was it just a coincidence that her husband Phil purchased a brand new Aprilia Tuono 1000 R at Eurosport Cycle earlier the same day?)

Other door prizes included two signed copies of Jerry Hatfield's new book titled, FLAT OUT! the Rollie Free Story, and two of Denis Manning's books titled, The World's Fastest Motorcycles. Jerry gave a short but informative talk on the exploits of his book's main character - Rollie Free. You can contact Jerry directly at beemer73@sbcglobal.net if you want to purchase an autographed copy of one of his books. Contact Dennis Tackett at dennistackett@msn.com if you would like to purchase one of Denis Manning's books. Denis is our 2008 Rallye Grand Marshal and he promises to sign every book the club sells or gives away.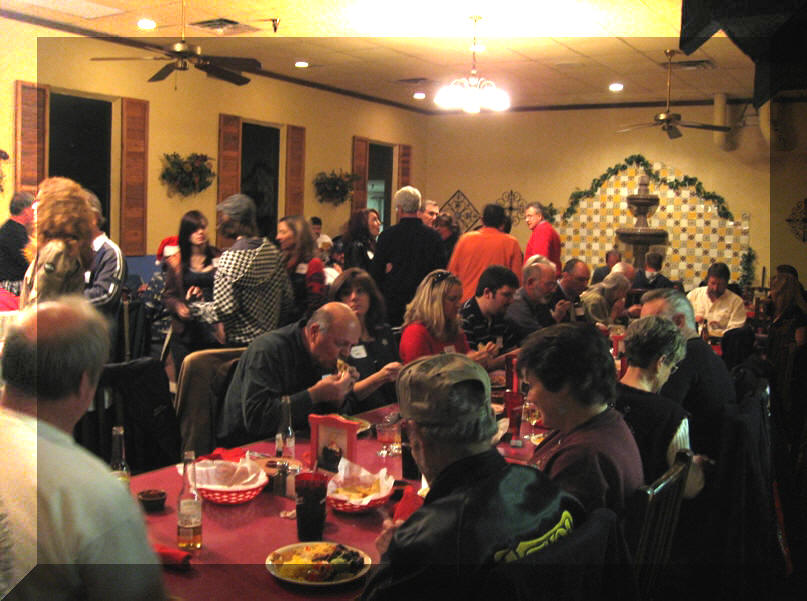 Members and Guests
Present included
#
Baker, Dean
2
Bauer, Randy
2
Bradford, Dave
2
Brown, Michael
2
Brown, Tom
2
Busbee, Charles
2
Cooper, George
2

Cross, Richard

2

Cox, Bob

4

D'Avanza, Ben
2
Davidson, Bruce
2

Dansby

, Phil
2

Dobbs, J.J.

2

Fairchild, Michael

2
Foster, Russ
2
French, Jim
2
Furnival, Bruce
2
Gabrielson, Marlene
1
Greene, Leroy
2
Groves, Ron
2
Hagemann, Bob
2
Hatfield, Jerry
2
Henderson, Berwyn
2
Hunter, Dicky
1
Johnson, Randy

2

Jones, Mike

2

Lane, Mike

1

Ledbetter, Steve
2

Lewis, Tony & Martha

2
Martin, Keith
4
McInnis, Art
2
Montgomery, John
2
Parry, Chris
2
Peirce, Dan
2
Schilder, Konrad
1
Smith, Curtis
1
Speer, Bob
1
Storm, Doc
1
Stovall, Kevin
1
Tackett, Dennis
2
Tuttle, George
2
Valentine, Paul
2
Vance, Mike
2
Walley, Clay
2
Williams, Mike
2
---
Christmas Dinner Entrée
Beef, Chicken, Pork and Shrimp Fajitas buffet style with grilled Onions and Bell Peppers. Served with Refried Beans, Rice, Guacamole, Pico De Gallo and Shredded Cheese.
---

Rebecca Matlock assisting Clay Walley handing out door prizes during last year's party.

---

See you next year!
---
---
Copyright © 2000 NTNOA All rights reserved.
Revised: December 20, 2010 .