Ryan Ambrose's Racing
Click here to check out Anthony Armstrong's Cafe Snake Eyes website
with Ryan Ambrose & Jerrett Martin Road Racing Photos and Videos
Ryan on Big D Cycle's "Duke 2" yesterday at the North Star Dragway's Texas Thaw.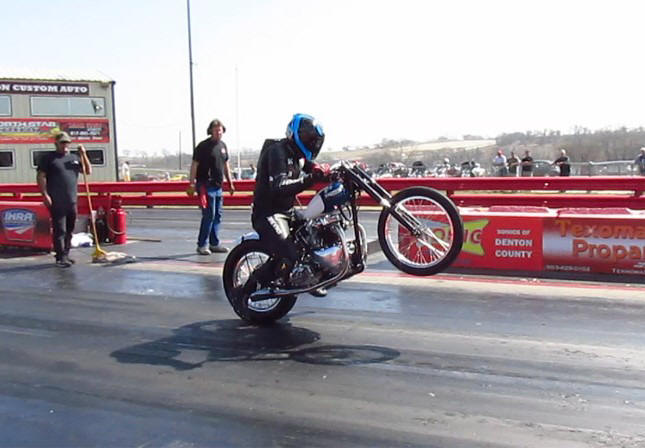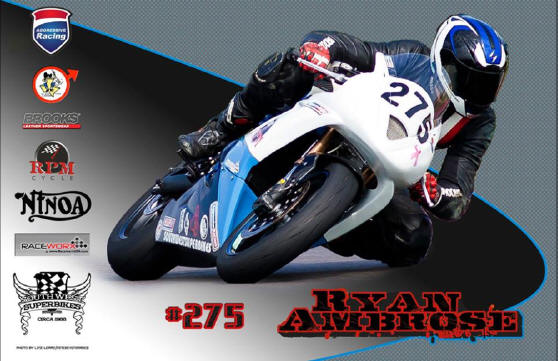 Click here to follow Ryan's racing on Anthony Armstrong's Snake Eyes website.
---
Pictures and video of Ryan Ambrose & Jerrett Martin at Texas World Speedway, College Station Oct 27, 2013.
http://www.cafesnakeeyes.com/events-and-videos.htm
---
This year Ryan

won seven AMA vintage championships including the Grand National Championship at Mid-Ohio and three AHRMA championships. Ryan

has also set multiple land speed records at the Bonneville Salt Flats. Next year Ryan will compete riding a 2012 Triumph Daytona 675 supplied by RPM Cycle. He hopes to collect enough points to qualify for AMA Pro Races in the AMA Pro Supersport series. Ryan is also looking to compete in the 200 mile Daytona Sportbike race in March of 2014.



Ryanís racing expenses are covered by his sponsors. T

he NTNOA

has been and will continue to be a significant sponsor.

Both his road racing and land speed records have been on Big D Cycle built machines. Big D Cycle provided the bikes, but all travel expenses, race fees, tires, and maintenance are the responsibility of Ryan. Therefore sponsorship is critical for Ryan's success. You can donate on Big D Cycle's website by clicking here.

Ryan Ambrose wins CMRA Heavyweight Twins race at Hallett Motor Racing Circuit 19 May, 2013.

Race #10 - Superbikes - Heavyweight Twins - Top 3 racers out of 30.
---
Ryan Ambrose at the CMRA Race at MSR Houston on a Triumph Daytona 675 - February 2013.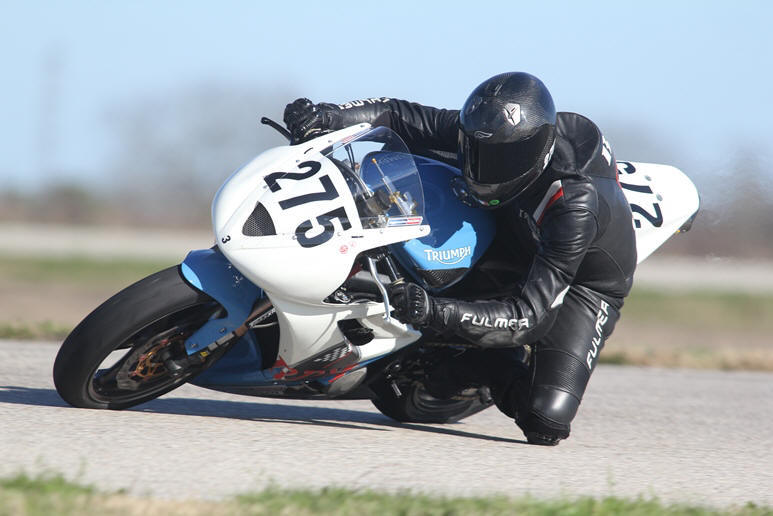 ---
Ryan's 2013 CMRA Racing Schedule
February 15-17 - MSR Houston (MSRH) - Angleton, TX

March 23-24 - Texas World Speedway (TWS) - College Station, TX

April 13-14 - Eagles Canyon Raceway (ECR) - Decatur, TX

June 14-16 - NOLA Motorsports Park (NOLA) - Avondale, LA

July 6-7 - MotorSport Ranch (MSR) - Cresson, TX

July 27-28 - Texas World Speedway (TWS) - College Station, TX

August 24-25 - MotorSport Ranch (MSR) - Cresson, TX

September 28-29 - Eagles Canyon Raceway (ECR) - Decatur, TX

October 26-27 - Texas World Speedway (TWS) - College Station, TX

---
Big D Cycle - Triumph motorcycle racing from Barber Motorsports Park & NOLA, Oct. 2012

Ryan Ambrose, 2012 AMA Vintage Grand National Champion


July 23, 2012

Ryan Ambrose, from Dallas, Texas, won the 2012 AMA Track Racing Vintage Grand Championship, which is awarded to the rider with the highest point total in expert classes in road racing and dirt track at the AMA Vintage Grand Championships.
---
Ryan on his T140 Bonneville. Click on Photo to Enlarge.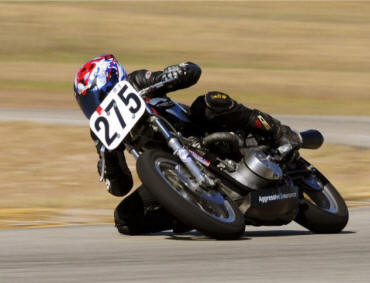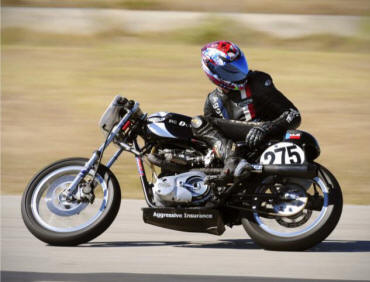 AHRMA Race Synopsis- Roebling Road, Georgia 3/2/12-3/4/12

Day 1:
Overall it was a good practice day. It wasnít perfect but there werenít too many problems. There was a battery failure on Pepe and a tooth broke in the gearbox on the Sportsman bike. The class C bike ran great again which left me confident about racing it the following day (I passed almost everyone on the track in practice). Pepe did well however there were some battery problems. It took me a while to get going on it but I still was able to put in some decent lap times. The weather forecast called for rain for the next day which was disappointing having had a nice, clear practice day. I knew it was going to suck but was sure it would be interesting. Separately, AHRMA asked me to be a supervising rider in the riderís school race that day. It was fun to go and ride with new riders and try to teach them a couple of things.

Day 2:
I woke up Saturday to cooler temperatures and luckily no rain. AHRMA decided to eliminate the morning and lunch so they could run as many races as possible before the rain came. My first race was on the class C bike. I got a good start but had some problems shifting and was 3rd going into turn 1. I passed the 2nd place rider in turn 4. I then followed the leader and passed him coming out of the very fast last turn. He was able to pass me back on the long straight but I responded by passing him right back and pulled out a good gap and then kept the gap all the way to the end.
By the time of the formula 750 race, it was a full on down pour. I went out on the warm-up lap to feel the track out when the bike suddenly died on me. I pulled off the track and tried to restart the bike but nothing happened. Unfortunately I had to get the bike towed back to the pits. I found a bad connection on the ignition. I didnít turn out to be the best day but I was hopeful for the opportunities the next day would bring.

Day 3
Sunday morning brought cooler temperatures again without rain but there was residual water everywhere. When we got to the track they had the track dryer and people with brooms trying to dry the track surface. I went out in the second practice session on the Class C bike and the track had quite a few puddles still. I then went out about 40 minutes later on the Formula 750 bike and was pleased to find the track almost dry- I knew it was going to be dry race day. I got a much better start on the class C bike passing everybody into turn 1 and was never challenged throughout the rest of the race. The track was in great shape but there were 30mph head winds coming down the front straight that made coming out of the last turn really tricky. I had made it to the grid on the Formula 750 race and got a decent start passing everyone in turn 1 again. I then put my head down and gapped out on the entire field and won by a pretty good margin. I actually turned the second fastest vintage lap of the whole weekend.

All in all it was a good weekend winning 3 of the 4 races I entered. I would like to thank all my great sponsors and supporters- without their help I couldnít do any of this:
Big D Cycle, Aggressive Insurance, Fulmer, NTNOA, and Jim Hadden
---
Copyright © 2000 NTNOA All rights reserved.
Revised: January 05, 2018 .