The NTNOA June Ride & 1st June Meeting
was Saturday, June 4th, at McClain's RV
---
Clay Walley showed up at the appointed time (9:30am) and place on his 1966 BSA Spitfire for the scheduled Vintage Bike Ride. Unfortunately nobody else showed up so Clay rode home and swapped bikes. He returned on his new ('04) black Triumph 955i Daytona for the "Modern Ride". Fortunately, this time there were about a dozen members who showed up for the ride lead by Dennis Tackett.

The Modern Ride was 'flown' as per the leader's flight plan (see below) returning safely to McCain's RV around 1:00pm.

Shanon Tackett set up an area for the group to use right next to a 34 foot Dutchmen "Victory Lane" toy box that had all the bells and whistles anyone could want.

Shanon also provided hot dogs, sandwiches, chips and drinks along with raffle prizes two of which were McClain gift certificates worth $100 & $50. Many thanks to Shanon and Dennis for putting on a very memorable event.

The short formal portion of our meeting was called-to-order by our President, Clay Walley. Upcoming events were discussed including the Road Runners Rally which was on the next day on the shores of Lake Austin. Dennis Tackett, our Rally Chairman, mentioned that he had some bad news and some good news. The bad news was that T. C. Christianson would not be able to attend this year's rally. The good news was that he would be attending his induction into the AMA Hall of Fame.

Dennis briefed us on his visit with Tom Tanner, the owner of Big Cypress Marina where we have our annual rally. The rally site has been confirmed for another year. Dennis also mentioned that this year's rally will include at least a vintage bike group ride around the lake and some closely supervised 'field' events.

At this point it was beginning to get a little warm outside and the meeting was adjourned. Most of the members present who lived to the south followed Dean Baker home only a few miles away to admire his collection of pristine vintage Brit Bikes. Some even took advantage of Dean's hospitality and raided the refrigerator in his air-conditioned detached garage / museum / workshop. Thanks Dean.

---
---

This is the route for the ride that Dennis lead before the meeting. It is about 140 miles long from McClain's RV.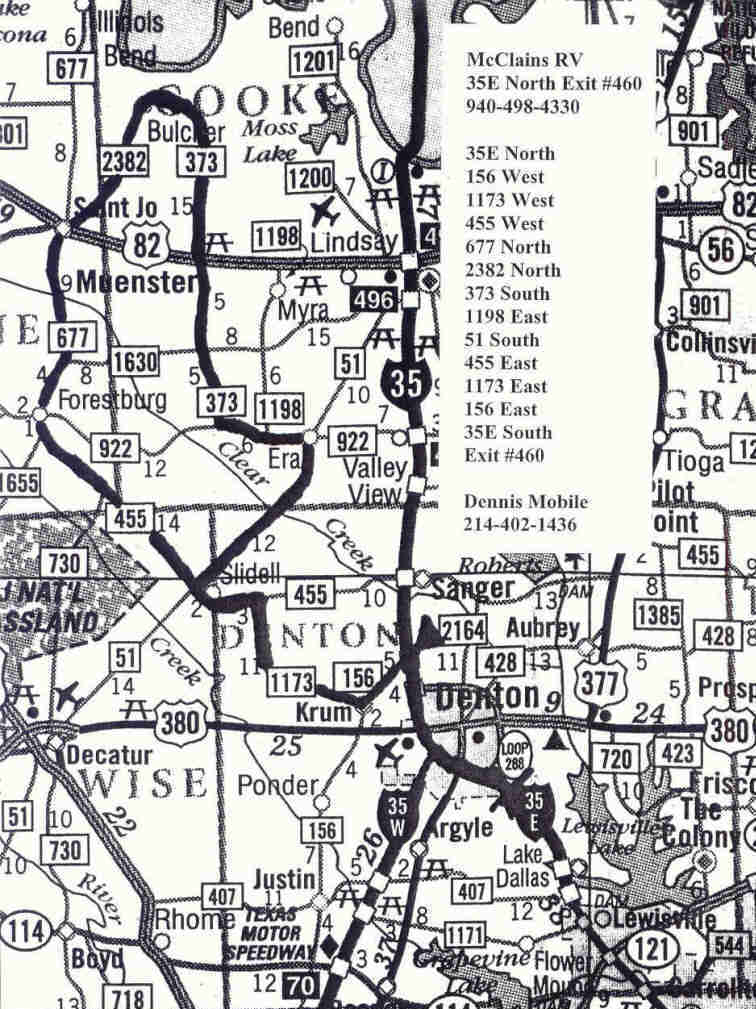 ---
Copyright © 2000 NTNOA All rights reserved.
Revised: January 29, 2008 .